There's a subtle yet obvious hypocrisy in talking about trends but promoting a slow fashion. Can't keep up with the trends and not buy temporary pieces, right? But I always find my ways to compromise and get the best of both worlds (lol, that's what I tell myself at least). Here's how to turn trends into style: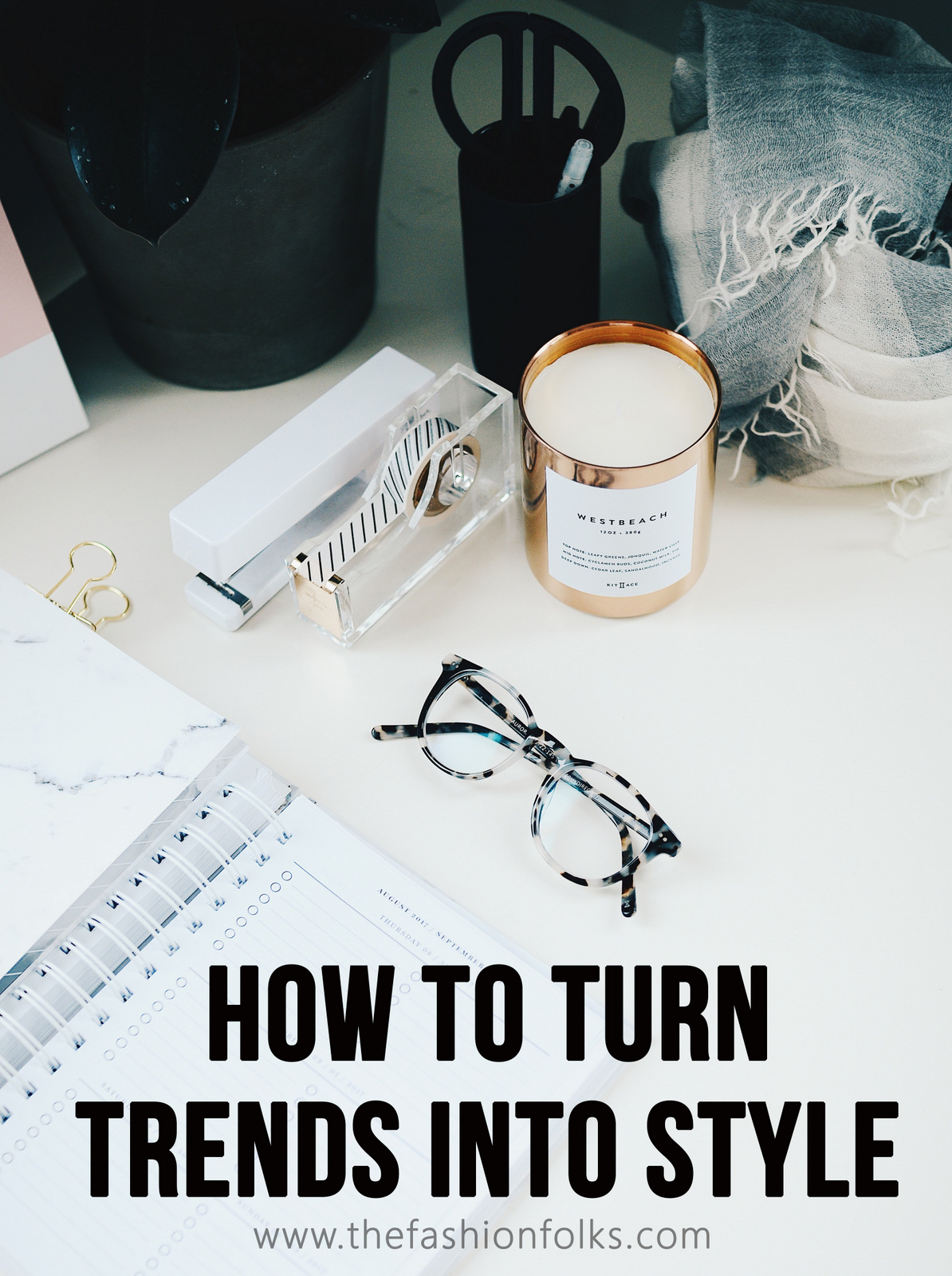 Pick pieces that'll last longer
I'm not necessarily talking about quality (though obviously you should buy pieces of quality), but more about pieces that will last from a style perspective.  If you have a clothing piece that is insanely style sensitive, try to find a clothing piece with fewer details of trends. For instance, if you have a red floral blouse with ruffles and statement sleeves, a red floral blouse with only statement sleeves will likely last longer. Why? Well, often, a trendy look isn't based on one style but several trends combined. That is what makes a contemporary look, several trendy details combined. I mean, the leather jacket has been trending for years. But a few years ago it was done in a biker style with studs, now it's oftenly done slightly oversized and with embroidery.

If you therefore step away from the complete trend look and just embrace some of the trends, or only one, it's likely to work in a five year run too. A black basic blouse with statement sleeves compared to a black blouse with statement sleeves and embroidery and also ruffles? You get me. Another aspect to remember is also the fact that some style elements are almost always in style and others are being revived every now and then. I'm not going to write a full list on what elements are style safe, but here are some main ideas on how you can choose more timeless from the current trends:
Choose Timeless
A checked oversized blazer – I'd say a defined check blazer is equally trendy and more timeless. That means, skip the oversized size. Or pick a black blazer in an oversized style and skip the check pattern. Choose wisely.

Red – Red is a classic color so I'd say you're pretty safe with whatever you choose. What to think about though is to buy red pieces that are sans crazily specific trend details. Like, the red sock boots might be stylish and everything but won't be in style in a few seasons. A pair of red Chelsea boots are more likely to remain in style as they're more classic. 
Black Pointy Patent Leather Boots – These boots are quite specific but have been trending for quite some time. The black boots themselves are quite timeless but the patent leather material and the pointy style makes the boots a bit more trend sensitive. If you still want one of those styles I say the point style is more timeless and will feel nice and up to date in five years too. A point pair of black boots? Why not!
Pick Pieces You'd Wear Anyways
I know this one is difficult to determine as our minds are highly influenced by the current trends. I mean, you love the oversized statement sleeves going blouse going embroidered going red today, but you probably wouldn't like it 10 years ago or 5 years ahead from now. That's how the trend cycle goes. It was only until recently "we" thought the 1980s or early 00s were ugly decades of style (just kidding, the early 00s is still a joke). So that's why you enjoy today's trends. The key thing here is to try to stay neutral about it. Think about pieces that are NOT that trend specific. If culottes are trending again, perhaps pick them in a classic navy blue style. If floral prints are trending, a knee long dress is never wrong!
See it this way; If a print is trending, go for it in a classic clothing piece. If a specific clothing piece is trending, go for it in a neutral color or print. The idea behind? Contrast the trends with neutrality. That way you'll have one foot in the trend world but one foot in the classic world. Kind of cheesy, but oh so true!
Learn how to style timelessly
If you are stuck with trendy pieces (we all are) the next step is to learn how to style them timelessly. As talked about previously, learning how to balance and contrast is key. Meet the trendy style with neutrality. That means, if you're working patent leather tights add a classic black blazer or a LWD to keep it classic. If you want to do it in a foolproof way, go for a classic outfit and make it pop with one trendy piece.
Another way is to take the clothing piece and see how you can balance it. Where lies the trend statement? Is it in the color, print, silhouette or something else? If it's in the color, neutralize it with matching shades. A print? Neutralize it with non-print pieces. If it's in the silhouette, tone it down to make it more classic! You get me. Take the statement and make it more timeless by going neutral.
Folks! How do you turn trends into style? How do you keep your clothing pieces alive as long as possible? Let's discuss in the comments below!