There's nothing like staying cozy during fall! One of my best clothing pieces to do so with is the sweater. What I like about the knitted sweater fall 2019 is that it's a fashion statement. Of course that all styles of sweaters are useful for fall, but if we're gonna talk about the trendy life: the styles of sweaters have never been more interesting. They're colorful, they're voluminous, they're oversized and perhaps most importantly: they're cozy. Here's how to style your knitted sweater fall 2019: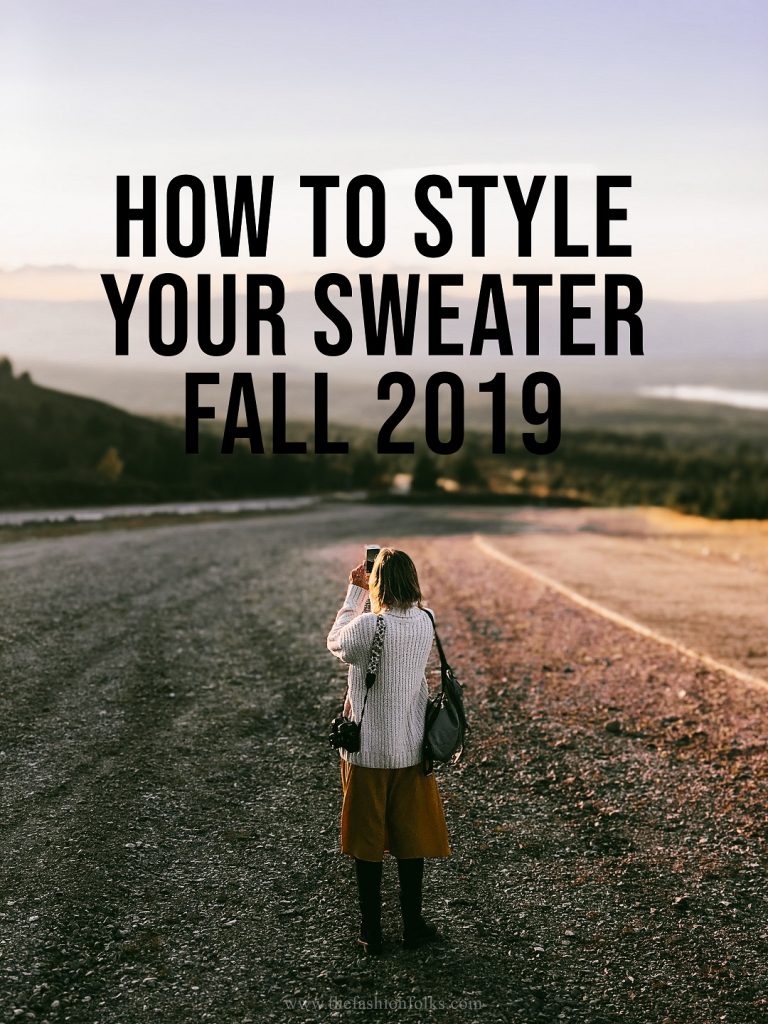 Style Your Sweater Fall 2019
With Contrasting Texture
The texture of knitwear is often soft and sort of makes a subtle statement. That's why it's a stylish idea to embrace the soft texture with contrasting ones. For instance, leather pants with a knitted sweater is a great match. A knitted sweater layered over a sheer skirt is another terrific example. The idea is to make your outfit more interesting through the choice of contrasting textures. Denim, suede, neoprene and fur-texture can be other interesting alternatives. Especially fur, leather and denim are great materials for fall. I'm also a fan of the idea to match knitwear with more knitwear. Layer a knitted skirt with your knitted sweater or add a knitted scarf!

With the Same Colors
The monochromatic look is one I've been talking about for years, but it's honestly a favorite mine and also happens to be trendy which is why it's a never ending story. Anyways, doing your sweater in the same color, or similar one, as the rest of your outfit is a stylish idea. I'd say this way of embracing knitwear is especially stylish for fall if you choose a fall color. Perhaps olive green, plum, wine red or why not mustard yellow? If you can't create an outfit like that top to toe, you can choose similar hues. If you have a plum colored sweater, wine red pants could be a nice match. Or perhaps your dove blue sweater with a navy blue skirt? It's simply about reviewing the colors of your sweaters and your pants/skirts and see what matches you can make! 
With Layered Clothes
Another favorite look of mine is layered sweaters over dresses. It's such a great way of making the most out of your clothing pieces, yet create that semi-awkward look of a bulky sweater and a simple dress. The way to do it is to take your dress, midi and maxi is extra trendy, and do your dress over. It also works well to do it with a skirt too, of course. You can either choose a same-colored style or you can contrast the color. This styling tips is really good when it comes to combining the ideas in this post. You can choose a contrasting texture in the same color and layered. That are three elements in one outfit that will make it more dynamic and through that, interesting. Don't forget that you also can choose to layer your sweater with your shirt under or why not your jacket over? Keeping it simple has never been wrong!

Folks! What are your thoughts on the sweater fall 2019? Let me know in the comments below! Xx