Oversized sweatshirts are more or less always in style as they've positioned themselves as the ultimate loungewear piece. Though with the normalization of comfy clothes and the popularization of sportswear, the sweatshirt is more in the spotlight than usual. I also think the early 00s' fashion contributes to this fact. So, without further ado, here's how to style the oversized sweatshirt 2023: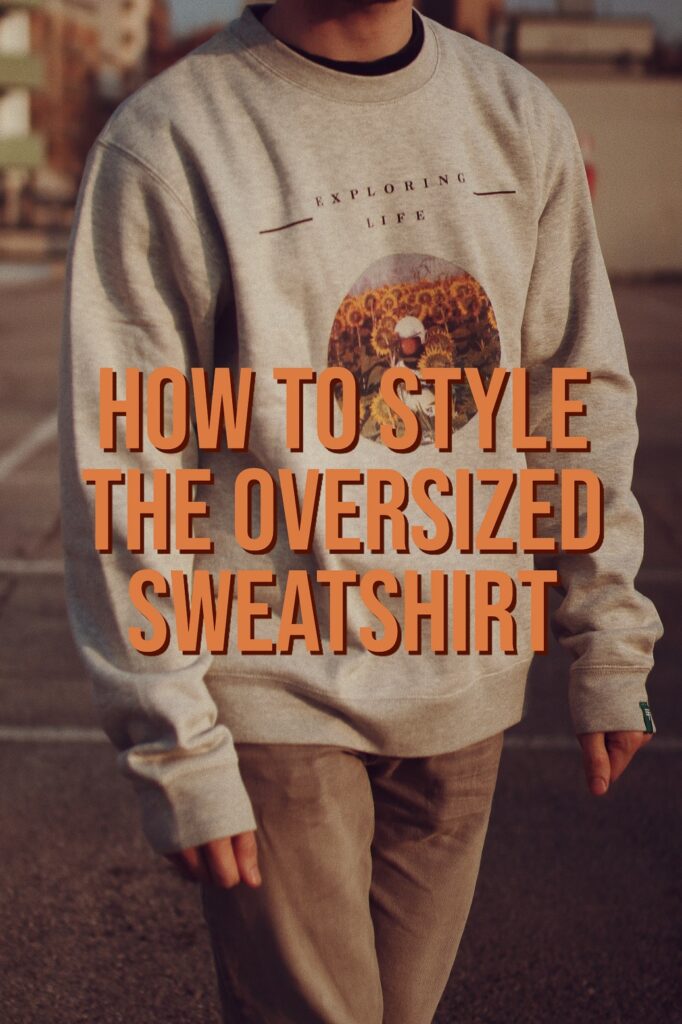 Oversized Sweatshirt 2023
With a Shirt
A very obvious way to work the sweatshirt is to wear it with a shirt under. Let the collar visible as well as the shirt cuff. This way you'll create a more wearable look and cohesive with matching details. I'd work with look with your favorite pair of jeans and some comfortable sneakers or boots. Lovely idea to go for a completely different color for the shirt, or something in a similar hue but lighter or darker. More than anything though, work with what you got.
With Something Preppy
If you want to make the college sweater work for a more preppy context, you should of course pair it with preppy details. I love the idea of a sweatshirt with a silk midi skirt, slightly tucking in the middle of the college sweater in the skirt. Work this with over the knee boots. Another idea is to wear a blazer over the sweatshirt! You could also go for patterned pants, like a palazzo style, and work it with heels. Whenever you go for a more preppy look however, make sure the details are matching for a neat and refined impression. In other words, match your alice headband with your nails or the color of the sweatshirt with the shoes etc. You're a creative person, you can do it!
With a Statement Collar
You know those statement collars you can attach to anything? Why don't you attach it to your sweatshirt? The contrast of a preppy collar with a casual sweatshirt will be interesting indeed. You can elevate this look further by matching your pants/skirts/jeans with the color/style of the collar. Another accessory, if you don't own a statement collar, is to go for some glam earrings or a big necklace. That will also make your sweatshirt a bit more interesting. How about your hair in a bun, glam earrings and your sweatshirt? Sounds like a fun, eclectic, look to me!
With Something Casual
But anyway, who says you have to make your sweatshirt more formal? You can just make it more stylish instead, but keep it casual. I would work my sweatshirt with either leggings in the same/or similar color. This will create a monochromatic look that itself is a fun fashion statement. If I don't own a pair of leggings in a similar color, I make sure to match the details of the outfit with the leggings or the sweatshirt. For instance, purple leggings to a grey sweatshirt? Make sure your shoes or bag has something purple or pink in them. Or go for a purple beanie or sunglasses. Or, go grey!
Folks! What are your thoughts on the oversized sweatshirt 2023? Let me know in the comments below! Xx