In the flow of writing about typical spring stuff, I of course have to write about jeans spring 2022! Few things are as associated with spring than a pair of fresh denim. It goes with the florals, with the animal prints, with the polka dots, with the pastels and with sneakers – and all other things you associate with spring! So, here's how to style them!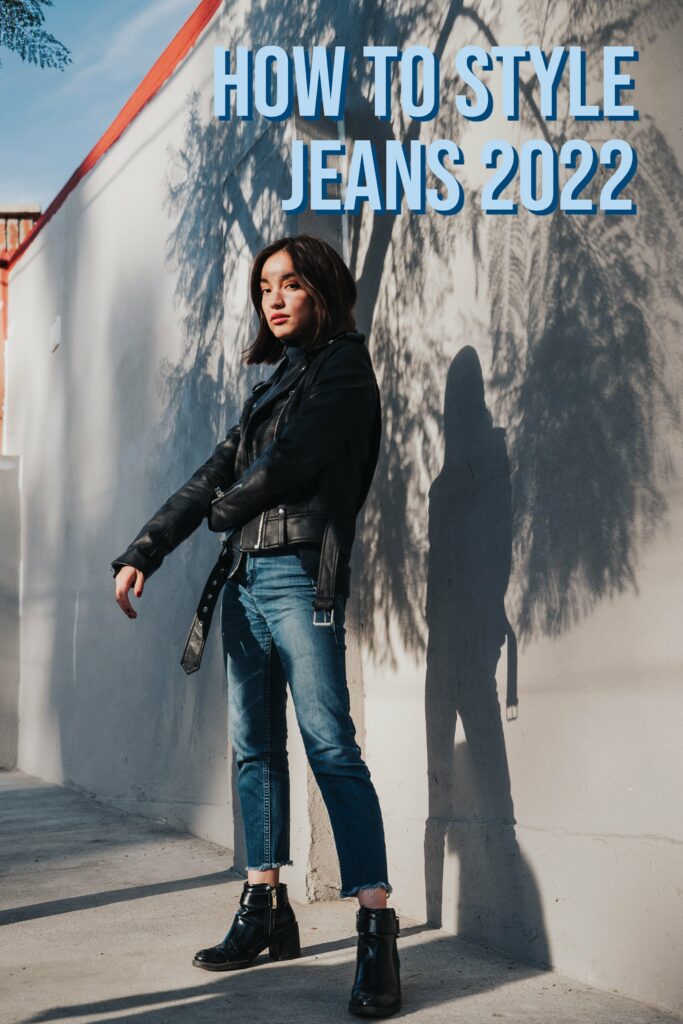 Jeans Spring 2022
With Chunky Sneakers
Yes, of course people wear their jeans with chunky sneakers. Even better when people wear jeans with chunky sneakers and the jeans are a bit cropped! That will create that bubbly, youthful, fashionable look. Love the idea of working that combination with a fitted t-shirt and a blazer. Or why not with a blouse or shirt that matches the sneakers for a cohesive look? I say yes! And skip the socks for this one or go for low socks that aren't visible.
With Statement Blouses
It has been quite the trend the past year to work simple jeans with statement blouses, and rightfully so! That duo is unbeatable. Jeans are neutral and through that, they complement all statements imaginable. Blouses and shirts done with statement sleeves have been a major trend the past year and works really well with classic jeans. But also blouses done in florals, animal prints or anything geometrical works well with the jeans. Go for black jeans and heels if you want a more preppy look, or classic blue denim and sneakers for a casual look.
Layered With a Dress
Maybe I'm trying to make fetch happen by saying that jeans with a dress over is a good idea, but fetch or not; it can be chic for spring! With the rising popularity of the 70s, I love the idea of working a pair of flared jeans with a A-line midi dress over. Or if you wear a cropped pair of jeans, it can be chic with a voluminous doll dress. With all the cottagecore trend too, I like the idea of mixing an old dusty dress with a pair of fresh, edgy jeans. A really cute idea if you own colorful jeans it to match them with the color of your dress! Like pink jeans with a pink semi-long dress over. Add a pair of heels for some height or go for neutral slippers/ballerinas. 
Match With a Blazer
Jeans and blazer is a combination that's reliable. The classic preppy piece, the blazer, and the classic casual piece, the jeans, meets in the middle and balance each other perfectly. You can go for a statement blazer or colorful one, as the neutrality of the jeans will balance it perfectly. If you prefer black jeans and black blazer, I suggest a patterned top or a white one but perhaps with a leopard belt or snake print. Just something to break it off. I know it's popular to go for fitted jeans, but I propose trying flared or 70s jeans for a more fun and intense effect.
With Colors
If you want to wear more colors, start with a pair of jeans as you blank canvas! After that you're literally free to add any color you want. Doesn't matter even what clothing piece it is as long as it's not another pair of jeans/pants. For instance a purple sweater tucked in a pair of jeans is handsome. A preppy pink statement blouse works with jeans. How about a bright orange floral dress? Of course you can layer it over a pair of jeans. Just make it work! If you want to make a smooth transition with the color used in the outfit, match it with any accessory you'd like. For instance a pink bag to a pink top or green shoes to a green top. You get it.
Folks! How do you wear your jeans spring 2022? Let's chat in the comments below! Xx