We are all aware of the fact that a person should be judged upon personality rather than looks. But the painful truth is that you often have less time to make a good impression. The fact is that people state that one has about 7 seconds to make a positive impression. And what's a good impression if not a fresh looking face? Looking fresh and like you have your life together (lol, we're all struggling), is key for interviews, meeting new people, job search etc. It gives the idea that you can be counted on, that you know what you're doing. Folks? Here's a guide on how to look fresh (makeup edition)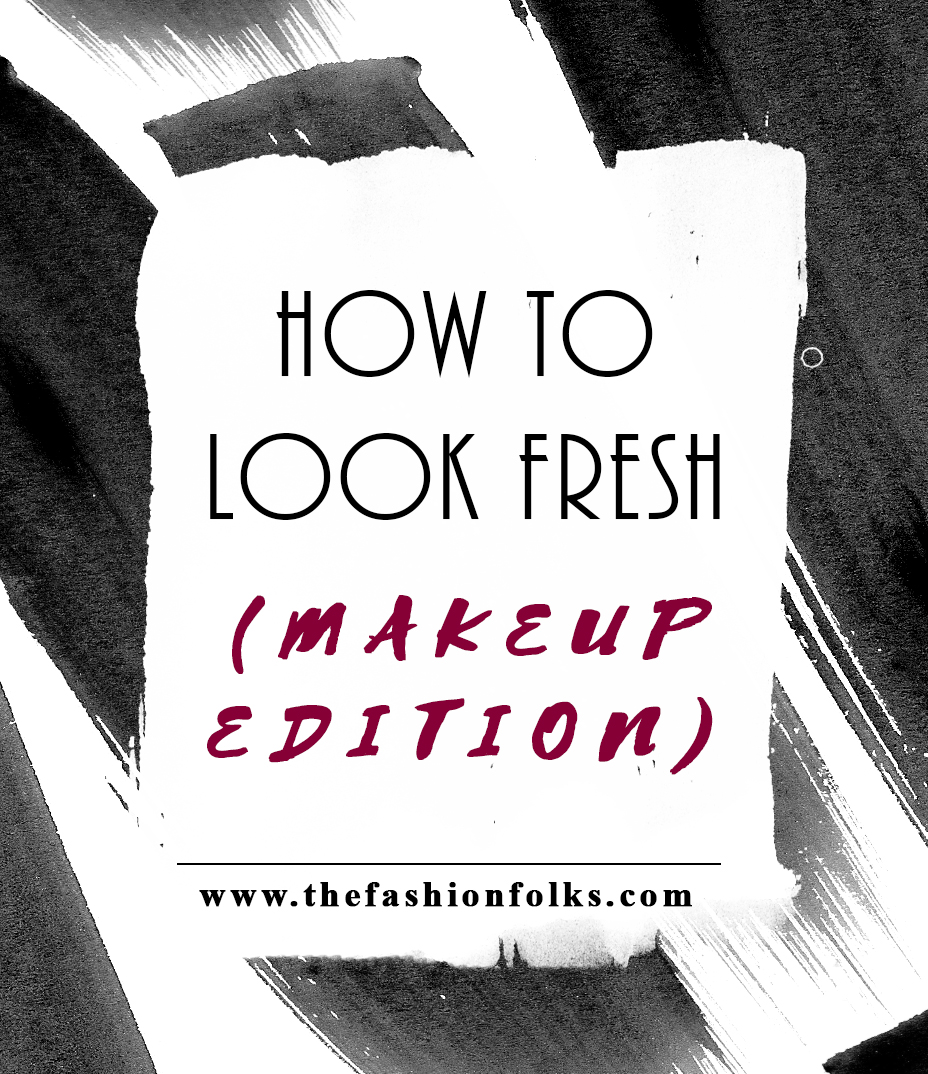 Focus areas:
So there are different areas that are crucial for achieving a more fresh looking face. These areas differs from person to person. Some general areas though, that often makes a difference, are listed below. If you have time, you can of course do everyone. If you're running out of time however (we all know that morning life), I'd say you'd focus on eyes and one you prefer. Why? Because the eyes/area around them are crucial for looking fresh!
How To Look Fresh
A nice base
First off, a nice base will get you a long way. Not necessarily that you do a full on foundation, but covering dark circles, spots and other blemishes makes a huge difference. Dark circles under eyes are highly associated with being tired, so cover them up with some concealer! Also, adding some light blush will also give a fresh impression. This goes way back in time, but on several occasions in beauty history, women have pinched their cheeks/applied blush because it gives a healthy looking face. I might be stretching it here, but red cheeks usually comes from being active/outdoors (which is a sign of a healthy life). Some blush on the cheeks? You'll look healthy and fresh!
Brows on fleek
Doing brows might not be the first thing that comes to mind for looking fresh in particular. But eyebrows have a bigger impact than many people thinks about. Especially with "eyebrows on fleek" going strong. Here's the thing, defined eyebrows adds some sharpness to the face. It draws attention to the eyes and intensifies the impression. If you have lighter eyebrows in specific, filling them in is a great way of adding the fresh look!
Fresh looking eyes
Fresh looking eyes are key as I said before. With eyes looking energized you definitely give the right image of yourself. Long and dark lashes gives a depth to the eyes which gives a more intensified look. Mascara is therefore your friend in need, but also doing a liner on the eyelids will help. Be careful though not to do it too heavy as it will give a tired impression. A thin line though, helps the eyelashes look thicker and fuller. Another key, that's the first thing I'd do if I'm going for a natural look, is curling the lashes. This opens up the eyes and the curled lashes pointing upwards gives a brisk look.
Healthy glow
You might never come back if I say this but here's another one for you: a healthy glow will also give a fresh impression. Why you may not want to come back? Well, one way of doing it is by using coconut oil (I'm painfully aware that it sounds like I'm sponsored by the entire world of coconut oil)! Take a small amount and apply on your cheek bones, nose tip, below your eyebrows and in the middle of the upper lip. You can of course do this with a highlighter too and get that shimmer going! A healthy glow, alike the blushing cheeks, is connected with the concept of fresh/healthy. You know the old cliché of saying " you look so happy, you're glowing" (or something like that). And a little highlighter or coconut oil will definitely do the trick.
Folks, that were some ideas on how to look fresh and give a good impression. Looking fresh is kind of your way of saying that you're energized, sharp and ready to take on life (definitely taking this post way too far lol). However dolls, leave a comment below on your best tips on how to look fresh!