I talk a lot about how to make clothes and trends more wearable, as that is somewhere the majority of people are with their styles. But how about those of us who like to push the fashion boundaries and go "more is more"? How is that possible and how can that be done? Here's a text on how to go more is more: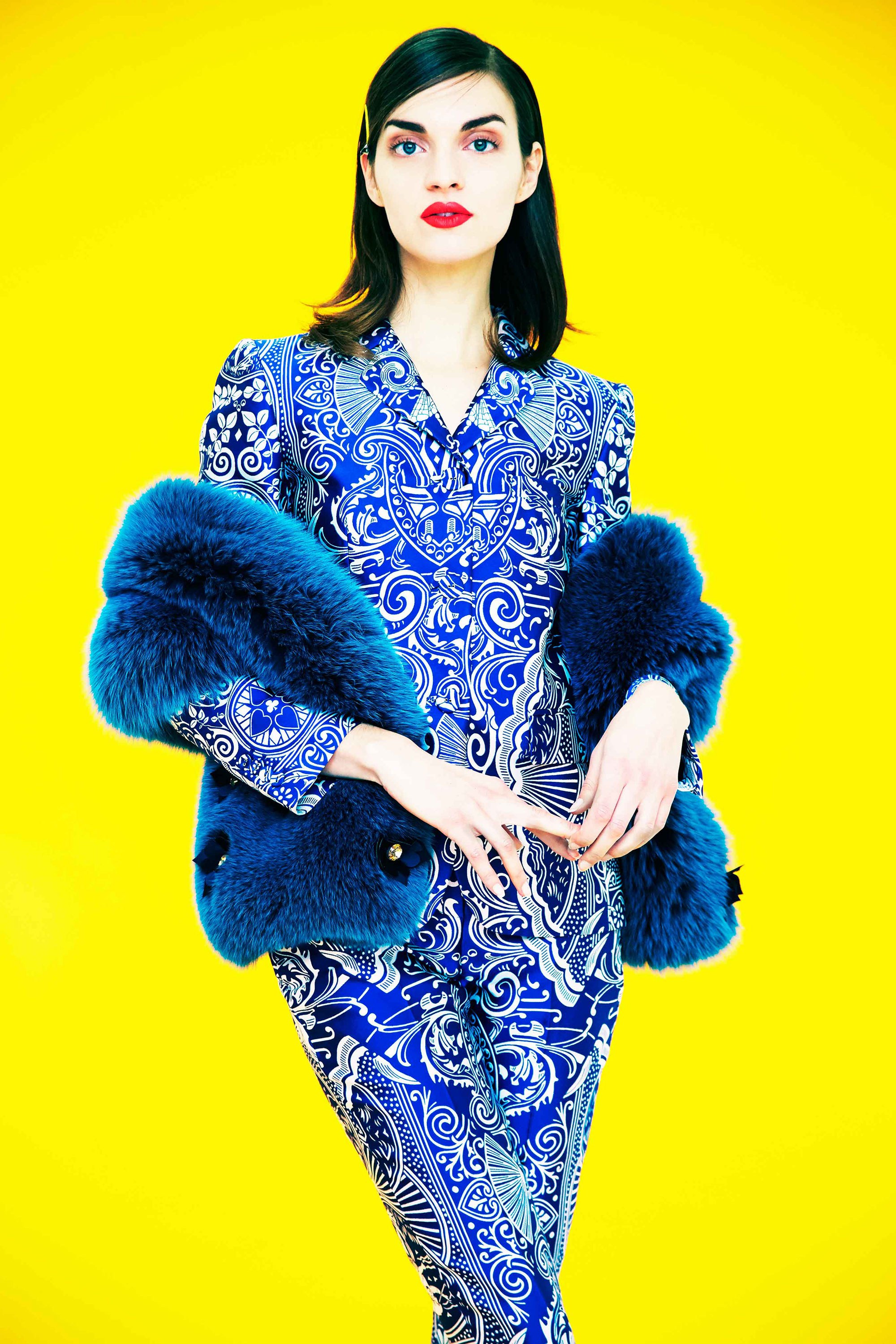 Courtsey of Mary Katrantzou
What To Think About
The one rule to think about, truly, when going more is more is to step outside the comfort zone. There's a reason why some people are embracing the idea "less is bore" (instead of "less is more") as less means staying in your comfort zone and comfort zones are often (no offense) boring. There's of course a lot of style to be reckoned in a comfort zone, and respected and appreciated, but a style can only evolve that much when going safe. Expanding the lines of your fashion zone and exploring your boundaries of creativity is where the fun happens. So if there's only one thing you are to take away from this post, it's stepping outside the comfort zone. More specifically, add things you never thought you'd add. How? Here's how:
Think Wrong
Oh nothing is more fun than to think wrong right? I try to challenge myself and expand my idea of wearability by asking myself "what wouldn't I wear with this clothing piece?". As someone who works a lot with seeing the possibilities of styling in a trend or clothing piece, this can be quite tricky for me. I do have this naive idea that everything can be worn and matched with the right kind of styling. However, it's still  a good question to start with as it'll lead your outfit to a "more is more" concept. "More is more" is by its definition often something done wrong as it's literally too much. When a styled outfit isn't working, it's often due to the fact of something being too much. So when you take your burgundy top and think what you can't match it with, that awkward combo will most likely be a "more is more" look.
But hey, let's not be foolish here. A lot of awkward combinations that just "can't" be done need some styling too. That's why I like to think of what I can't wear with a clothing piece and then neutralize the look a bit. Like lavender purple and yellow might be an awkward combination, but then I'll find the best combo of yellow to match the purple. And oftentimes, it works! The idea is basically to think about the worst combo and then make the worst option wearable by choosing something similar. It sounds crazy, I know, but more is more is about craziness too, right?!
Add More
One thing I often talk about is the idea to remove one item from your outfit before heading out. I don't support it specifically, but it's embraced by a lot of "less is more"-enthusiast. The other way around is to add an item to go for "more is more". When you feel like your outfit is done, add an element or two to mix it up a bit. I especially promote this if your outfit is neutral or you're going for a monochromatic look. Add a statement clutch or go for an oversized necklace or a crazy fedora hat. Always add more than what you think. A beginner's tip is to add a piece that still matches the outfit. If you're pro at the more is more style, add something awkward to change the course of the look. The key idea to remember is to…..add more!
State the Statements
Another thing I often talk about, when going for a wearable look, is to center the outfit around one statement. That's the wearable way of working statement pieces. Going for a "more is more" look, you have to state the statements. Yup, not one statement but at least two but preferably three. Not only can you have a jacket that's taking up some space, but also a pair of shoes and a fun hat.  These elements can of course be matching but even more fun if you make them contrast. If you haven't tried this before, but is curious about it, do a statement for pieces that aren't competing. An example of this styling tip is a hat and shoes, or a jacket and a pair of shoes. Or a clutch and a hat. These pieces are not in the same area (compared to a jacket and a clutch). That way you're more likely to get away with a (faux) leo jacket and a pair of orange shoes. They're not competing about the same attention! So add a statement and then add another one, just because you can!
Mix and Mismatch
To continue the idea of thinking wrong, another important aspect of the "more is more" life is to mix different elements, styles, colors, prints and textures. Take opposites and mismatch them. A lace top with (faux) fur might feel wrong but is definitely a match for a more is more look. A leo print with stripes is equally so or why not go for the 1960s fashion life but add awkward elements of the 1980s? A more is more look should feel overwhelming and that is often what a mismatched look does. That's why you can think wrong and then take it from there as a mismatch is often what feels and looks wrong. So mix the different elements and let it be a mismatch. Whatever you do though when you mismatch is that you should wear it with confidence. If you're not at least pretending to be confident about what you're wearing, no one will believe your outfit either. Wear the "more is more" look with pride!
Folks! How do you go more is more? Would you try any of these tips?  How do you go for the more is more life? Xx