Folks, it's unfortunately quite the common thing to dress in neutral colors during the winter months. Most common of them all are perhaps black and grey, that both are minimalistic and suits everyone. However, my job as owner of this site, I do think I at least should encourage people to dress colorful in the winter. You know, get the fashion love going!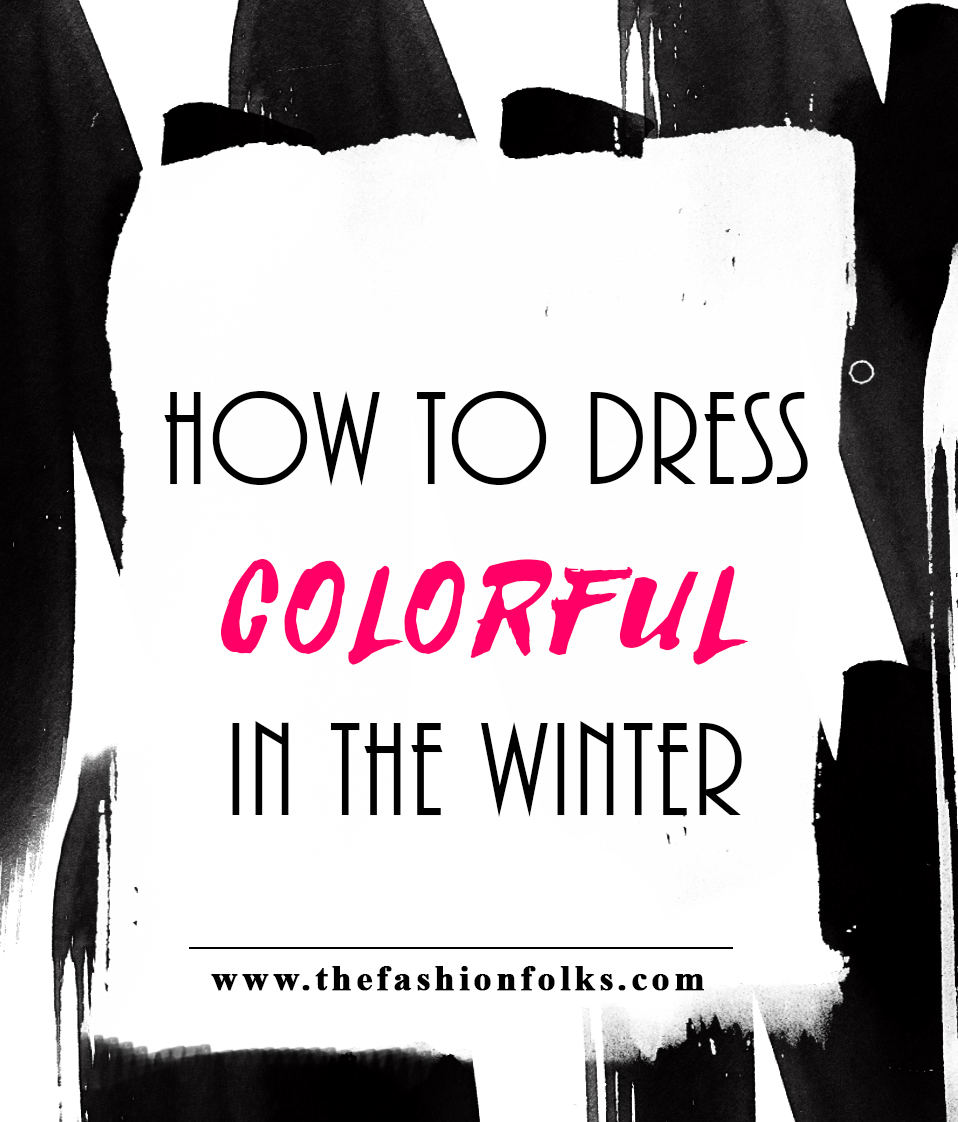 Why You Should Dress Colorful In The Winter
Since winter wear tend to be more expensive and more of an investment, rather than just another fashion purchase, people tend to buy winter clothes in more basic shades. Nothing wrong with it, but it often means that people are dressed in dark colors several months of the year – rather dull I'd say! Cause, honestly speaking, isn't it during the darkest month of the year we need colorful and fun clothing item the most? . So that's why I'm a firm believer in adding color during the winter months. And pssst, as the holidays are up and coming, it's a perfect time to add red/green or color in general to your outfit. Before getting to the tips, another psst is that you also can just wear whatever colors you want and embrace the colorful life hence the season! 
Ways To Dress Colorful
Invest in one colorful jacket
As stated above, it's most common to have winter jackets in neutral colors as they tend to be expensive. But if you are already down with black, camel and grey, why not let your next investment be in a colorful shade? Perhaps red, pink or blue? Pick the color you love the most, or the one that suits you the most, and see the difference it makes. I always feel energized when wearing the best colors for me. It adds that extra glow to the outfit as the details are just in tune with one another. Faded colors, such as pastels, are also great for winter. They don't make the same statement, but they still bring some nice color.
Colorful Accessories
Now, you don't necessarily need to embrace the same palette that exists in the candy store, but adding some colorful details won't hurt. If you wear your grey coat, add some colorful accessories that will make the outfit. How about burgundy gloves or a pink beanie? A little color is enough for the touch up! Read more here about the power of the accessories.
Keep the rest of the outfit colorful
Another way to do it is to keep the clothes, colorful. Contrasting colors by the clothes and the jacket is genius for creating some tension and excitement in the outfit. I'm sure you have some colorful jeans or pants laying around that works well with your selection of winter coats. If you're unsure about colorful statement, the neutral jacket will balance the statement color of the pants. You can also do a colorful top and let it hint, a chic detail to rely one! Don't be afraid to work color (or prints too for that matter), just because the weather is some degrees colder. Here are some fun ideas of color combinations to try!
As stated above, isn't it color we need the most when fashion is the most dull? It is indeed folks! How do you dress colorful in the winter, or do you do it at all? Xx