Gosh folks, I feel slightly hesitant to already write about the spring fashion 2018 as I want to embrace the winter fashion fully. BUT I know that the majority of you are eager for spring to arrive and also the fact that the fashion weeks starts today, so already have a full month of fall/winter clothes ahead. With that said, let's talk about how you can add spring fashion 2018 to your style: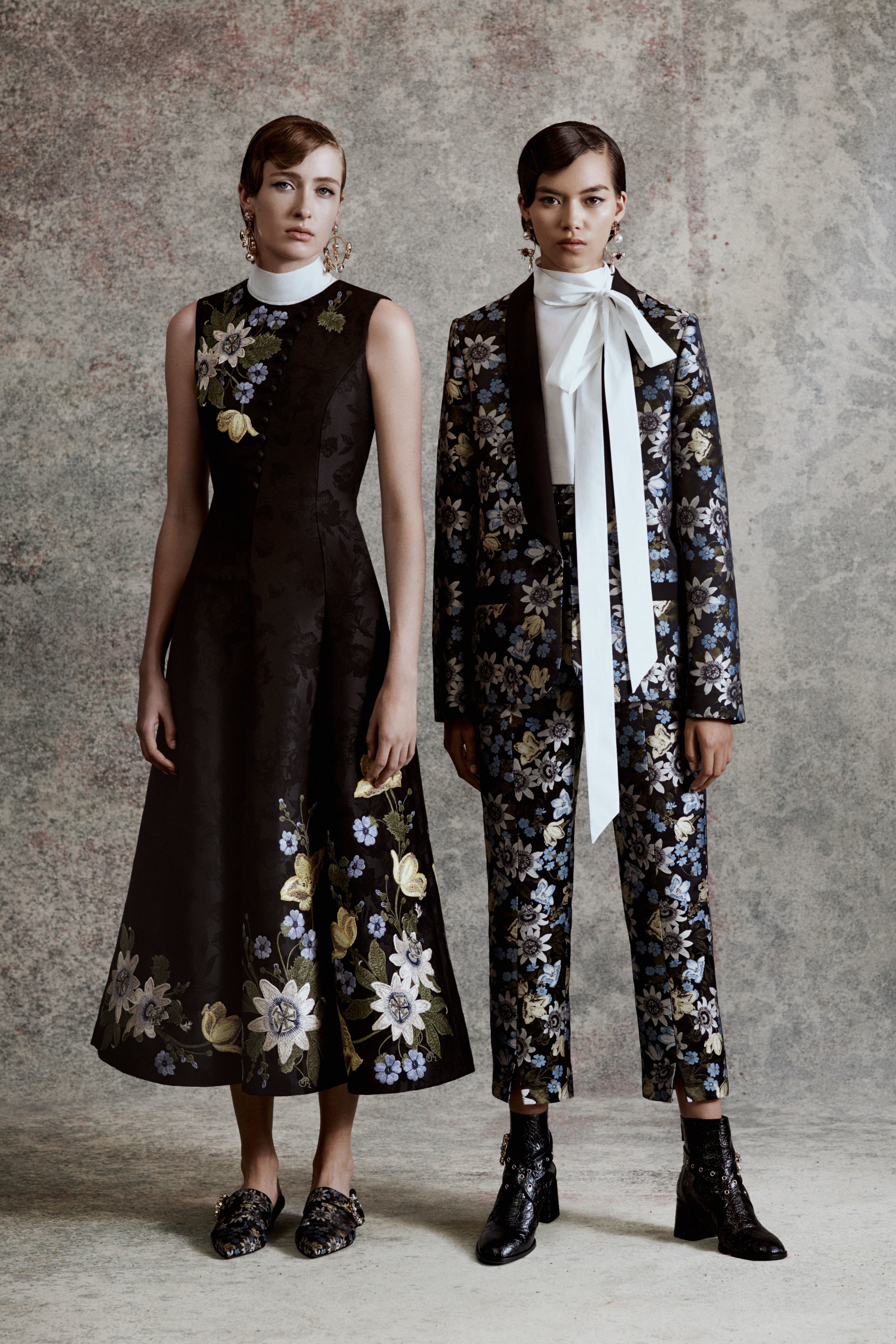 Courtsey of Erdem | Resort 2018
Spring Fashion 2018
Trendy Elements
There are quite a few interesting trends that are coming for spring, or should I say evolving? You'll recognize quite a few styles from past seasons and if you're a fashion person with a love for trends, you might already have a few of these items in your wardrobe.

The Color Red – The first trendy detail, which also is a classic color, is red. The red shade has been major in the fashion world, fully exploding last fall. Adding pops of red to your outfit is a great way to energize the winter style. Perhaps the most fashionable way of going for red is doing so in the monochromatic way. If you don't have clothes to do so fully, a red sweater is energizing enough!

Statement Sweaters – A second trendy idea that will help you embrace the spring style this winter is to go for the statement sweaters. The statement can truly be about whatever, from the sleeves to the color or the trendy statement texts. If you followed the ruffles or the statement sleeves, you're pretty much good to go. A way to make a statement with your regular sweater is to add a pin or some embroidery to make it pop! Get some inspiration from this article on the men's fashion fall 2018!

Monochromatic – Already mentioned in the red style, the monochromatic look can be done in several ways. Perhaps in classics as grey or camel? An all white monochromatic outfit feels both crispy and stylish for the winter style but also one that translates to spring fashion. If you want to go for the colorful life, an all yellow, orange or perhaps green will carry you through! Keep bringing it up, but ultra violet is the color of the year and surely a fun challenge!

Dark Floral Print – Lastly, would it even be spring if I didn't mention some florals? Eh, probably not! The floral prints are generally darker during the colder months and lighter for spring and summer. This is not completely the case for spring 2018 as the dark florals, from a trend perspective, seems to be the go-to choice! They've been popular for the embroidery trend but also mesh and other transparent materials that have been matched with details of flower prints! With that said, if you want to stay on the trendy side, you're safe to bring out the darker florals (or continue using them). The darker florals are also a nice balance of florals representing spring and the darker colors representing fall/winter!
Stylish Elements
Now let's talk some more about timeless, stylish, pieces that one always can rely on for every spring season. Elements of style that often pops up in one shape or another – it's how the fashion mentality goes, certain details are always returning!

Pastels – The brighter shades of the color scale are surely reliable for creating a spring feeling a few months ahead. You have the classic dove blue but also baby pink, the classic peach and the beloved mint green. It's easy to reach for the darker colors during winter which makes the pastel shades a great contrast. I wrote an appreciated article on how the pastels relate to the darker shades, which might help you in the styling jungle!

Lighter materials – I know I've been going non-stop about statement materials the past months, but as genius as the typical fall textures (faux fur, knitwear, faux leather etc) are, there are stylish spring/summer materials too. Lace, crochet, mesh, organza, viscose are all examples of this. A favorable way to break off the heavy winter layers is to go for the lighter materials. Faux leather pants are a chic match with a delicate lace blouse. Or a blouse in viscose works well with a faux fur jacket! Picking these materials in lighter colors calls for the double effect!

Midi lengths – Fine, it might only have been in the last seasons where the midi lengths have become cool again. Culottes, midi skirts, midi dresses? I'm here for it! I do mention the specific length in the style section as I do think that the style will stick around and also that many of us have pieces in this length. The length is also great sign of spring, perhaps being too early to go sans tights, but adds a nice flow. Especially if you go for a dress or a skirt in a chic pastel shade or perhaps a floral print? Anyways, don't forget to contrast the length with some fierce boots!
Folks! How do you add spring 2018 to your winter style? Drop a comment below! Xx