Folks! I think it's time to slowly begin to wrap up the fashion weeks and I do only have a few posts left. I thought it would be about time to pin down some highlights from the fashion weeks 2017.  Looks that were genius in one way or another and deserves a(nother) round of applause. I've talked about some before and others are new! And yes, I'd like to apologize in advance for being a hypocrite on this. The past weeks I've been praising all the popping colors and prints we'll see this fall and my highlights includes….zero? Ouch. Sorry about that!
Co
I do very much indeed realize that the cape has no opening for the arms and it makes it highly impractical, but who cares? It's gorgeous. (If you can find the opening for the arms though, please let me know). I've always thought that capes are on the balance of fashion drama and elegance, so a cape for fall is kind of a go! That exact length and camel shade, are both trendy features. The statement button might not have been my first choice, but a nice detail that adds to the excitement. The boots (let's hope it's fake) are a fashionable touch and underlines the camel color. I was about to praise the subtle pocket, but as I look at it again, I'm not even sure what it is. The opening for the arm? Lol, folks, whatever this look is: I love it. It looks like an everyday cape for a fashion hero, or something. See full collection here.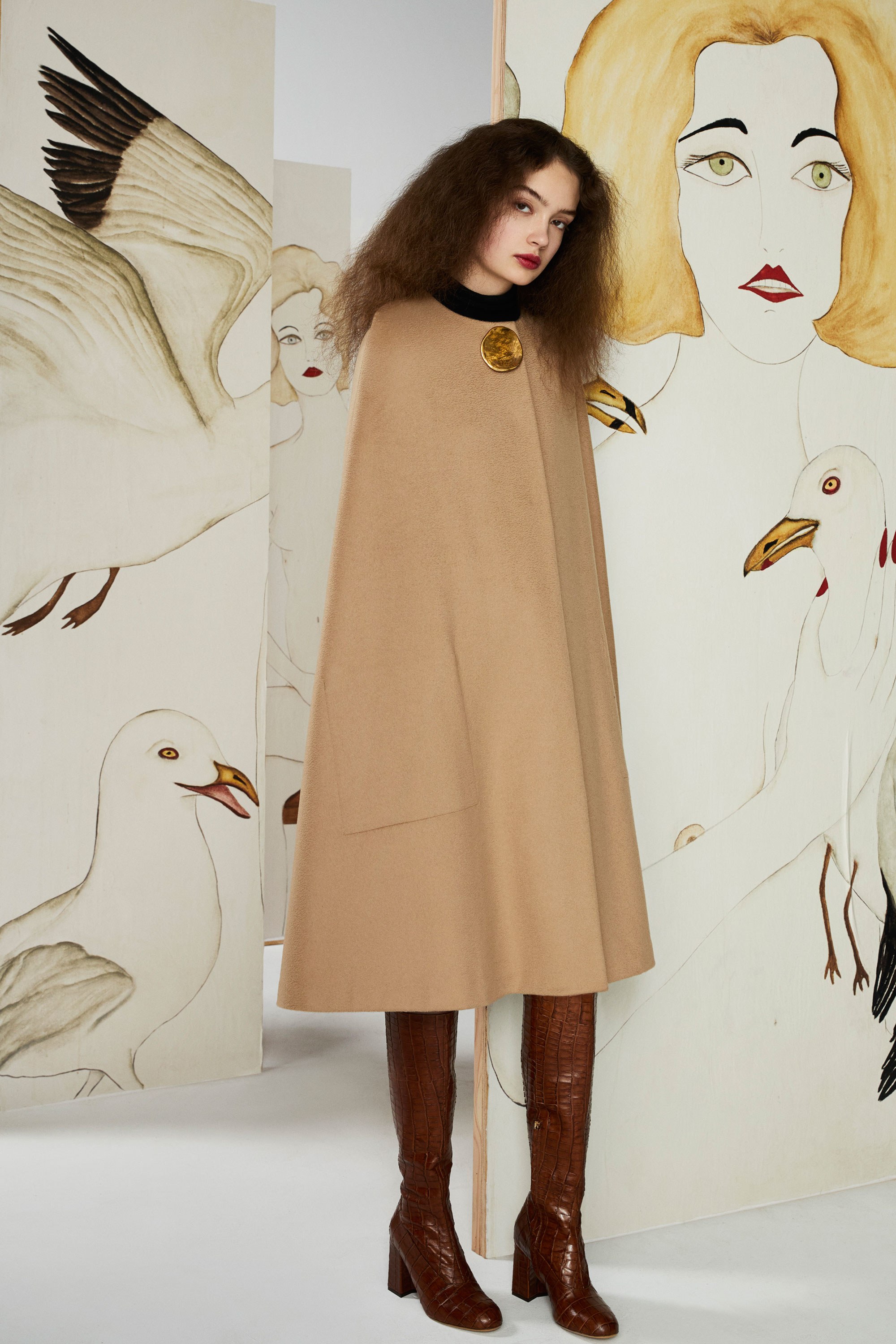 Courtsey of Co
Calvin Klein
The most celebrated look from Raf Simons' first collection for Calvin Klein is this yellow one with the plastic cover. I'm not too hooked up on that look, but more in love with this all denim look. It's definitely a nod to denim's brilliance, but its also a nod to the American fashion heritage. The look ticks off the classical features of an outfit that would be considered as lack of style, but does it with a refined and more sophisticated touch. It's denim on denim, which to many is either a hit or miss. Above that, it's paired with a white turtleneck, that looks more uncomfortable than good, and also paired with clumsy shoes that are quite ugly. But. it. still. works. I'm not completely sure what it is, but the exact shade of denim being matches and the simple lines of the jacket are all so good. I love the pointy collar and the pockets too. Well, it shouldn't work, but it does! See full collection here.
Alberta Ferretti
I know, I know. I've already dissected this look to its seams, but can we just embrace it one time more? Because yes, it is that good and I'm far from being over it. First of all, the color choice of navy and white is a perfect classical combination. Secondly, the choice of doing the stripes natural and like brush strokes adds a nice contrast to the preppy feeling. The flow of the dress and the shorter jacket creates a nice balance in the silhouette. That exact choice of hat is not only unusual but feels like an hat for strolls in the city on any given day? Why this looks excels to me is that it presents an idea beyond the material of clothes. Like Paris or Venice. So yes, hands down to this look one more time. See full collection here.
Marchesa
I feel like I have to throw in at least one look that embodies glam as we want it: with fringe, embellishment and a touch of the 20s. And where else to turn if not to Marchesa and their precise feeling for red carpet glam? This blood red dress is a gorgeous creation with the layering of fringe and embellishment. The placement of the two sculptures the dress and frames the body perfectly. The center part is done gorgeously not to mention the effect the long fringe creates. Dramatic, a bit smokey and a modern feeling of the 20s with the length, the features and the neat styling. See full collection here.
Carolina Herrera
Okay fine, this look is not genius. It's quite plain and perhaps a bit too conservative to feel contemporary and upbeat. By its first impression: it lacks energy, excitement or a fun statement to keep the interest going. But but but, take another look at that collar. Yes, that's damn right. That collar is a work of art. It's quite simple with its simple lines and all white shade, but the work of layers balanced with the small bow is so good. The collar extends to a statement of shoulder which is a nice, if yet subtle, touch. The three layers of fabric are not only something else but also a nice demonstration of how simple details can take a look far. Cute and delicate might not be your cup of tea, but that collar surely should be everyone's. See full collection here.
Balenciaga
I talked about this look only a week ago but my crush remains. This contemporary 1980s festive evening gown is fashion geniusness. The petite top of the dress is a perfect contrast to the heavy bow as well as the fall of the lower part. The fabric looks luxurious as few and embodies simple elegance. This dress is a great example of doing a subtle statement: it's highly visible but not tooo attention-seeking (making sense here). The bow adds a fun twist, but the rest of the dress' simplicity still keeps it in the safe zone. A lot of us, if not all of us, would choose another pair of shoes – but hey – it's a fun twist to say at least. On another note: How heavy is that bow? See full collection here. 
Folks! Which one is your favorite look, if it's even one of these? Leave a comment below and have a darling weekend! Xx
Did you like this post? Hit the share buttons below!