Folks, you know what we need? We need some fashion magic! And how lucky aren't we that the fall 2020 couture collections are being presented right now? Couture fashion is truly the art and celebration of fashion through handcraftship, lavish design and excessive glam.
Fall 2020 Couture
Giambattista Valli
First out is this mesmerizing Giambattista Valli dress. It looks like a pastry made out of white chocolate dreams. Love the ruffled, diagonal, cuts of the dress creating a pattern. The layered organza is rough but refined. The skirt is well-balanced with the oversized bow, making up for a dramatic top. Love the twist of the bow and that it's a bit wrinkly, as it reflects the vibe of the skirt. Perhaps this look isn't wearable at all, but oh my so sweet! 
Balmain
Balmain revisited some old classics for their fall 2020 couture collection. With Olivier Rousteing leading the brand for almost a decade now, there has surely been some memorable moments. His strength has always been the combining of wearability and glam. This petite green metallic dress is no exception. The romb pattern in combination with the quilted style creates quite the interesting texture. The emerald green gives some depth to the dress, whilst the shiny material embodies the glam life. Love that it's fitted too, with a subtle emphasis on the shoulders and hips.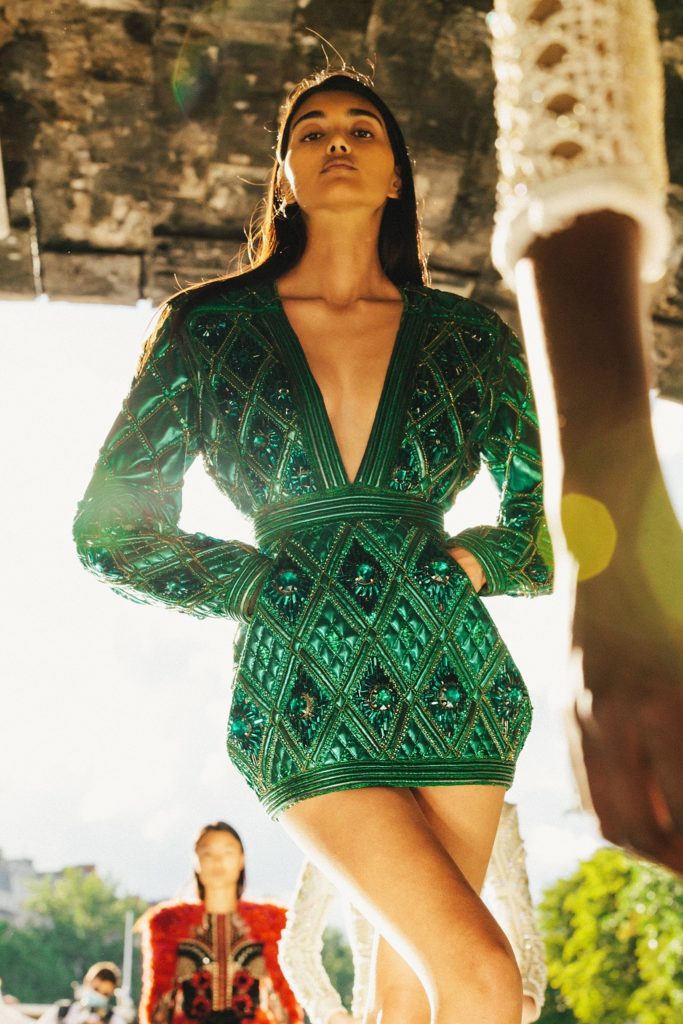 Christian Dior
The legacy of Dior is timeless elegance. If this dress isn't the very definition of it, I don't know what is. Surely the transparent lace has a contemporary touch, but the dress has that Grace Kelly vibe to it. I love the enhanced waist, the high neckline and the defining belt. This dress is surely an alternative to a wedding dress or a really elegant event. An old Hollywood hairdo, a pair of Manolo Blahnik and red lips would turn this look into a killer one. 
Folks! What are your thoughts on these highlights from the fall 2020 couture collections? Xx