As promised, here's the guide to the makeup trends fall 2018! What I like about the trends this year is that they feel really wearable and easy to try . No crazy mix of eyeshadows, but just simplicity through it all. Here are the makeup trends fall 2018: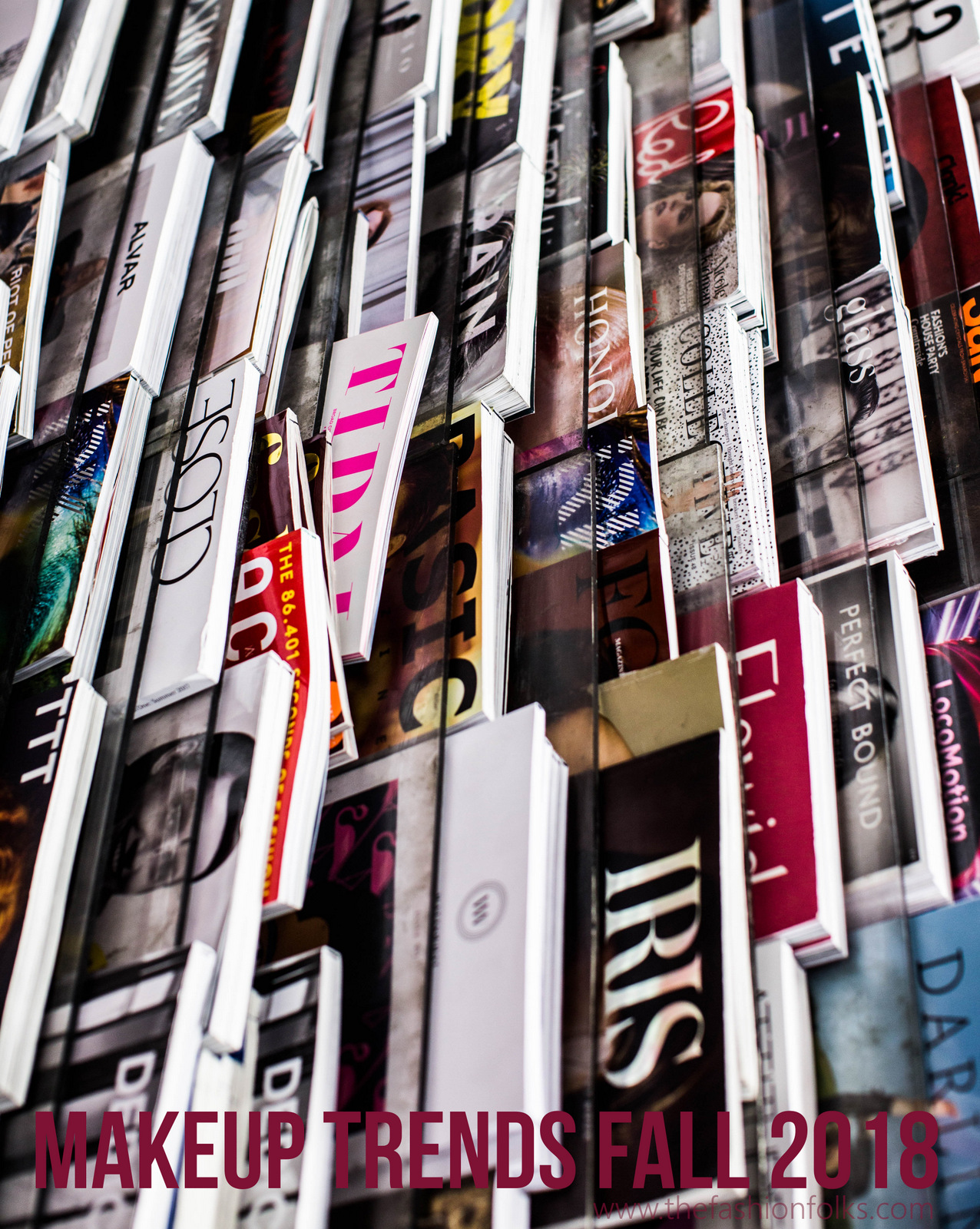 Photo by Charisse Kenion on Unsplash
Makeup Trends Fall 2018
Purple Rain – As if purple weren't a major trend in fashion, it's also one of the hottest color in makeup this fall. It's the go-to color for eyeshadow, lips, nails and eyeliner. Both the brighter and darker shades of purple are trending, which makes it easier for you to choose a color your thoroughly enjoy. I think purple for eyeshadow is a fun idea as purple is one of those colors that's really pretty with all eye colors. A warm plum color for the lips is also a really pretty one for fall if you ask me!
Metallic Mood – The metallics are always trending each fall, but this season it's about the warmer metallics. Gold, copper and bronze are up on the trendy list. Also quite a lot of glitter done in more statement ways like lips or as blush. The golden shades  are most commonly done as eyeshadows, but also works as an eyeliner. Just remember to frame the eyes if you want to embrace the trendy fully. Go for some shadowing under the eyes or an eyeliner.
Dark Red Lips – Red lips are classic indeed, but as with all the classics, they do tend to change slightly from season to season. The shade of red that's most popular this fall is the darker shade. Your red lips should be intense, distinct and dramatic. As with the other shades of red, you can choose after your warm or cool undertone to get the color match more perfected. Warm undertones means that you should look for lipsticks with a warm orange tone. Cool undertone is favored by lipsticks with a cold hue, like blue!
Natural Glow – As if a natural glow is not something we all try to strive for constantly – but on top of that it's trendy this season. In contrast to the Instagram glow, the glow of fall 2018 should look natural, like it's your skin that's literally is glowing. That means that you should go for highlights that are sans color and without any shimmer. You can also choose day creams that are illuminating as well as concealers. Just everything that will help you achieving that glow! Also, a good skincare will help a lot .
One Colored Eyeshadows – Now this might be the best trend there is this year. I'm terrible with eyeshadows, but I'm sure I can work this one colored trend. Just pick a color I enjoy and try to blend it normally? Yup I'm gonna try. The one colored eyeshadow trend is mainly about popping colors (like purple and yellow) but also about the metallics (like gold or bronzer). So pretty to do with subtle mascara and leave it at that!
Glossy Lips – Lastly, the lips for fall should be glossy and definitely not matte (if you want to follow the trends). Either if you invest in a glossy lipstick or if you buy a lip gloss you can apply as top coat. Remember to keep it in your bag during the day as lip gloss and eating food is normally never a good combination. The colors you should embrace, according to the trends, are a bright red, orange, mauve, peach, beige or a dusty pink!
Folks! What are your thoughts on the makeup trends fall 2018? Let me know in the comments! Xx