And it's finally time to welcome June with open arms! I like to start a new season by refreshing the memory of what the current trends are. It's a good source of inspiration as you'll hopefully get some ideas on how you can utilize your wardrobe, but also perhaps expand it with a clothing piece or two. The trends of this summer are quite romantic with lots of dresses, warm colors and refined details. I've talked about some of these trends in my trend alert series, so if you want more detailed information; click the links! Folks, here are the fashion trends summer 2019: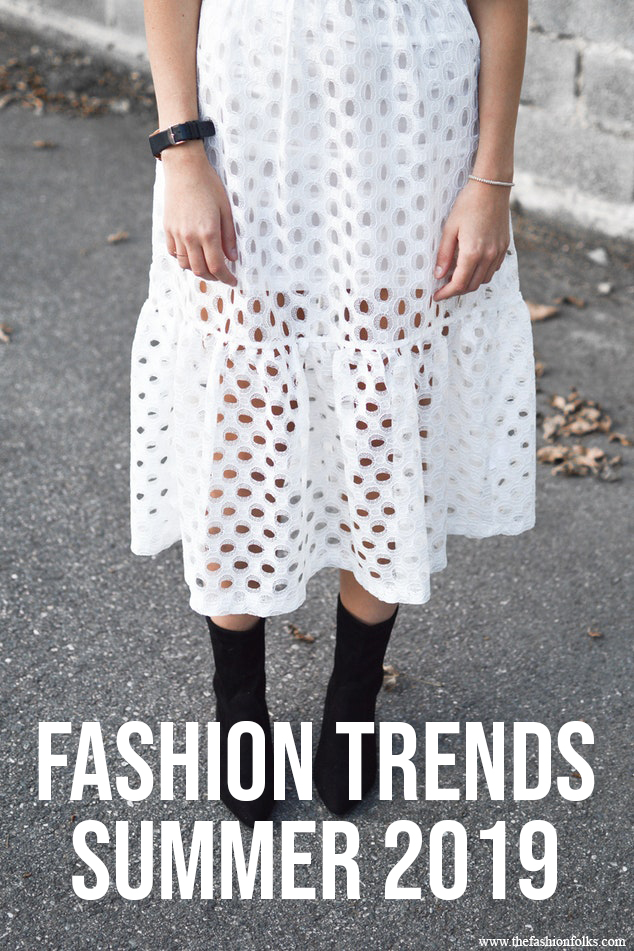 Trends Summer 2019
Animal Prints
So the most trendy print you can work this season is the animal print. Mainly the leopard, snake and zebra, but some cow- and giraffe patterns have been spotted as well. The animal prints are commonly done as boots and dresses, but also bags and skirts. For this summer, I think the animal prints are a great option with denim, straw accessories and the earthy colors. Read more here about the animal prints this season!
Chunky Shoes
So pairing your light, flowy, summer dress with a pair of chunky shoes (often boots or sneakers), might not be your regular combination, but a trendy alternative this summer. Both sneakers and boots are often quite comfortable and thereby a good choice when you're on a city vacation and have a lot of walking to do! Going for boots in an animal print is trendy and also a stylish match with your blue denim or classic black. Some chunky sneakers are perfect with asymmetrical skirts or voluminous dresses!
Vibrant Colors
Fair enough that beige and camel are two important colors this season, but let's not forget about the vibrant colors of red, yellow, neon, purple, pink and orange that's trending. Yup, that's right. A lot of warm, intense, colors are popular right now and, if you ask me, a lovely match for summer. Go for your vibrant red to elevate that summer mood or embrace a pink t-shirt with your jeans. I think choosing your summer dress in a lively color is a great way of adding more color to your summer wardrobe. Read more here about the trendy colors this year!
Light Fabrics
So what about this year's fabric? Well, what do you say if I say tulle, silk and lace? All of these light, and semi-transparent, fabrics are popular this year. They're common for blouses, dresses and skirts. Linen is another trendy summer fabric this year and also a fabric that breathes, which is quite useful for hot summer days. So go for the midi linen dress, or your tulle skirt, or silky slip dress or that voluminous lace top! Simple as that 😉
Voluminous Pieces
And speaking of volume, this year is partly about tight pieces á la the 90s, but also about voluminous pieces with puffy sleeves, spacious skirts and A-line silhouettes. I love to go for voluminous pieces during summer as they are more airy and therefore nice when the temperatures are high. They also make a fun fashion statement, which is great as summer is not the season for layering heavy accessories! Read about the voluminous dresses here.
Maxi Dresses
As I declared in this article, the maxi dresses are as reliable as ever this year. They're vibrant with fun patterns, they're comfortable with their soft fabrics and they're wearable with the maxi style. I do think these are great go-to pieces as they don't require that much styling. If you're a big fan of the animal print, try it out in a maxi dress, or go 1980s with some polka dots. The florals are also a good choice!
Simple Slippers
If the weather is too hot, I understand if you wanna skip your chunky shoes and go for a pair of slippers! The slippers are wearable, comfortable and works with anything. Do them with your jeans to get a more casual look or add them to your maxi dress to balance the heavy fabric. Going for black slippers is classic and trendy, but tanned slippers and beige are also popular alternatives. Pick a pair with a steady sole, so they'll last more than one season!
Statement Materials
As for this year's statement materials, how about wood and straw? Both the wooden bags and the straw accessories are big this year. I think they're a fun and interesting match with the lighter materials. A wooden bag can also be fun with your jeans, but also quite unexpected with some more delicate silk. As for the straw accessories, they're great for the beach! A big sun hat will protect your face from the UV lights, and an oversized straw bag will elevate your outfit!
Monochromatic Mood
So what's else to finish this trend guide if not a reminder of the monochromatic mood? Because yes, oh yes, it's true that it's trendy to go for one color top to toe this summer too. I think this makes the styling easier as you pick a color you like and stick to it. A monochromatic beige look is wearable and so is an all white. You can also, and you should, push yourself to go for a look only in red or why not a sweet pastel such as mint green? Have fun and play around with the colors you like!

Folks! Which one of these trends summer 2019 is your favorite? Let me know in the comments! Xx