Folks, do you feel like you've walked into 2018 with full force? More determined than ever to make the most out of it, to do all the things you've always talked about but never done? Well I haven't, lol. I'm fully going to blame the weather, the somewhat hangover from the holiday season being done and the difficulty in going from "rest and relax-mood" to "2018 is my year-mood". So hey, let's start over! Let's hit the reset button and welcome 2018 properly. Of course by fashion and beauty, but perhaps I've sneaked in another thought or two (as always). Folks, here's a guide to 2018: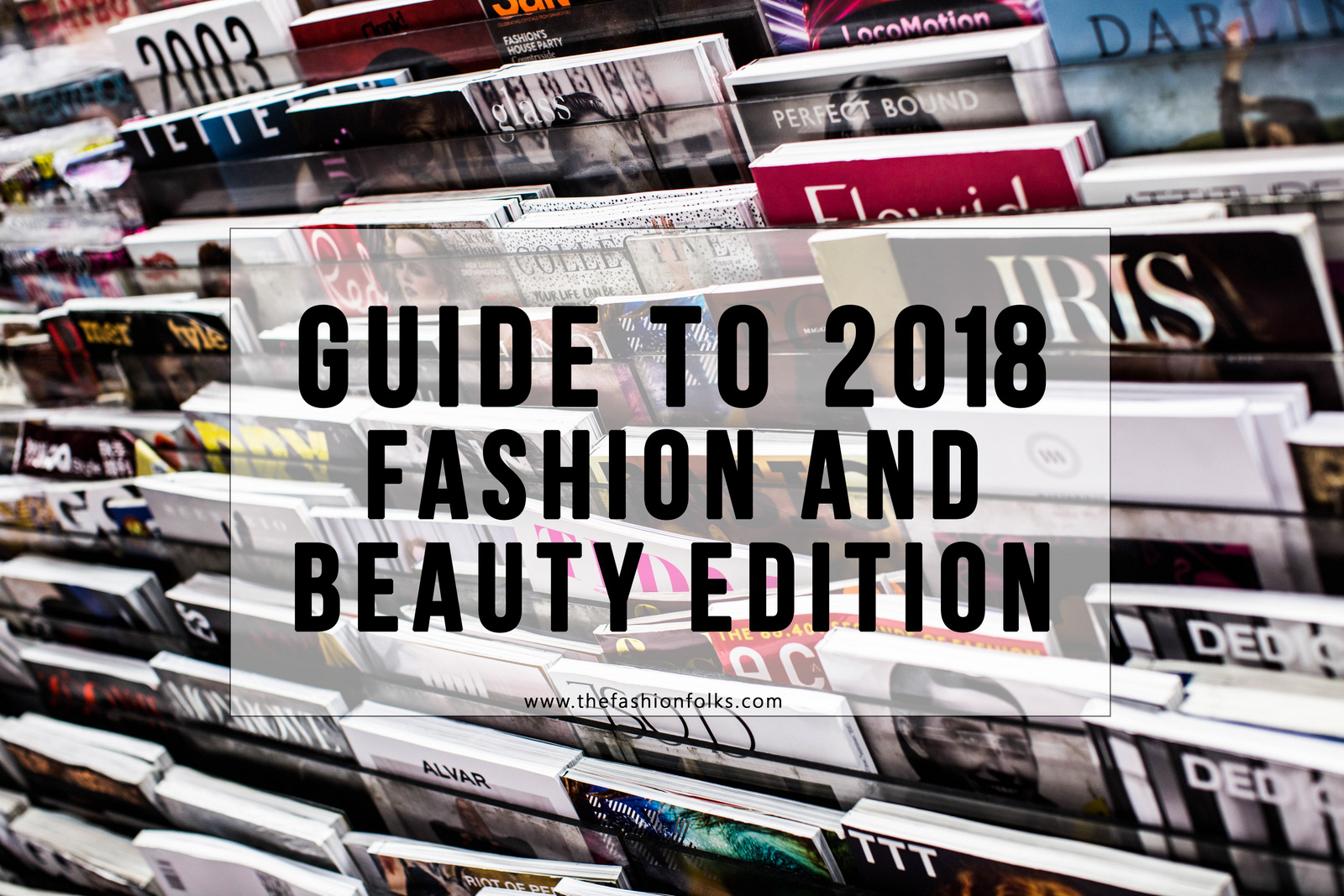 Photo by Charisse Kenion on Unsplash
Trends of 2018
Fashion Trends 2018
The fashion weeks back in September/October presented the trends for spring/summer 2018 and the upcoming fashion weeks in February/March will present the fashion trends for the upcoming fall/winter season 2018-2019 (can you believe that, 2019?!!). The trends we can expect for SS18, have one thing in common and that's the throwback vibes. A lot of the trends are directly taken from the 80s and others have a distinct 90s vibe to them.
I did a full article on the SS18 trends, which you can catch here. I talked about the statement blazers which aren't going anywhere anytime soon. The monochromatic mood is still going strong with an enhancement of the primary colors. The loose silhouettes from the 80s and 90s are definitely present, so is the denim style. An interesting statement is the transparent material which is surely determined to be a hit or miss. Ultra violet is named by Pantone to be the color of the year, which I wrote about here. Versace did indeed go for the color in their SS18 show, which you can see in this article.
As for the FW18 season, one can only speculate in what we'll be wearing. There are, of course, indications of where the fashion is going and from my amataeur analysis: I think we have some seasons left with the oversized, bulky, layered, colorful and colorless, 1980s style. That means a lot of oversized clothes, loose silhouettes, blazer statements and materials such as denim, leather and (faux) fur in focus. I do think we'll continue down the path of a more colorful fashion (lol, perhaps this is only what I hope for). I mean, red has been worn by everyone this season and I think we'll see even more colors for people to embrace.
Beauty Trends 2018
Same for fashion is, of course, accurate for the beauty trends 2018 too. I did write a full preview of the makeup trends 2018, which you can find here. I might be a terrible beauty writer as I, more often than not, complain about the lack of innovation regarding the makeup game. And honestly speaking, the makeup looks for this year are rather classic. The trends for 2018 are: red lips, eyeliner around the eyes, glowing skin and glossy lips, to mention the most central ones! That sounds basic enough huh? I'm not going to fuss too much about it though as I'm sure I wouldn't dare to embrace a baby blue eyeshadow look if that were to be trending! We've already seen a lot of the 90s makeup looks reaching our present time with the lip liner, the mauve/brown lip colors and the 80s beauty with the natural bushy brows. I wrote about in this article in December that skincare seems to be more important than ever. That will surely follow us in 2018 as we tend to be more specific than ever with serums, masks, lotions, mists and all favorable (!?) products for the skin!
Resolutions 2018
Fashion Resolutions 2018
I wrote two different articles on the resolutions 2018. The first one is about the fashion resolutions 2018. I challenged us all to find a new wardrobe staple, and with the brands going for the second round of sale, it might be a good idea to find a classic piece and invest in it now! I also talked about giving away clothes you no longer use and read more books about topics that interests you (fashion here, helloooo).
The most important resolution, if you ask me, is to shop less and style more. We are mistreating our resources and as consumers of fashion, we have a major responsibility to treat our interest in the most respectful way possible. Of course buying sustainable pieces is key, or second hand, but barely buy at all is even better! I'm sure many of us already have more clothes than we need and learning how to style them in more ways is better than to buy new. It's fun to talk about trends, it obviously moves the creative part of fashion forward, but it's also fun to talk about styling. That's where the true gem of fashion lies: the ability to style a clothing piece in an indefinite amount of ways. And yes The Fashion Folks is at your service on this one, there will be a lot of styling articles this year!
Beauty Resolutions 2018
Regarding the beauty resolutions 2018, I focused a lot about the skincare. Treating your skin right, showing it love and only use sustainable products (and cruelty free, please!). I also talked about finding a new makeup look (I need to do this, surely) and step out of the comfort zone. Going for that new lipstick or that eyeshadow color you haven't tried before etc. I'd also just like to underline that if the 90s' eyebrows would pop back in trend, just don't go there. Gotcha? Gotcha!
More Inspiration
And here's a list of articles that will hopefully get you in the right mindset for the new year and this Monday. From styling ideas to winter beauty hacks and other (ir)relevant stuff in our lives!
Folks! Hope you feel a bit more excited and in tune for 2018. We're only three weeks in so you have all the time in the world (just kidding, 343 days) to make this year the best one yet! Xx