So if you've been near any fashion accounts on social media lately, you've probably already seen some of the Gucci Cruise 2017 collection. If not, here's one for you!
Details
As if we weren't overloaded with fashion enough (we're grateful though), a cruise collection (aka resort collection) is a pre-season collection some of the bigger fashion houses do. As the name may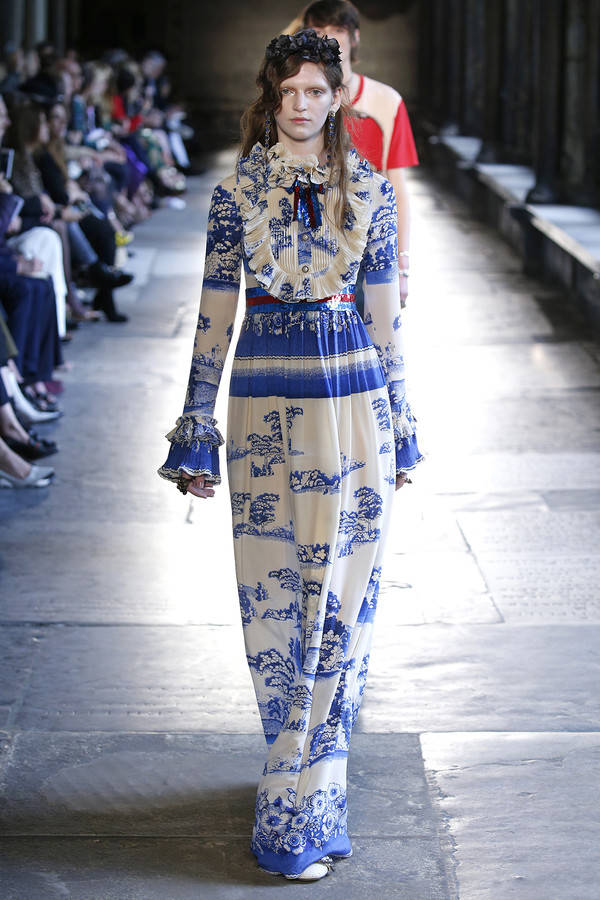 reveal, a cruise collection focuses on travelling and the jet-setters, but it's more of an official term rather than an actual one. Gucci's Cruise 2017 collection took place on June the 2nd with Westminster Abbey as the runway and the british references were obvious in the collection as well. Some spotted A-listers (like, where was our invitation duh?) were Elle Fanning, Alexa Chung and Georgia May Jagger.
Style
The collection didn't only show in Britain, it was flirting with the classic british style as well. And we're not talking subtle-classic-black-and-white-and-maybe-some-red-style, but like everything-at-once-style. Like bonkers, brilliant and ace to use some typical british words. We spotted details on details, 1970's vibe, punk, old british lady, 90's shoes and oh crazy patterns that stretched from worms to flowers and things we're not sure about. Except what we mentioned, there was some flirting with Alice in Wonderland too, with cute ruffles, bows and crazy hair. We're pretty sure the definition of more is more got a new synonym. And if you still have no clue about the collection, we still haven't figured it out after three weeks so you're cool.
Overall Conclusion
But hence the confusion and the lack of a coherent style, we adored this collection. Might not be a good example of a ready-to-wear collection and certainly not something we will see in the streets. But for it's aspect of fun, exploring and going bonkers (we just had to use the word again), it's a lovely piece of fashion meeting art. The collection didn't meet the demand of wearable clothes, but it wasn't its intention either. Taking it for what it is (somewhat a blurry definition of RTW fashion but more of a fashion playground), is the way to go on about it.
Folks, what are your thoughts on the Gucci Cruise 2017 collection?