Dress and skirts are common choices for festive wear. It's traditional, it's associated with the festivities and if you pick right, it can be comfy for the food babies (important stuff!). As for makeup, some mascara and a lip gloss is pretty standard and pretty common! But you know I like to push boundaries, so here are some different fashion and beauty ideas for you: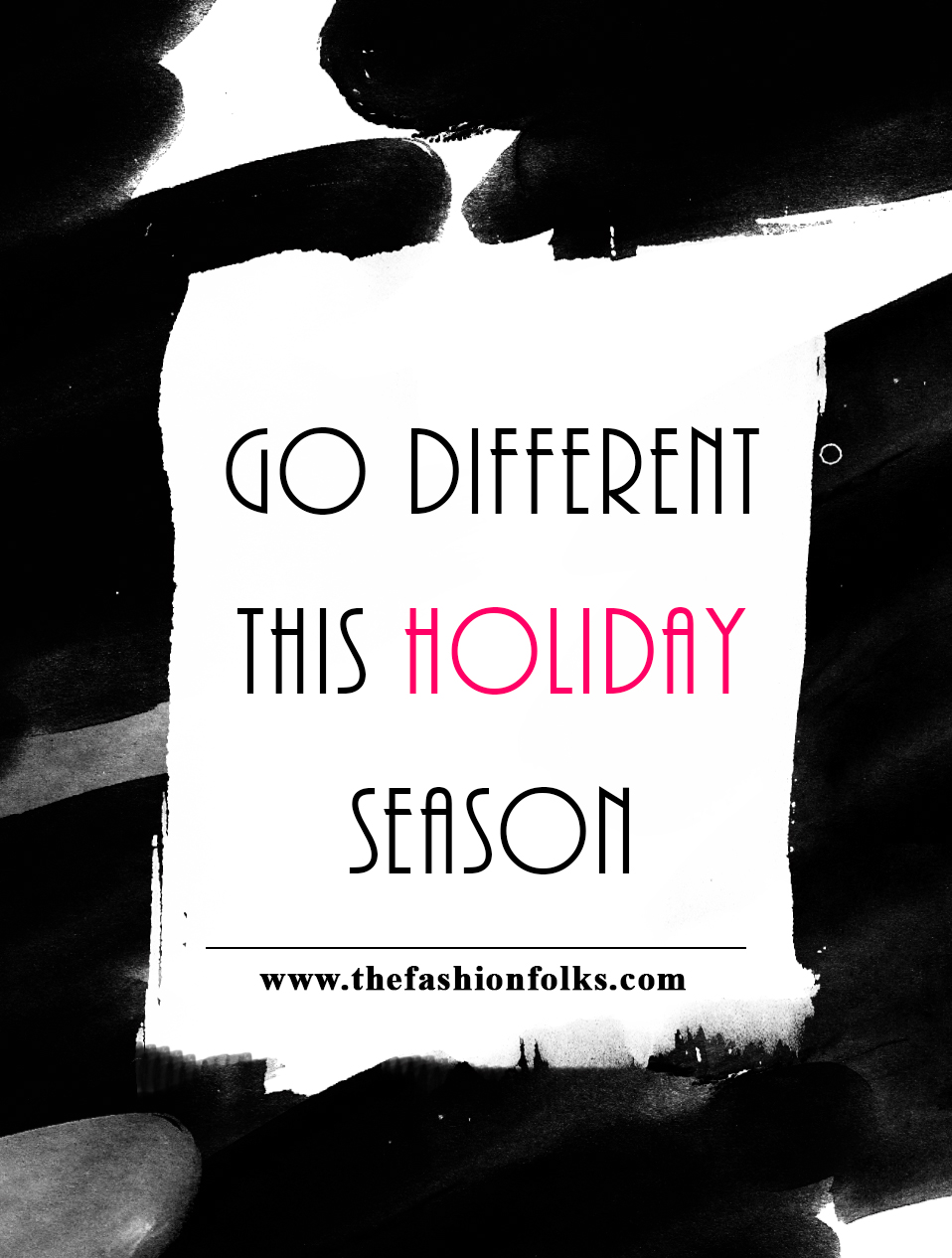 Popping colors
It's so easy to turn to dark colors for fall and winter (I'm definitely guilty of it, just read this post). But as said here,  this is the time we need colors more than ever.  For the dress up season,  I think it's a perfect opportunity to be more bold. You don't have to go crazy and wear mint blue or yellow. But pick colors that are slightly brighter than its friends. Like, orange or pink instead of red! It's a nice change but it also keeps things festive. You can also trick the eye and keep the outfit in a classic scale but match it with untraditional colors. Like a red skirt with a pink top, or a green top with an orange blazer.  The colors are the limit!
Brows and lips
I know I know, I love my mascara too (and my eyeliner). But I must say that I love the look of a natural face and a bold lip. This look is returning each season to the catwalk and is the go-to choice for many designers. Why? Because it is a lovely one!  It's easy to do (fill in the eyebrows and do the lips + some light makeup for the eyes) and the result is profoundly striking. It's a great balance between the defined brows and the defined lips. Not convinced? See the Bottega Veneta look below!
Casual Tuxedo
This one doesn't need a proper introduction, but casual tuxedos are kind of everything.  They are a festive statement, a fashionable statement and they come with an equality statement too if you ask me!  Just read about YSL and his female tuxedo here! Take the office pants, add the white shirt and a chic blazer and you have your own casual version. Keep it classic but fantastic!
Jumpsuits
I'm pretty sure that jumpsuits are forever the forgotten piece in our wardrobes. They are seriously the best with their ability to be comfy and embody effortlessly chic. They are often overlooked for classic alternatives such as dress or skirts. But for the festive season, they work perfectly for bringing a glam feeling but still be something extra. Pick one in a festive color, or in a glam vibe and make it work like any other dress or skirt. Jumpsuits are extra favorable for prints as they often do them justice with their large amount of fabric (being a canvas that is)! 
Metallic makeup
And I know I've talked about this before. But metallic makeup is just that good. Doing shadows/eyeliners in metallic shades (preferably jewel tones) is a great way of intensifying the eyes but still go holiday. You can also do metallic highlighter or metallic lips. Read more here!
Folks,  what are your tricks for doing things different regarding fashion and beauty? Leave a comment below! Xx