There's something pure to appreciate in the revitalizing of flowers each spring (cause that's the word for it). How warmer temperatures allows flowers to bloom (literally) again. And with fashion's constant reflection of society, no wonder Meryl Streep's character in The Devil Wears Prada is more than right when she sarcastically says: Florals? For Spring? Ground breaking. 
Flowers and Fashion
The use of flowers as print has a long history (longer than me being able to cover it today). It's been in and out of fashion for centuries. People taking things from nature and translating it to fashion is nothing new, but a basic urge of expression of our surroundings. Not to forget, the captivating nature (of course) of a flower. They are majestic in their colors, their shape and the symbolic value we've given them. Flowers are an endless source for fashion creators with the ability of realistic interpretations and twists of surrealism.
The variation floral patterns comes in (ranging from minimalism to maximalism), makes it possible for all different kinds of feelings, themes and stories the patterns can show. To the dark romantic florals of the 16th century to the bright and energetic ones of the flower power era. The history of floral patterns touches all cornerstones of art history, with Baroque, Modernism and Rococo all having their own impact on the fashion life.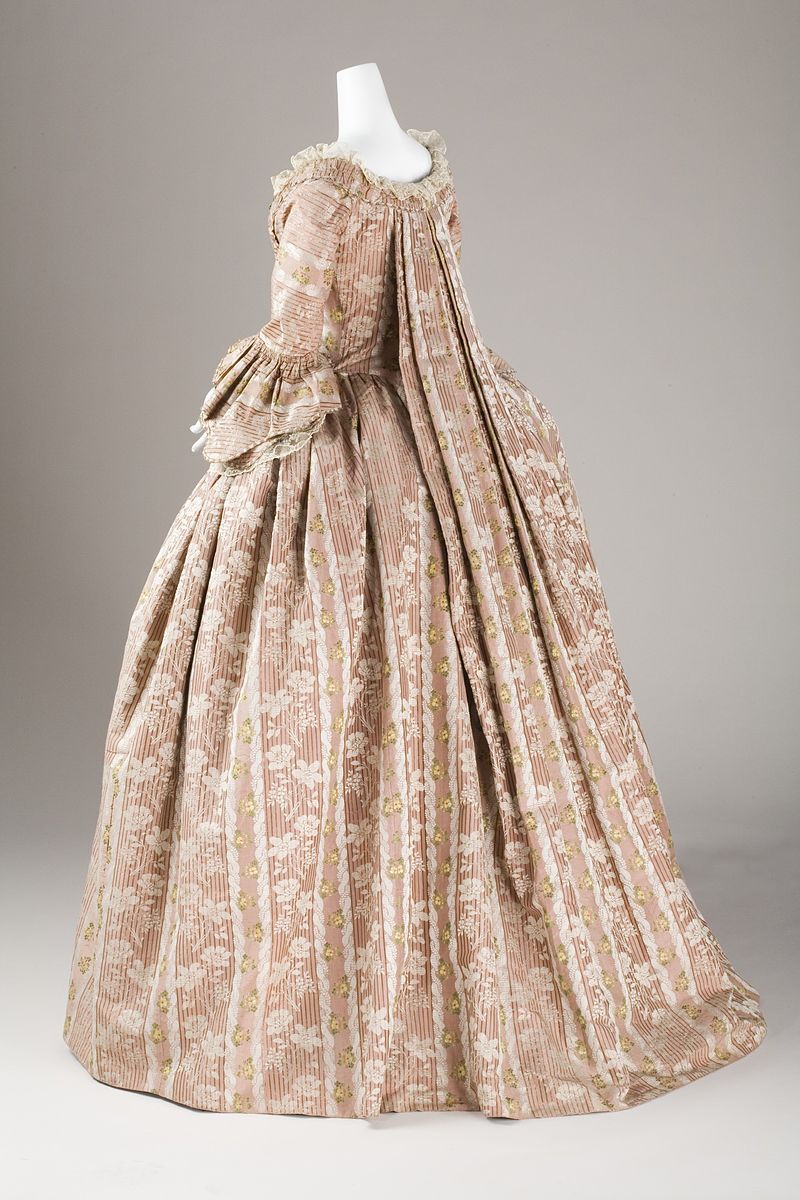 18th century dress (Sack-Back Closed Robe)
Designers and Floral Patterns
There is yet to exist a fashion season in modern era where floral patterns aren't used, that's how much of a basic feature they are. One of the most famous floral patterns in the  world, is the finnish label Marimekko's Unikko print. Arts & Crafts movement and William Morris in specific also created a good amount of famous floral patterns (read here). Designers such as Dolce & Gabbana and Valentino are always fond of using flowers in their design. Valentino in specific, often comes back to nature and the life of flowers. 
Designers such as Mary Katrantzou have also used floral pattern successfully, with the SS14 collection being a hit. The greek designer took the flowers a step longer by using pearls to create floral print (yes the collection is as charming as it sounds, see below!). For this season, french fashion house Chloé used a 70s inspired floral pattern in their collection. Honorable mention is the late fashion designer Alexander McQueen who used real flowers in his Spring/Summer 2007 collection. Where the flowers fell to the floor as the model walked down the runway. Dramatic, artistic and a statement of creative geniusness. See the collection and the dress here (dress at 12.22).
Some thoughts
So what's the intention or declaration of this post? Nothing really. I just never say no to an opportunity to explore fashion's relation to nature/society. And I definitely never say no  to look at some dreamy clothes embracing the beauty of life – flowers. There's something humble in the idea that we find inspiration in the same way our ancestors did. That we, as they, extend the life of flowers by wearing them and that we, as they, remains true to the core of nature through the expression of fashion.