Folks, as you may have noticed I'm doing my best to keep up the winter spirit by the power of fashion. I mean, now is the time for layers, chunky knitwear and oversized turtlenecks – right? Here's five winter favorites 2018: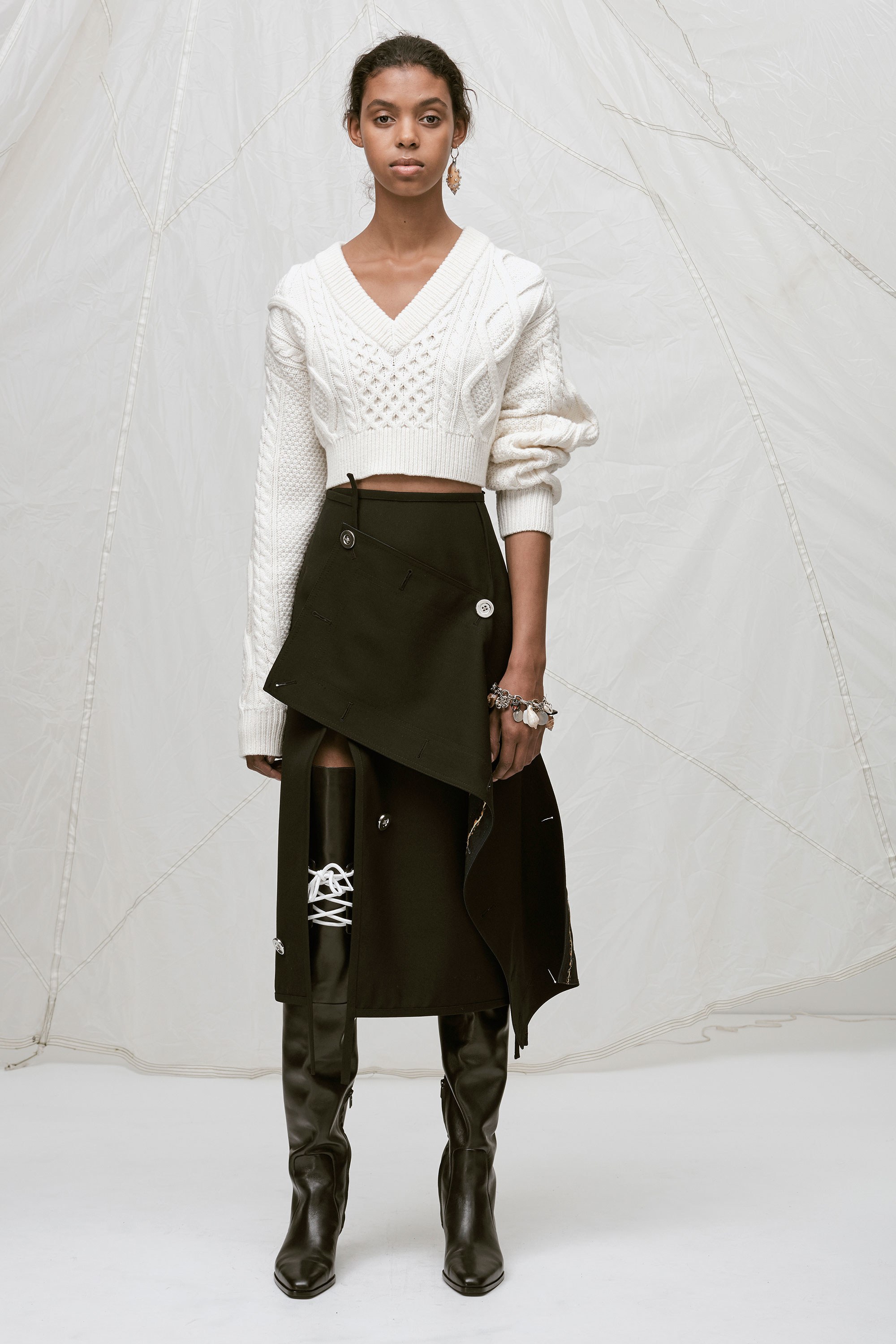 Courtsey of 3.1 Phillip Lim | Pre-Fall 2018
Winter Favorites 2018
1. The Teddy Coat
I'm pretty sure the teddy coat is still going strong and I might only say that as I have yet to pick up the fluffy clothing piece myself. But textures are indeed in focus this winter, and a statement texture, if any, is definitely the teddy coat. As I always talk about regarding textures, be sure to match them with their opposites to create a fun effect. Denim, faux leather, patent leather and faux suede are some fashionable materials to try. The most common color is undoubtedly the light camel color, which makes up for a nice contrast with all the regular black and grey styles. And oh, be sure to pick your teddy in the faux style! Catch this trend alert to read more about the teddy coat.
2. Midi Lengths
Gone are the days of midi lengths being, often, a style for the elder and here are the days of midi lengths being a fierce statement. The midi skirt started this trend and it continued with the culottes and most recently the midi dresses. I personally can't get enough of this trend as it's chic with the length, fun with the amount of fabric to play with and a genius fashion habitat during winter as it keeps you warm! As the midi lengths are about a style, you can go for whatever look you prefer. Colors, prints, textures – that's all for you to decide! Read more about the midi lengths here.
3. Turtleneck Life
The turtleneck is sort of a classic and seems to have established itself once again in our closets. Except the obvious, reason that a good ol' turtleneck keeps you warm during windy days, it's also a great clothing piece for layering. Try a tight turtleneck top and layer it with a v-shaped sweater for a chic, and warm, winter look. The turtleneck is perhaps at its best when done in the classic colors as black, grey, camel and white. It's however, also refreshing with some splash of colors and a pink turtleneck is indeed a friend of mine. If you're a fan of this year's color, ultra violet, I think the combo with that purple and the turtleneck is a fierce one!
4. Oversized Clothing Pieces
If you can favorably create a fashion habitat with your midi dress, the oversized clothing pieces are no exception. I talked about the oversized coats earlier and I think we all could agree that a large coat is one of the best things about winter. As I talked about in the post, it can be as easy as only choosing a size larger than your regular go-to. That way you have even more oversized clothing pieces to choose from. The oversized clothing pieces are also favorable to layer with and play with the volume/silhouette. It's about going for the tights, adding the belt, add a shirt under or a pair of heels to it!
5. Cozy Knitwear
Lastly, the knitwear is of course one of the winter 2018 favorites. I wrote a style guide about knitwear earlier this week, which you can find here. Except what I wrote in that article, I shall add that one of the perks with knitwear is that it suits everyone. As it's a material it (kind of) appears in all shapes imaginable, including your favorites. Be bold and pick that dress in a knitwear style, or layer it up with a knitted vest or scarf!
Folks! Which are your winter favorites 2018? Have you a go-to winter clothing piece you can't live without? Let's chat in the comments!