So it's finally time to get Christmas week started, there will be Christmas themed posts this week (yay the holidays)! Regardless if you're celebrating from a societal or religious point of view (or not at all), I hope you will enjoy this week as much as I will! To start Christmas week, I thought it'd be perfect to get some makeup inspiration for all the holiday parties ahead. And what's a better way to do it than by looking at some gorgeous red carpet looks? Please note that I'm not a makeup artist so when I pin down how to do a makeup look, you might disagree with how it should be done and I might have missed something! Also, you don't need to do a full makeup look if you don't want to. Go for the parts you like! Anyways, here are two festive makeup looks to steal! If you want more festive makeup ideas, check this post!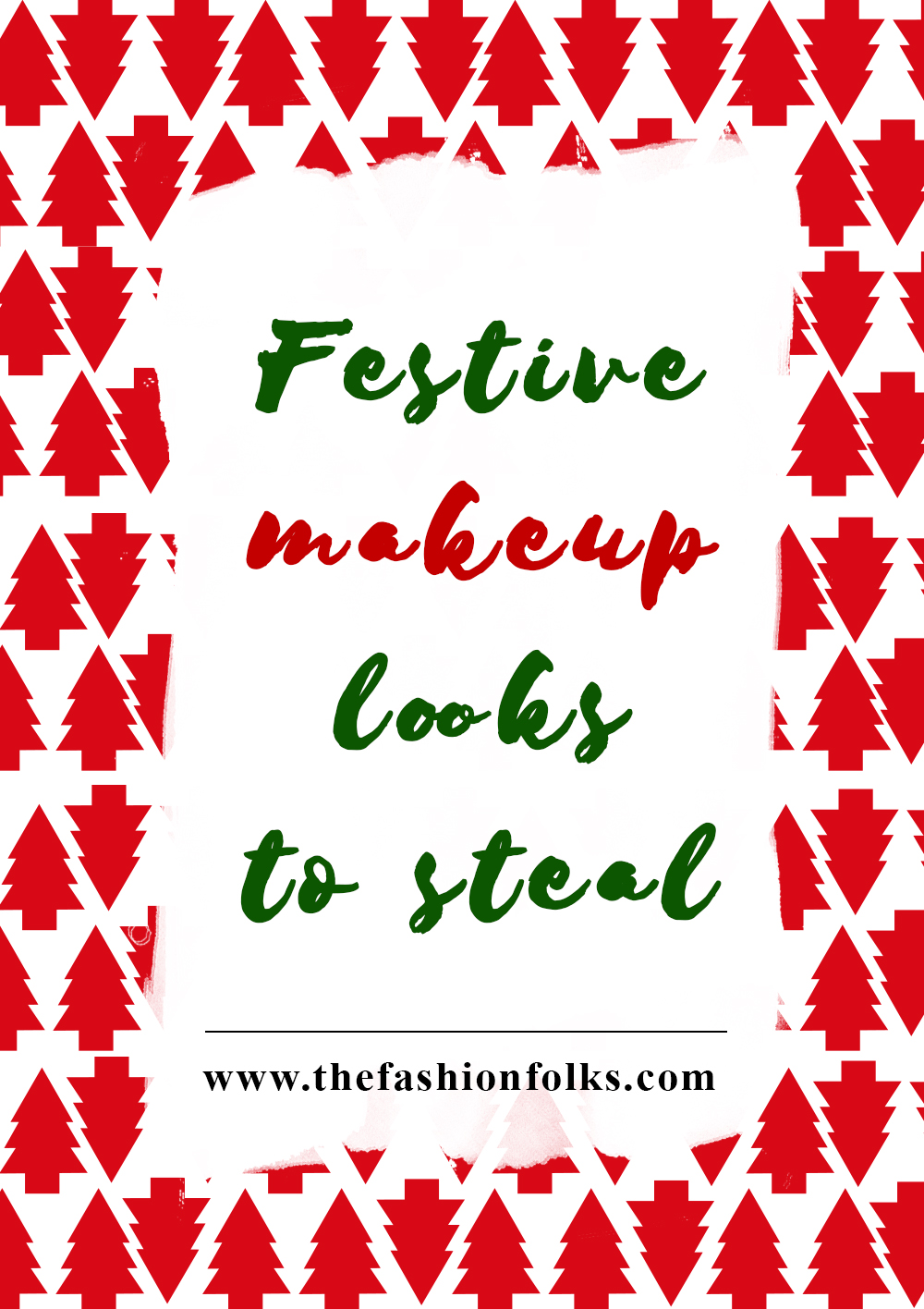 Basic steps for both makeup looks:
Make sure to start with a washed face, this is essential for a good makeup base.

Use a primer or moisturizer. If you're just going for the eyes, it can still be beneficial to moisturize the face and give it some love. If you're doing base, apply a primer!

Jump to the specific instruction for the wanted makeup look

! Some think that this is where you should do foundation etc, but when doing a lot of eyeshadow it's better to leave the foundation to last. That way you can brush off any eyeshadow that's under the eyes.
Do the base.

There are several ways you can do the base and no one is more right than the other

. For these looks though, I'd suggest:


– Apply a foundation that works for you




– Cover up spots with concealer as well as under the eyes




– Add a powder if you may wish




– Contour the face/highlight it




– Add some blush/bronzer

Set the makeup with a setting spray!
Keira Knightley: Red Lips and Bronzy Eyes
So this makeup looks is quite the Christmas one with the red lips and the bronzy eyes. There is also a smokey eye going on, which always adds some nice intensity to the eyes. Keira also has the nice bushy eyebrows game which frames the eyes perfectly!
Eyes
Start with a light bronzy eyeshadow all over the eyelids and blend it out towards the brows.

Add a shade darker in the outer part of the crease and also shadow it under the eyes.

Do a bright eyeshadow in the same color scale,

preferably one with some glitter

and add it in the corner of the eyes and brush it lightly over the inner part of the lid.

Do an eyeliner over the lids that ends where the eyelashes end.

Add eyeliner on the waterline.

Take a dark brown eyeshadow and blend it under the eyes.

You can also take some of the eyeliner and smudge it with a pencil.

If you have an eyeliner in a shimmery bronzy tone add it precisely under the lower lashes, if not, take the light bronzy eyeshadow you used first and apply it gently.

This is what "catches the light" between her lashes if you look closely.

(Do this step after you're done with the base aka, you don't want powder on your black lashes!) Add mascara on the upper and lower lashes. Read here how to do it properly.
Brows
Brush the eyebrows upwards. If necessary, trim them with a scissor (I'll do a full post on that later).

Fill the brushes with a pen or eyeshadow. To get them natural, read here how to do it.

Finnish with an eyebrow gel (I personally hate gel, but some people swear by it!). You can also, of course, add a tiny amount of coconut oil to get them darker.
Now go back to the first list of basic steps for both looks! Make sure to remove any eyeshadow that's fallen down! Lips should be done last if you ask me, they are the most "fragile" one and often fades first!
Lips
Moisturize the lips! Make sure that all dead skin is removed too, aka exfoliate the lips if they're chapped. Take a clean toothbrush, some warm water and some sugar. Mix the sugar and the water and brush it gently on your lips!

Fill the lips with a lip pen

Add the lipstick

Take a piece of paper and press your lips gently against it.

This will remove the top layer

that otherwise is the one that ends up on your teeth, the glass etc!
Beyoncé: Metallic touch
Say what you want about Queen B's dress for this year's MTV VMA (I have nothing to say about it, which might say something), but her makeup was flawless! I think that her subtle eye makeup is perfect for the festive season, with a hint of metallic!
Start with a light brown shadow that should reach up to the eyebrow.

Do one shade darker and apply it on the same surface but

blend it towards the lighter one

. See pic and you'll see what I mean!

Take an even darker one and apply it on the eyelid solely, with some emphasis by the inner corner and the outer crease. Take this shade and shadow it under the eyes according to the picture.

Add the metallic eyeshadow in the center of the eyelid.

Make sure to blend it by the edges with the other shadows

.

Apply the eyeliner on the lids!

Take a dark brown eyeliner and apply it one the waterline. Smudge it out gently.

Wait with the lashes until you've completed the first list. When done, add some falsies if you want and apply the mascara. It should be heavy on the upper lashes but subtle on the lower ones!
Brows
Brush the eyebrows upwards. If necessary, trim them with a scissor (Again, I'll do a full post later).

Fill the brushes with an eyeshadow make sure to keep it in the same shade as your own.

I have a hard time judging if they have gel or not as they look rather dusty. But do as you want! (Lol, I'm so good at writing these guides right?!).
Now go back to the first list of basic steps for both looks! Make sure to remove any eyeshadow that's wrongly placed! Lips are done last!
Lips
Take a lip pen that is slightly darker than your own lips. Frame your lips with this one and blend it slightly towards the center part.

Add a shimmery lipstick that's close to your own lips.

Apply a slightly tinted gloss, preferably a rosy one!
Gosh folks, that's a wrap on the festive makeup looks to steal! Did I make sense? No. Did I have fun though? Yes (and that's all that matters, lol). Anyways, happy Christmas week or something! Xx