Folks! Let's continue the theme from yesterday and pin down some festive fashion looks one can steal. It's not realistic to show up in new outfits every time we're doing some specifically festive this season. It's more likely that one takes a piece that already exists in the wardrobe! What one can do though is to make it more festive, as always, I got you covered! Here are some festive fashion looks to steal: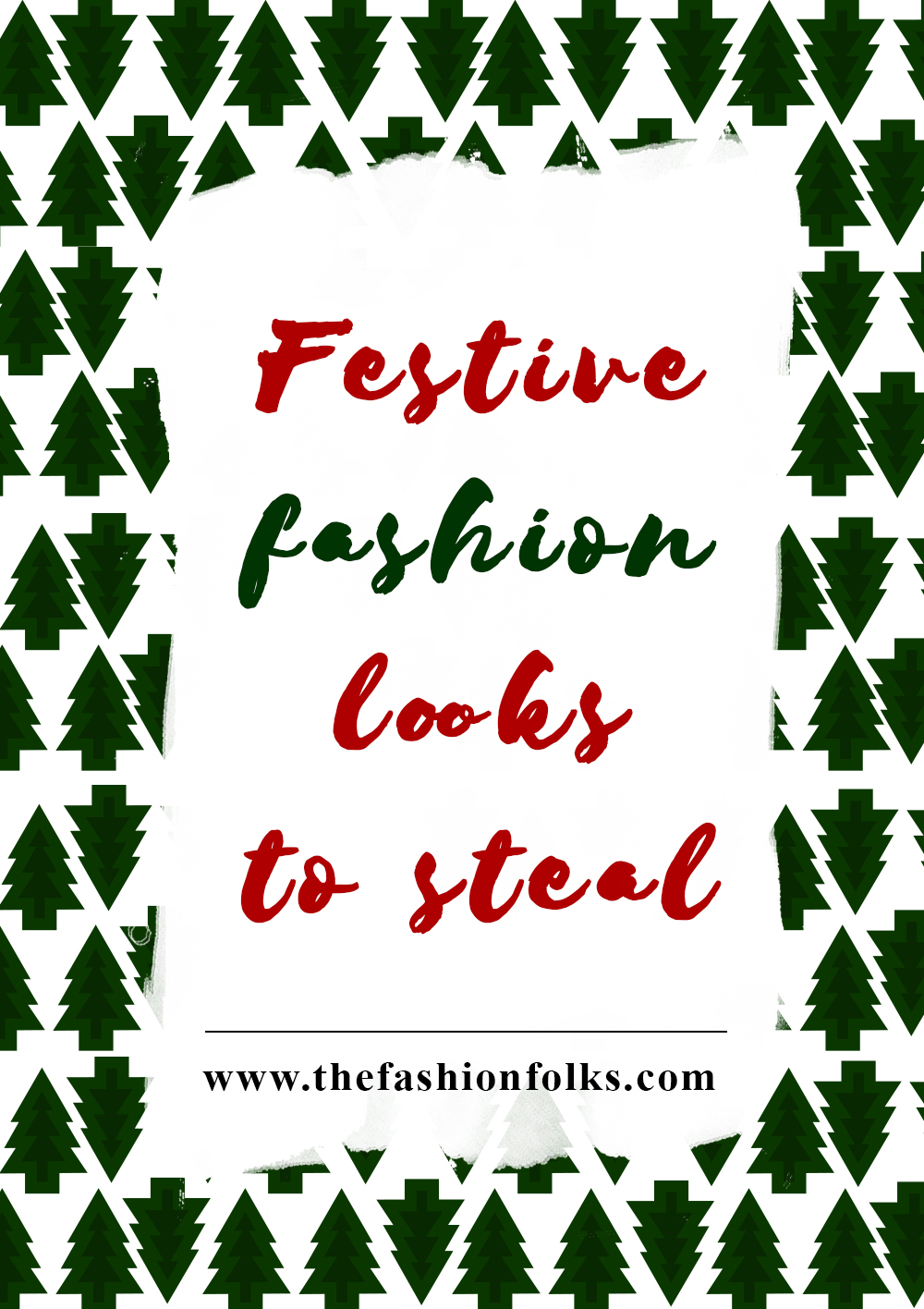 Statement necklace
You know what I realized the other day? That adding a statement necklace is kind of like sprinkle confetti around, it makes one happy and it adds the glitter level. So yes, my true and only fashionista tips is adding a statement necklace. If you want to take it bling this festive season, do one with metallics or stones!
Statement belt
That old LBD you have laying around, that always works but always looks the same? Yup, you can take that one from zero to hero within the seconds. If not heading for a statement necklace, I think you should go for a statement belt. They add some structure to the outfit and they can also come with glitter or in a Christmas color. Belts are also perfect for keeping the food baby in place if you ask me!
Glitter
The Fashion Folks should honestly go The Glitter Folks, or a DIY blog because my solution to anything during the festive season is to add the glitter (sequins or metallics will do too though!). May it be a clothing piece, an accessory or some good ol' makeup, but if you're pulling off glitter, I'm ought to adore you for it. (Fun fact: I made my own prom dress from a gold sequin fabric. Might show it some time, also might not, it's terrible!)
Statement earrings
I don't even need to write the top rule of accessories but if you're going for a statement necklace you're leaving the earrings at home. If you're going for the statement earrings, you leave the neck bare, okey? Statement earrings are a gorgeous way of adding the bling and draw  attention to the face. As earrings often are very creative and glam, I'm sure you can find a pair that comes with a festive motif. Just work it!
Jumpsuit
Jumpsuits saves me whenever I'm in a fashion outfit rut. They're so easy to style (belt, necklace, clutch – hello?) and they are often flattering if you've found your gem. What I want to stress is that you should definitely head for a jumpsuit if you're uncertain. It's a festive fashion look that'll make you look chic and effortless at the same time. With some accessory touch up (or makeup/hair for that matter), they can do the Christmas job for you. More jumpsuits I say!
Bonus tips: Christmas colors
Or if you're running out of time, grab whatever you have in a festive color and the work is done for you. People register and associate color quickly, so if you're dressed in green, you are the holiday spirit in the room (hopefully!).
Folks, what are your best festive fashion looks? Leave a comment below! Xx