Emotions folks. There are two kinds of emotions when the holidays are around the corner. 1) "Omg yes Christmas is coming and I'm going to bake, watch movies, feel jolly, listen to Christmas songs, have to buy gifts to everyone…" 2) "Omg no I don't have time for anything, can we push back Christmas for two weeks or so?" Or a third alternative is that you have some free time, but you're like me, painfully lazy or painfully bad when it comes to makeup or nail art that goes beyond the basics. So I've gathered 11 Festive Beauty Ideas, that are quick and easy to do!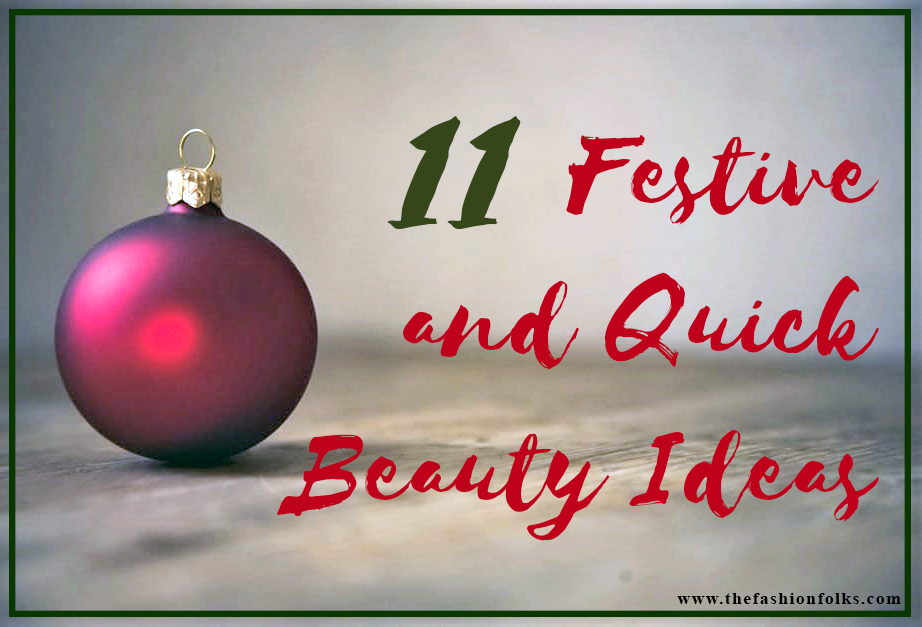 1. Dot Your Nails
I love dots and Christmas, I'm not sure why though. Perhaps because it feels festive with print for the holidays and dots are a chic way of doing them? The way to do dotted nails is to take your q-tip, dip it in the nail polish and dot it on your nails. I'd preferably do them in red, green, black and white, or a glitter shade. If you want to have a basic layer, do one in a contrasting color. Easy and chic!
2. 
Add a red ribbon
Hide your hair tie with a red ribbon! I've done this a couple of times and I can guarantee that it adds the festive feeling. So instead of showing your old hair tie, do a bow with a red ribbon. Incredibly cute and charming enough for the season! In specific, love when one has a high ponytail and does this. 
3. Glitter makeup
I talked about this in the A-Z beauty ideas but glitter makeup is always fun! It literally adds some sparkle to life and is anything but dull. Do a sparkly eyeliner, a sparkly eyeshadow or even sparkly lips? The limit is your face, truly!
4. Christmas scented lotion/perfume
Cinnamon, saffron, oranges – all these have scents that are commonly associated with Christmas. If you want a more festive feeling, change your lotion or perfume after season. You'll literally smell Christmas. You can also change your shower gel or just hand soap if you want to keep it simple!
5. Red lips
Know for sure that whenever I'm making one of these lists, I'm ought to write a red lip somewhere. But when are you supposed to work the red lips if not for Christmas? They add the color, they bring the festive joy and they're perfect for matching makeup and outfit.
6. Glitter nail polish
Another thing I suggested in A-Z beauty ideas was to invest in a matte top coat instead of buying one in every single shade. Well, instead of buying sparkly nail polish in every single shade, buy a glitter top coat. Then you'll get some shiny and sparkly nails and still have a finale layer to secure.
7. Christmas DIY mask
Cinnamon is not only a heavily smell for the holidays but also a perfect ingredient in a Christmas DIY mask. Mix a tablespoon of organic honey and a teaspoon of cinnamon. Apply on your face, wait for 15 minutes and wash off! It won't only feel like Christmas with the cinnamon, but you'll literally glow afterwards!
8. Festive eyeshadow
A festive eyeshadow is more or less a reflection of my own ideas on going Christmas beauty this season. I'm curious about giving red and green eyeshadows a try (perhaps not the strongest shades). So i'll just throw it in here as an obvious reminder to add the festive joy by going colorful!
9. Christmas scented candles
There's nothing like inner beauty, right? Well folks, candles are kind of a must for Christmas! Even though we all might be freaking out over all the stress, the holidays are also the time to relax, breathe and at least try to be peaceful. So get the Christmas scented candles and channel your inner thoughts, aka beauty, whatever, something.
10. 
Highlighting
If they can sing about Rudolph's nose being shiny, well, why can't you be shiny? People are often talking about going glowy in the summer but I can't think of a better time than during the holidays. Not only because your skin might be looking dull due to weather reasons, but also because everything around you is shiny and sparkly. So add some extra highlighter this year and catch the light gorgeously. Who cares about Rudolph's shiny nose (I do still care though) when you have glowy cheekbones?
11. 
Braids
Braids are perhaps not something for the festive season only, but I can't but help to think that they're perfect for cozy weather. I don't know about you, but I think they add something extra! May it be that one looks festive in them or that they're just charming as they are. But more braids to the people and don't forget to add that red ribbon!
As you can tell, my awesome 11 festive beauty ideas were mainly about adding glitter, Christmas associated colors and Christmas associated scents. If you've ever doubted, I'm obviously very innovative and creative, loool. Folks! Do you have any tips to share? Share in the comments! Xx