Another year, another winter and another fashion season to peek-a-boo at (cause that's how cute we're feeling today). Tomorrow, NYFW kicks off which also is the start of four weeks of fashion geniusness and fashion nonsense. Here are some thoughts on the fashion weeks fall winter 2017/18!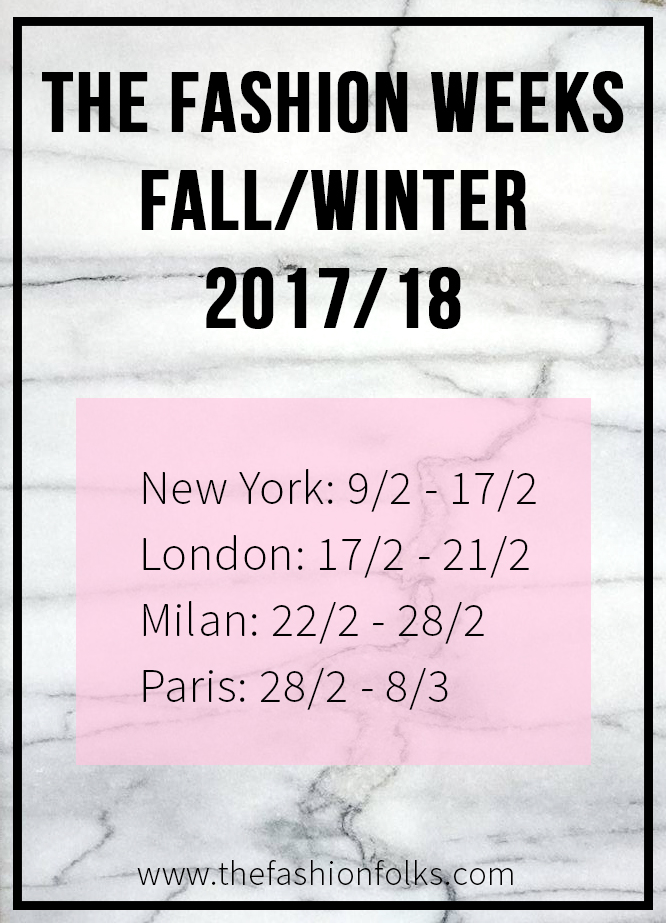 What to expect
Fall/Winter fashion has a tendency to be dark and have a clear focus on texture/materials and silhouettes. This comes natural,  due to the weather and the season changes around us (aka the amount of clothes and layers that are needed). The nature gets darker and we use more clothes to get dressed which results in darker shades and lots of  different textures to style. We can expect no less this time around as darker shades for fall is pretty much set in stone! 
The cycle of trend is that it often begins slowly, explodes and then fades slowly. So we'll hopefully see new takes on the velvet trend, more wearable ideas on how to pull of the 80s. I also hope for more retro sports clothes as I can't get enough of colorblocked sports clothes from the earlier decades of the 20th century. There will probably be more oversized silhouettes and more edgy fashion of the 90s. Perhaps we'll see more pastels and florals too, as a counterreaction to the heavier attitude fashion trends have possessed lately (as in fishnet and ripped denim).
Shows To Look Forward To
Givenchy's creative director Riccardo Tisci stepped down after 12 years (we're all crying) and it's said that his last clothes shown were menswear/couture. So this means there'll be some hype around Givenchy's  first collection without Tisci's mind of design. Our beloved Chloé and creative director Clare Waight Keller has also stepped down. The Chloé collection FW17/18 will be her last and everyone are, of course, curious to see how she'll bow out from the french fashion brand. Other than that, it's always fun to see the theatrical runway shows of Chanel. And of course, Moschino's theme for the season and to dream about some more Giambattista Valli Clothes.
Street Style
We all know that the true hero of the fashion weeks is the street style. Except seeing the shows themselves, the fashion magic sort of happens in the street. It'll be fun to see the current trends being styled and sneak-a-peek on the upcoming trends some fashionistas already are embracing. If you want to cover the street style, I'd say Instagram is the best place and under hashtags for the specific fashion week! There are also countless of IG accounts for street style/fashion weeks in specific!
Dates and Shows
New York Fashion Week 9/2 – 17/2

London Fashion Week 17/2 – 21/2

Milan Fashion Week 22/2 – 28/2

Paris Fashion Week 28/2 – 8/3
Folks, what do you look forward to the most during the fashion weeks?
Did you like this post? Hit the share buttons below!