Note: I know the situation in the world right now is scary and unsure. Fashion is definitely not a priority, but my intention is to try and keep things as normal here as possible. Let it be a nice escape from everything that's happening right now. With that said though, take your responsibility and follow the official recommendations and/or restrictions in your country. Respect the rules, take care of each other and do what you can to help. 

---
Folks! It's time for a sneak peek of the fashion trends fall 2020. I've already written about some of the upcoming fashion trends in my articles about the fashion weeks, which you can find here, but thought I'd today give you everything in one article. Fashion fall 2020 is pretty exciting if you ask me, as fashion is making statement elements more wearable. Such as fringe, bold colors, voluminous clothes and so on! I know spring and summer fashion is soon here, but oh boy will it be fun with fall fashion in a few months!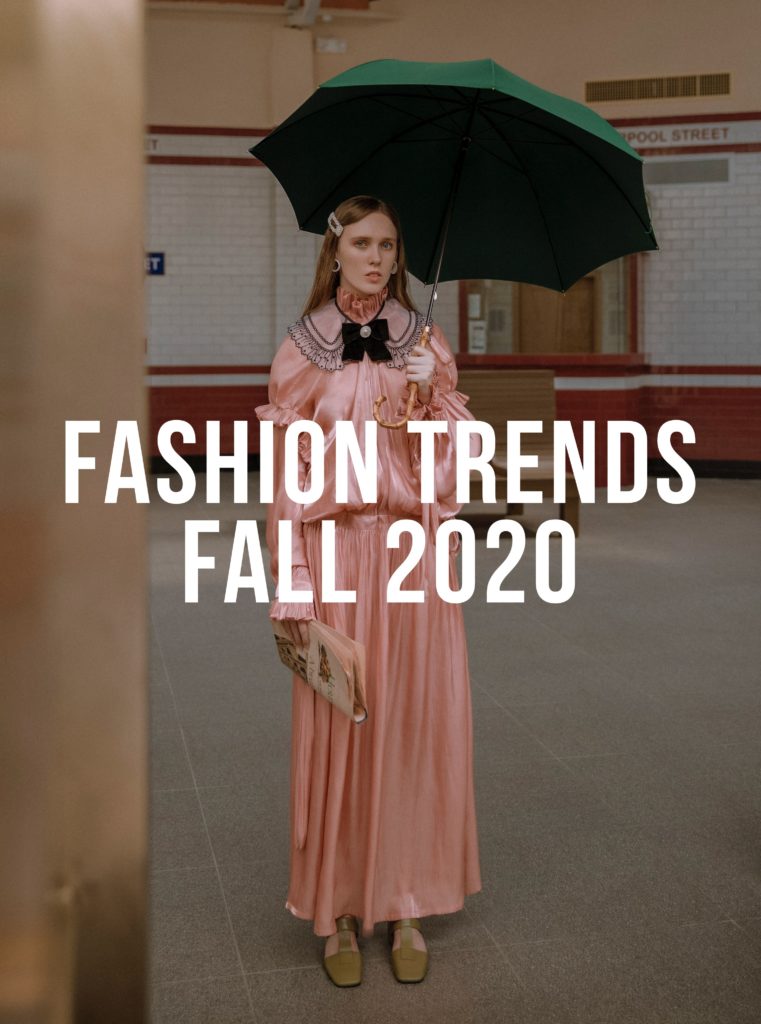 Fashion Trends Fall 2020
Brown
So brown is probably it-color number one this year. We've seen a lot of camel and beige the past seasons, so that brown is the next trendy color is quite expected. Brown was done a lot in statement materials, especially as (faux) leather, suede and fur. Knitted pieces in brown was also common as well as brown top to toe. What's great about brown is that it's chic with beige and camel, but also pastels and neon. Brown is a must-have color when it comes to the trendy retro fashion too, such as the 1970s or 1960s.

Monochromatic Leather
Another big trend this year is the monochromatic leather. Leather is in general a material that returns every year, but is extra trendy fall 2020 (if even possible). What's different 2020 is that leather should be worn top to toe, preferably in the same color. That means leather boots, leather pants and leather jacket indeed! If you're curious about exploring the leather trend, beyond the usual leather jacket, I say that you're safe to invest in a pair of leather boots or leather pants. A great idea is also to go for a LBD in a leather material for a fun twist. By that said though, the most important thing this fall is to layer up the leather! 

1970s Revival
Although the 1980s and 1990s are still highly present in the fashion world, we're slowly starting to move towards the 1970s, some 1960s and some 1940s fashion. I might as well have said all decades of the 20th century, but let's not be that dramatic yet. The 1970s influences were all about the vests, the paisley, the corduroy, fringe and the color brown. Definitely spotted some 70s jeans too, as well as ruffles, midi denim skirts and midi/maxi lengths in general. An important outfit detail is definitely the belt! 

Warm Shades
Spring is the season for warm colors, but according to the fashion designers, we should work the warm colors for fall too. A lot of orange, pink and red were spotted on the runway. Copper and gold were two other popular shades. I'd say colder shades are popular too, as pastels were a recurrent color on the runway. Baby yellow, pink and purple are also stylish alternatives for the fall fashion but perhaps even more trendy for spring. One item that was common in a warm/cold shade was the knitted cardigan. Bring them back I say!

Structured Midi/Maxi Dresses
A more specific trend we'll be seeing this fall, that we're in fact are already seeing right now, is the structured maxi dress. I'm talking about dresses with often voluminous sleeves and skirts but fitted over the waist and hips. This style of dress has been common both as maxi and midi. I'd say that white, grey and beige are popular colors but also polka dot pattern and floral pattern. This style of dress might be quite specific, but if you wear dresses a lot in general, it's definitely something to try. Pair it with high leather boots for a chic effect or sneakers for a more casual look. Another style of dress that is trendy this season is the voluminous mini dress, which is a great alternative if you don't like the midi/maxi alternatives. 

Folks! What are your thoughts on the fall fashion trends 2020? Let me know in the comments below! And as always: stay safe! Xx