Folks! How about some quick fashion and beauty tips today, just to get in the mood for the holiday spirit? Some easy ways you can add the holiday spirit to your life. And yes, of course I'm talking about more red, more sparkles and more of those glam details! Here's 10 fashion tips holiday 2018: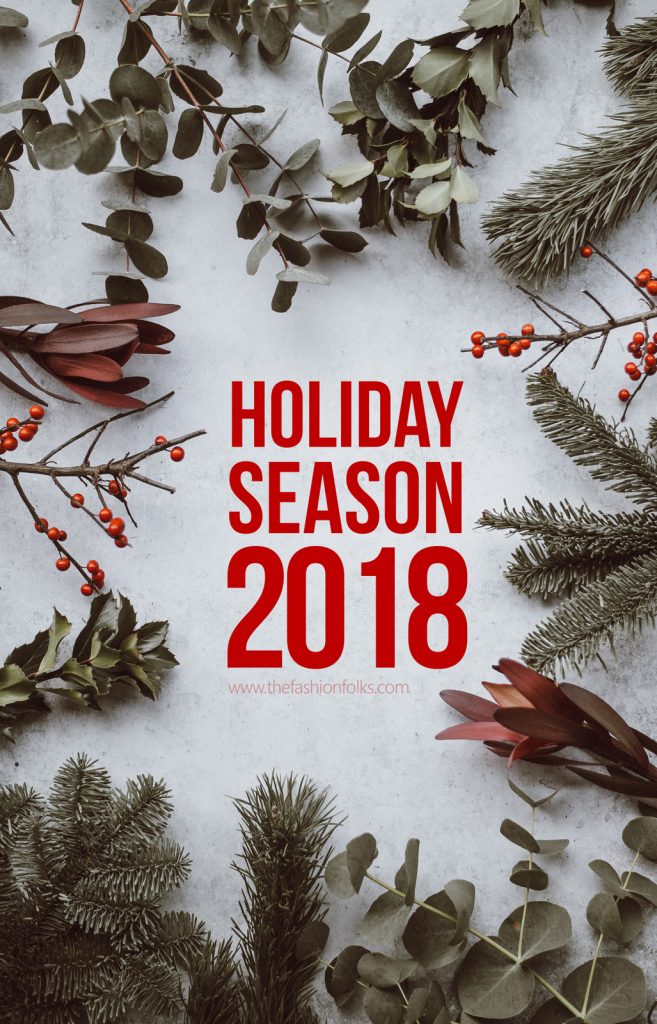 Fashion Tips Holiday 2018
1.Materials With Structure – Choose materials that make a statement with the structure. It's cozy, it's loud and it's a great way of making the winter style a bit more interesting. Knitwear, (faux) leather, suede and faux fur are some terrific examples of materials with some structure. Combining them is even better!

2.Choose Statement Pieces – I'm sure you have at least one statement piece in your wardrobe. Perhaps a sequin top, colorful pants or a loud print. These pieces are perfect to choose for the holiday season as they're loud and vibrant. Making that pop will definitely give you the exclusive, holiday vibe!

3.Extra Makeup Touch – Going for some extra makeup is another way of making your fashion/beauty life a bit more exclusive. An extra layer of eyeliner, some rouge to highlight your makeup or a glitter eyeshadow can be example of ways to go for the extra makeup touch. Choose darker and more intense shades too, it will give that glam pop!

4.Layer Up – Going for the layers is a way of controlling your outfit and not just hide under an oversized winter jacket. Choose a tight tank top, a shirt over that and a sweater to top the look. A hack is to focus on different colors and textures to make the layers clash = gives a good dynamic!

5.Red Details – My best and most simple tips is to add more red to your outfit! A red bow, a red belt, a red necklace, red gloves – anything red. This is way too easy and obvious but efficient too as red is associated with the holidays = more red = more holiday feelings!

6.Do The Braids – Love to go for braids for the holidays too! It's a soft and refined vibe to them which I think works lovely with knitted pieces and layered looks. It will protect your hair too from harsh weather and give you some lovely waves. Check Pinterest or Youtube for tutorials!

7.Focus On the Details – I talked about it last week, but one way to elevate your ordinary clothing pieces is to focus on the details. For example, do your regular black t-shirt but add a nice necklace. Or do a turtleneck and go for statement earrings. Choose loud colors or nice metallics and you'll have a nice pop!

8.Vivid Florals – Floral patterns are always a good idea and the darker and dramatic ones are perfect for this time of the year. The floral patterns are a statement of their own so you don't have to focus too much of the styling. A nice shirt will easily do or a sweater with floral embroidery!

9.Fun Statement Nails – Don't forget the nails this year either! Some red ones are of course classic, but golden ones are a nice alternative too. Doing a metallic shade will also add the holiday vibe or some with glitter. Just make sure that they're eco-friendly in one way or another!

10.More Green – If red is the holiday color no 1, green definitely should be no 2. I think green is even easier to style than red if you're unsure about the colors. A forest green with anything metallic is lovely, but also with plum or mustard yellow or an apple red. Green is also very luxurious when done as faux fur!

Folks! Which one of these fashion tips holidays 2018 are you going to try? Let me know in the comments! Xx