Folks, continuing the dose of inspiration that summer brings: let's add another 31 ways to dress more like summer to the already existing 22 ideas. That makes at least 53 ways you can and should go fashionable summer 2017! Warning though, I get quite specific about certain looks, but you can easily (sort of) recreate the idea of the look by changing the pieces to suit your style even better! Here are 31 different fashion styles summer 2017: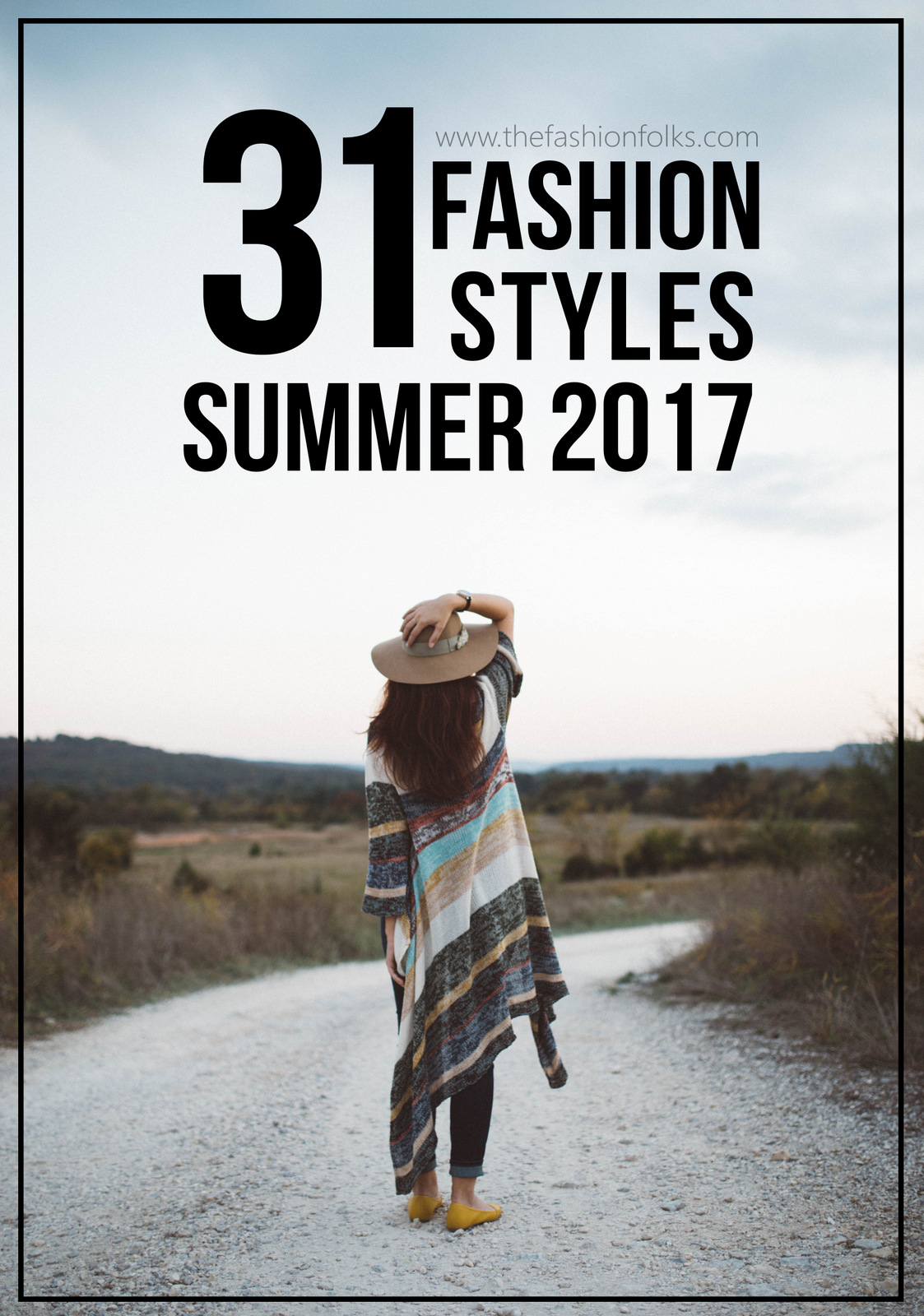 Fashion Styles Summer 2017
1. Red & White Stripes To Navy
The navy vibe doesn't get any better or bigger than during summer. I love the contrast of red and white stripes to a navy blue shade. There's a nice balance between the three shades that works well for the summer life. Go for a red & white striped shirt to a navy blue pleated midi skirt, and you're working one of the outfits I plan on wearing this summer, hahah lol. 
2. Neon Yellow To Tan
Challenge yourself this year by mixing the popping shades of neon with more fun and interesting colors. Tan is definitely one, and I love the effect it creates when done with neon yellow or neon green. Midnight blue and forest green are two other shades that are fun to mix with neon colors.
3. Denim Overall Dress To A Tee
Go for the 90s chic life with a denim overall dress this summer, folks. Add a tee under for the ultimate street style vibe or go for a more preppy look with a shirt. As denim is a favorable material/color to do with popping shades, add the pink, red, yellow or neon to make the look pop.
4. Fruit/Food Prints
I often return to fruit prints each summer as it's something sweet and delicate with them. They are similar in their style qualities to floral prints, but has a nice twist with the fruit/food look. Go for lemons, oranges, tomatoes, apples, bananas or whatever fun print you can imagine. The whole fashion world forever owes D&G a big thank you for this and this fun collection of food.
5. Jeans Statement Hem To Flats
So this trend didn't really pop properly, did it? Well, I still think a frayed denim hem can be quite the chic one and even better when contrasting with flats. Flats are more or less proper which makes them clash with the edgy vibe of the statement hem. A minor detail with a major style point.
6. Klein Blue And Orange
Ahhh, of course I had to sneak this one in. Klein blue and orange is a colorful combination I always turn to when in need of some statement. The bold orange and the bold blue brings out the best of each other as they intensify each other's color. Go for a two piece outfit with one top color and one bottom. Easy as that!
7. Midi Dress With Statement Sleeves
As statement sleeves have the tendency to add volume to the top. One way to balance this is to choose the pieces with statement sleeves carefully. A chic clothing piece is the midi dress as the length of the clothing piece balances the width of the statement sleeves. A lovely tip to anyone who's uncertain on how to style the statement sleeves!
8. More Kimono Style
Kimono definitely feels like a clothing piece that is growing in popularity. The kimono style seems to be everywhere whether it's done as the traditional open style or a blouse, jumpsuit or dress. The open style is perfect to add as a top layer to any outfit as it brings color and print.
9. Add Balance With A Belt
Summer clothes are often rather flowy and undefined in their style. A lot of maxi dresses, midi dresses and oversized clothes. Add some structure to the silhouette with a simple belt to the define the clothing piece. This is often quite favorably done, as an oversized piece with a belt adds some fun volume.
10. Maximize The Details
So summer is not the best time for heavy accessories as it's both uncomfortable and impractical for hot summer days as well as beach days. That's why it can be favorable to maximize the details on a clothing piece instead. More details as in tassels, embroidery, embellishment and other pieces that contribute to a more detailed and rich look.
11. Black & White Stripes To Anything Denim
A classic that one always can return to is the the combo of denim and B&W stripes. The duo is two separate classics meeting each other and becoming one striking combo. Go for a striped top and a denim overall or why not a pair of high waisted jeans and a B&W shirt?
12. Stylish Culottes
As talked about in this post, culottes might not be the same hot spot as previous seasons. But they are a great alternative to the maxi/midi skirts/dresses as they're kind of the pants version of it. Go for your favorite pair and style it with some trendy details to keep the look fresh and up to date.
13. Colorful Floral Outfit
It's easy to go for a basic clothing piece to complement the colorful print. The magic trick that is though, is to pick a shade of the floral print and go for that color as a second piece. If you're working a green/white/pink/orange skirt, add your orange top. That way you'll keep the colorful style alive. 
14. Top Over Maxi Dress
Multifunctional fashion is the best when one clothing piece can serve the purpose of several. Adding the top to a maxi dress creates a maxi skirt which gives the outfit more levels. This styling hack works well with shorter dresses too, of course.
15. Tan to Black
I don't often talk about wearing black as I try to encourage people to look beyond the current basics, but even I have to say that it's something special with the combo of tan and black. The both balances each other in a favorable way and especially tan pops like magic when paired with black. Go for a black outfit and add the tan details and see the classic, chic, effect for yourself.
16. Coral/Peachy Shades
If there's one shade that's almost exclusive to summer alone, it's the coral/peachy shade. The color/s are almost the same as why I pair the two together. It's something tropical with the color which makes it a perfect case for summer. The fact that it works best with other bright shades as white, silver and denim, adds to the summer vibe.
17. Mix Two Prints of the Same Colors
Another opportunity for me to just point out that mixing prints is the fashionable way to go for summer. It's a fun one to try at least! For the beginner: go for two different prints in the same color scale and see how the two will blend into a new print! Magic.
18. All White
All white is another favorite of mine and talked about in the last post too. Go for the all white look whenever in doubt and you feel like you have the patience to wash and remove possible stains afterwards, lol. All white is a look that works for everyone and can be done with whatever clothing pieces you want.
19. Count On The Sunnies
Sunnies are not only practical when the sun is out but can work as an extra accessory when you're down on the jewellry side. Go for the classics or a statement depending on your outfit and see how sunnies, indeed, adds to the effortlessly chic style.
20. Go Flowy
Flowy clothes are just the best for the summer season. They can easily be worn and worked during the hot summer days and they add a fun look with the flow and volume. Go for the boho chic look with an oversized blouse or maxi dress. It's a comfy, chic and a cool one. Kind of.
21. Colorblock The Outfit
If you're not as specific as the stripes trending summer 2017, you can always create your own colorblocking style by choosing the right pieces for your outfit. Go for the old rule with three different colors in one outfit. One color for the top, on for the bottom and one for the layer. An easy way to colorblock and an easy way to work the colors without the detailed life of a print.
22. Pink Denim Life
So it's official, I'm calling pink denim a trend summer 2017. Go for the shorts, the denim jacket or the skirt to make this trend yours. Add the bubbly shades, prints and fun styles to keep the look young and lively. Go for a mature look with white, silver metallic or even tan. It's a fun one.
23. Touch of Animal Print
Going for leo, zebra, snake, or whatever print your prefer, is quite the chic one to do for summer. The animal prints adds some life with the detailed print and works more than fine when going for a statement. Add a leo scarf, a snake print top or some zebra to keep the print side of the fashion life alive. All faux and nothing texture, please.
24. Flannel Shirt To Denim
A classic fall style to go for during summer is the flannel shirt and its compatibility with denim. Go for a loose and comfy look with an unbuttoned shirt or denim shorts to keep the lazy vibe of summer alive. Pick the flannel shirt in colors that are popping as that will also add the summer touch.
25. Structure The Outfit With A Blazer
As stated before, adding some structure to the flowy fashion life can always be a good idea during summer. One easy way to do this is to add a blazer, which will balance the uneven silhouette and the excessive fabrics. Perfect when heading out and the summer night is a bit chilly.
26. Mad Hatter Hat Life
A hat during summer is not only essential for the beach life but favorable for the fashion life too. A hat is one of those accessories that are functional, as it protects the hair, but also chic as it adds balance to the outfit. Go for a summer appropriate style that will elevate your outfit!
27. Pop Up The Outfit With Metallic
Metallics are a genius styling trick for summer as they reflect all the sunlight in a fun and statement kind of way. Add a metallic belt to make the outfit pop or go full statement with metallic boots or a clutch. It will surely reflect the sunlight and draw the attention to you.
28. Multifunctional Scarf
I'm very fond of scarves as they're quite the multifunctional ones, especially scarves for the winter life. But, lighter and colorful scarves a great for summer too. They can protect your shoulders when you've spent too much time in the sun, they can add the warm layer when inside stores and the AC is freaking cold (you know what I'm talking about). A simple scarf can also add the colorful pop or pop of print, which is lovely to anyone that loves the basics but loves to mix it up a bit.
29. Embrace Summer Materials
Lace and crochet are two fun materials that are bringing the statement without going overload. Doing the materials for summer is extra favorable as you don't need to layer with any other materials. Go for a simple lace top or a crochet dress and you're good to go with the summer life.
30. Knitted Sweaters
Summer might not be the best season for knitted sweaters, but for all you knitted sweaters fans out there, there are reasons to work them during summer too. Early mornings and late nights when the temperature hasn't reached hot yet, you can easily wear the clothing piece. Layer it over your dress for a fun and layered look!
31. Boots To Contrast
Finally, boots are also not items for summer but can still be worn. Work your bare legs with boots for a fun contrast between the dress/skirt/denim shorts and the "heavy" boots. It'll surely contrast and balance with a flowy and bohemian dress and the edgy and statement making boots.
Folks! Which  one of these fashion styles summer 2017 is your favorite? Xx