You know how the saying goes, fashion trends comes and go but the basics never so (or something like that, we kind of just invented that actually). And the lovely part about it, is that the basics are what you can build your wardrobe and style upon. So what are some of the fashion staples of a fashionista?
Maxi Dress
Since the late 00's the maxi dress have been a staple in every fashionistas wardrobe. They are the perfect go-to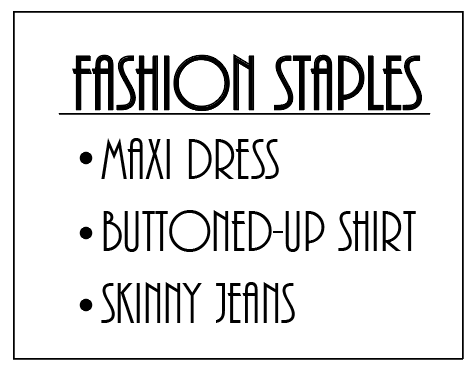 piece as they don't require too much styling. They're also rather comfy, easy to variate and comes in endless of different patterns, styles and colors. And on top of all the great qualities, it's a perfect piece for looking effortlessly chic.  The maxi dress is simply a perfect fashion staple!
Buttoned-Up Shirt
If you're ever in need of looking preppy, proper and peachy the buttoned up shirt will be your friend in need. You're both giving a serious impression and a fashionable one. The buttoned-up shirts are appropriate for work, fine events or a chic after work. Nothing states business and seriousness as the shirt and it works terrific with whatever bottom part you prefer. Go peplum, 70's or culottes and the shirt will be there for your chicness!
Skinny Jeans
The skinny jeans have been around for a couple of years now, but unlike many other denim trends this one has a lasting spot in the wardrobes of the fashionistas. Not only is the model keen on being paired with all kinds of tops, blouses or jackets, it's also one that works with whatever shoes you prefer. Heels, sneakers, boots or thigh highs are all lovely combos to go with the skinnies. The jeans style is also flattering as high waist and turns the piece into a chic statement that's perfect to croc tops, off shoulders or comfy layering.
Folks, what are some of your favorite fashion staples?