One of my favorites articles to write is this one! It's a The Fashion Folks' tradition to start each year with one article on fashion resolutions and another one on beauty resolutions. You can find last year's article here. And of course, these are just suggestions and/or goals, no need to take them too seriously!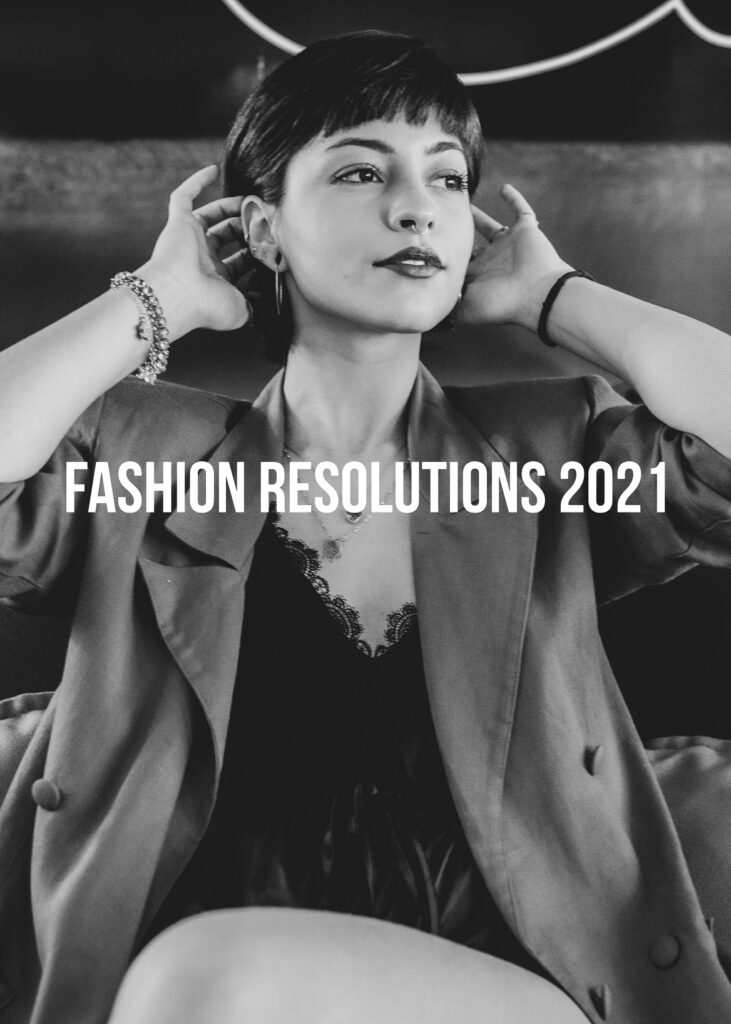 Fashion Resolutions 2021
Try Something New
I'm a big fan of always developing your style and finding new ways to represent yourself and just have fun with fashion. I think it's such a basic experience of fashion, self-confidence and your life in general that you always want to find ways to improve, expand your imagination and find what you like. That's why it's a must to try something new this year with your style. Maybe it's a color, maybe it's a clothing pieces, an accessory or just a new way of styling your good ol' clothes. This can be done by purchasing something new, but also borrowing clothes from a friend or understanding the concept of styling better. Check out the styling category for example.
Shop Consciously
If you are going to shop this year, please do it consciously. It doesn't only mean that you first and foremost should purchase second hand and/or eco-friendly label, but also that you only purchase pieces you really need or want. This means that you stop buying clothes you're not going to wear more than a few times. You should be careful with what you shop as it should be in your wardrobe for a long time. This doesn't mean that you should skip that glam sequin dress you adore, but maybe you only need one clothing piece like that and not 10? So, be intentional with your purchases this year. Think about why you want this specific piece and how you're going to use it. See if it's available second hand or eco-friendly. 
Recycle Your Clothes
Another thing to do this year is to recycle your clothes. Not only recycle as in giving away to charities, friends or family, but also recycle your clothes as in putting them away for a while. If you own a lot of clothes, and you're tired of them, do yourself a favor and put away some clothes for a while. I promise you it will give you a good break from your clothes and either you'll start missing them (feel free to use them again) or you'll forget about them (give them away!). I know a lot of us are already doing this with seasonal clothes, putting away summer clothes etc, but this is great to do when you're tired of some clothes, or you just need to clear some space! 
Elevate Your Styling Game
If you're only going to do one thing this year when it comes to your fashion life, do this! Elevating your styling skills and game will give you a more satisfying style and your need of buying more clothes will likely decrease. That's why it's so important to find ways of being creative and satisfied with your style. By being more intentional with style, you will also develop another sense of creativity and self-confidence. Start today by checking out this category! 
Folks! Do you have any fashion resolutions 2021? Let me know in the comments below! Xx