Folks! Happy new year! Happy 2020! Happy new decade! What's a better way to start this fashionable year than to talk about some fashion resolutions 2020? I don't think resolutions should be viewed as rules to follow, but more as goals to be inspired by. Perhaps goals within fashion isn't a priority either, but I think it nevertheless can be a fun thing to challenge yourself this year with better styling, more chic outfits and sustainable consumption.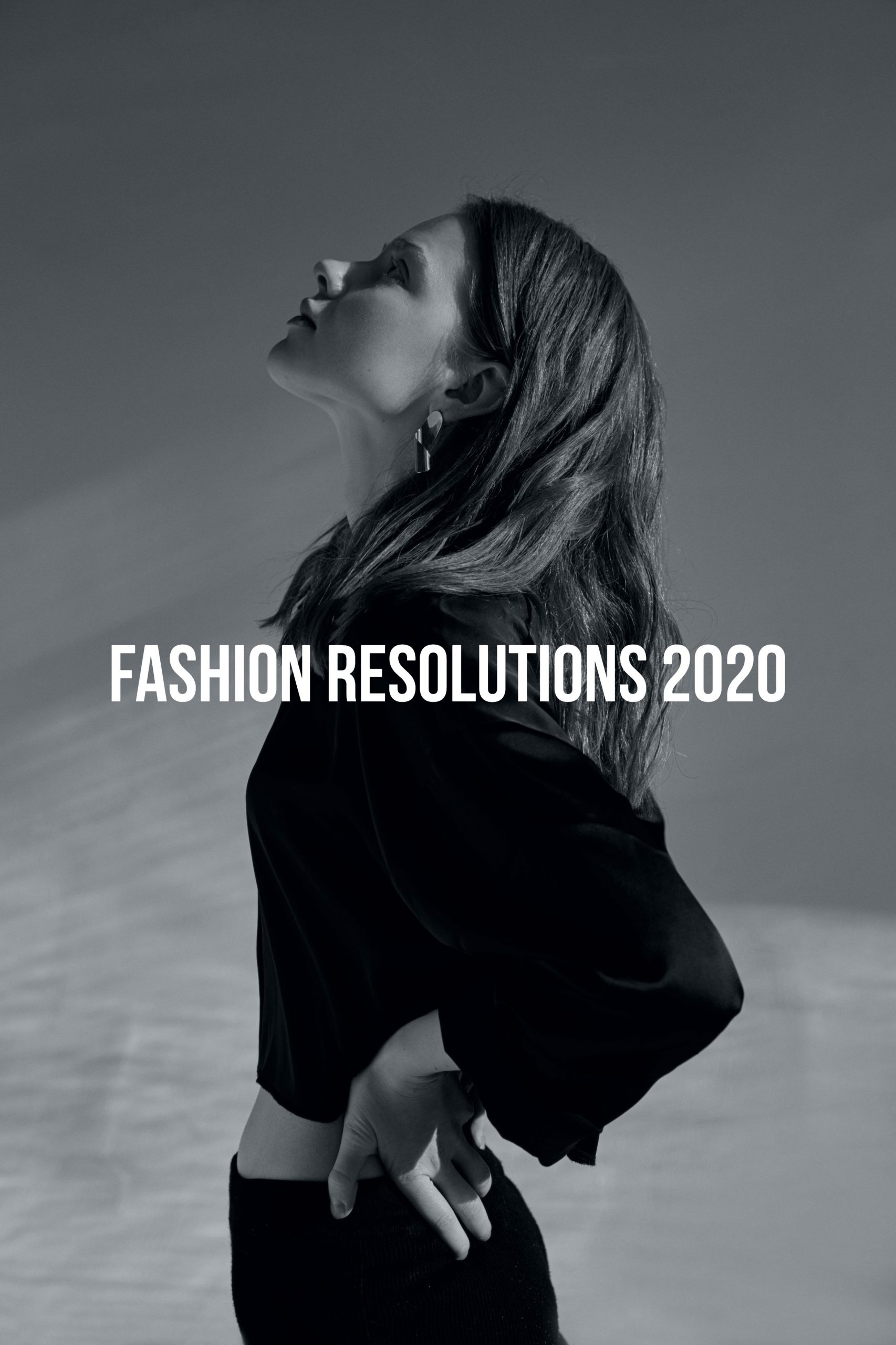 Fashion Resolutions 2020
Style More
My first suggestion is to style more! Reusing your clothes in various ways is a must for staying sustainable, creative and economic too. Of course it's common to use your clothing piece more than once, but I wish it was even more normative for all life's occasions. You probably don't need a new dress for that party, or a new top for the dinner date. Instead, it's highly likely that with some styling efforts, you can create a new and inspiring look. It can be about adding a necklace or a headband. Perhaps layering with a blazer or a scarf. The idea is to avoid growing tired of your clothing piece by styling them in interesting ways. Push yourself to use your old cardigan in new ways this year! You'll be kind to the earth by not buying new, you'll also save money, discover new outfits you like, rediscover old clothing pieces and you'll push yourself to be more creative with new combinations. The benefits are truly endless. I've written tons of articles on styling, you can find the full category here!

Sustainable Shopping
When you do shop new clothes however, a good idea for 2020 is that you do it in a sustainable way. Only try and shop clothing pieces you really need. Scan your local second hand shops for the clothing piece you need or buy it from a sustainable brand. I know that eco-friendly clothes can be a bit more pricey, but if you shop less often, you'll have more money to invest when you do shop. If you compare the price of buying 10 different tank tops during the year, to buying one of an eco-friendly brand = you'll have a pretty good deal anyways. I'm also a fan of the idea of swapping clothes with your friend. If you have older relatives, ask if you can have a look at the clothes they no longer use! There's a likability they have saved clothes from when they were younger and that are still good to go today. Two decades that have been popular lately are the 80s and the 90s. And if the trend reports are correct, the 1970s and 1960s are up next! 

Plan in Advance
I've been talking about planning your outfits in advance before, but it's honestly a must if you want to step up your styling game this year. Perhaps you have super powers, but I'm pretty sure the majority of us are not putting together the most genius, fashionable, outfit five minutes before leaving in the morning. Maybe you're successful every now and then, but keeping a high level over and over again is not easy. That's why I think it's essential that you have a plan for your outfits. Know that your gold earrings are really chic with your green dress and matching that with your leather leggings and leather boots will be a chic look. Also know that the outfit will be perfect to wear tomorrow and do the effort and have the outfit ready the night before! It sounds like more work than it is. Once you get into the habit of doing it, you'll be more creative and more efficient at coming up with outfits! And more importantly; you'll have the time to think about what style you want to have and how you can improve it! 

Dress Ugly
So perhaps my favorite resolution of them all is this one! It's kind of trendy right now to "dress ugly" and to mismatch colors, prints, materials and details. To create an eclectic style by breaking the traditional fashion rules. What I like about this trend is that it allows you to be fully creative and also a bit childish with fashion. I mean, of course you should pair green with lavender. Polka dots with leopard. 1980s' shoulder pads with 1970s' pleated skirts – you get it! The only limit is your imagination. I think that dressing ugly also goes hand in hand with styling more, as you'll discover new outfit combinations in your wardrobe! Of course the idea is not that you should go around and feel uncomfortable in your outfits, but try and expand your comfort zone step by step. Have a chic outfit you're comfortable in, but layer it with that sweater in a contrasting color! 

Folks! Do you have any fashion resolutions 2020? Let me know in the comments below! Xx