Folks, Happy New Year!! So happy to be back today after almost two weeks of much needed time off. I've just been resting, eating and enjoying the holidays. Have also done some planning for The Fashion Folks 2019 and I'm pretty excited to get back to regular posting with lots of style guides, history recaps and sustainable beauty and fashion! To get this year going though, let's start by discussing some fashion resolutions 2019. Just a disclaimer though, these are of course not resolutions as in a must, but more goals or ideas of how you can develop your style in 2019.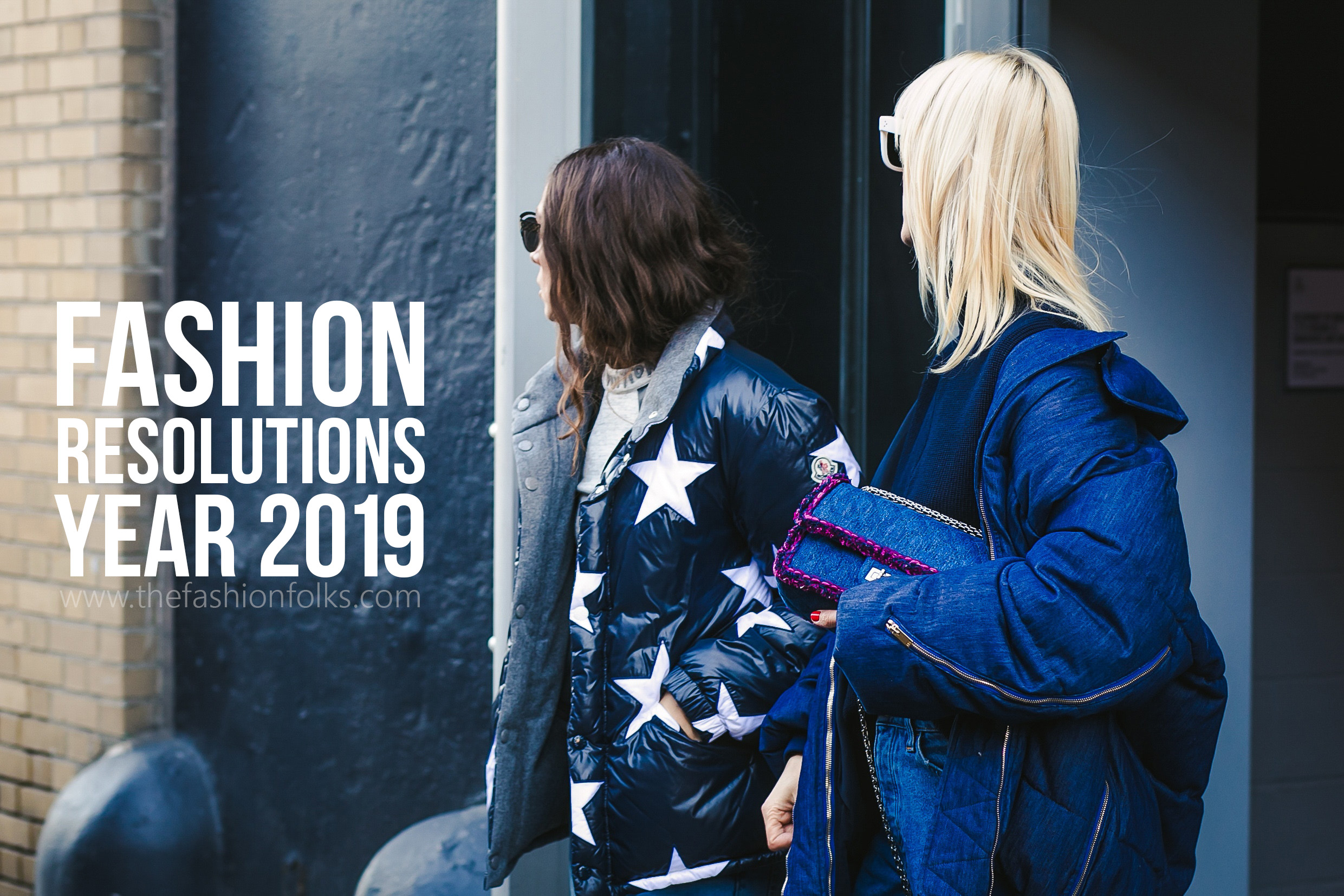 Fashion Resolutions 2019
Dress Intentionally
Many are the days I have put on the first best thing in the morning and been bored with my own style. I know it's easy to just let fashion be practical clothes, but if you're interested in style and design – fashion can be so much more and that's where dressing intentionally comes in. Dressing with a purpose is a way of getting in control of your style and what you dress like. In practice, it's more or less about planning your outfits in advance. If you know you have a fun dinner on Thursday, perhaps choose a more glam top or go for the statement earrings. Maybe you want to feel preppy and empowered for your Monday meeting so a nice shirt and some boots will do. Of course there's also a truth in dressing what you feel like, but let's be frank here and say that we often don't have the time to dress properly what we feel like (unless it's just a cozy, comfy, outfit).

Another advantage with planning your outfits in advance is that you give yourself time to sit down with your style/your clothes and see where you want to take it. You'll have the time to experiment with colors, prints and materials as you'll have more time to try different combinations! Sit down and write some outfits down for the week and you'll at least have a few options on the day you don't know what to dress like.

Sustainable Fashion
From a perspective of sustainable development, the fashion industry is for most part quite terrible. That's why it's important that we all contribute as much as we possibly can. It's about supporting your local entrepreneurs, buying sustainable products and elongating the life span of your clothes. Don't buy clothes after the latest trends, but only clothes that will contribute to your style in the long run. Improve your styling skills so you'll avoid getting bored of your clothes. Change clothes with your friends or donate the ones you don't use to charity. I'll get back to this subject during the year, but you can start with this hashtag if you want some ideas today!

Learn More
I'm a big fan of learning (aren't we all though) and learning fashion is no exception. I know that it can seem random to study a subject that's as practical and common as fashion, but that's what makes it even more fun. I mean, do you know what colors to choose if you want to give an energetic or bold impression? Do you know what materials you need to invest in in order to stay extra warm during winter? Why is the floral pattern such a good match with the leopard prints? These are all questions with answers that will enrich your fashion life in one way or another. Learning fashion is about developing your interest for the subject, but also translating that info to some skills. Read books on the subject, read more fashion articles, watch documentaries, talk with stylish friends – just get those learning sessions going!

Challenge Yourself
Lastly, one fashion goal 2019 I'll definitely work a lot with is to challenge myself. This year I want to pay more focus to elevating myself and allow myself to dress more creatively. Adding that colorful detail, go for more than one statement in one outfit and be fine by working a semi-awkward, but stylish fashion. In other words, let myself have fun with fashion and play around with all its details and textures. The key to this will be to plan my outfits in advance, not overthink what the outfit will look like and just be comfortable in making statements. As this will be my main goal in fashion this year, no doubt that I'll come back to this subject over and over again through the year!

Folks! Do you have any fashion resolutions 2019? And hey, let's make this year a magical one. I'm so excited to keep on developing this site, bond with you and see what will be next! Xx