Folks! Can you believe that there's only eight posts left from The Fashion Folks (aka moí) this year? I'll be off Monday and Tuesday next week (so shall you be) and then there's only three articles left except the five of this week. Crazy, I know! Anyways, this is the time to slowly start looking at next year and mentally prepare yourself. I do believe that change is constant however, and a new minute is a new chance to turn something around. With that said though, I also believe in the metaphorical importance of something new as in a new day, month or even year. We humans inevitable summarize our lives by year and 2018 is an unwritten one! To make the most out of the year and prepare ourselves to excel and shine at are very best, by what we love, I thought I'd share some ideas (aka resolutions) about fashion and beauty. First up are some ideas for fashion resolutions 2018! Do remember though that resolutions are guidelines, not rules.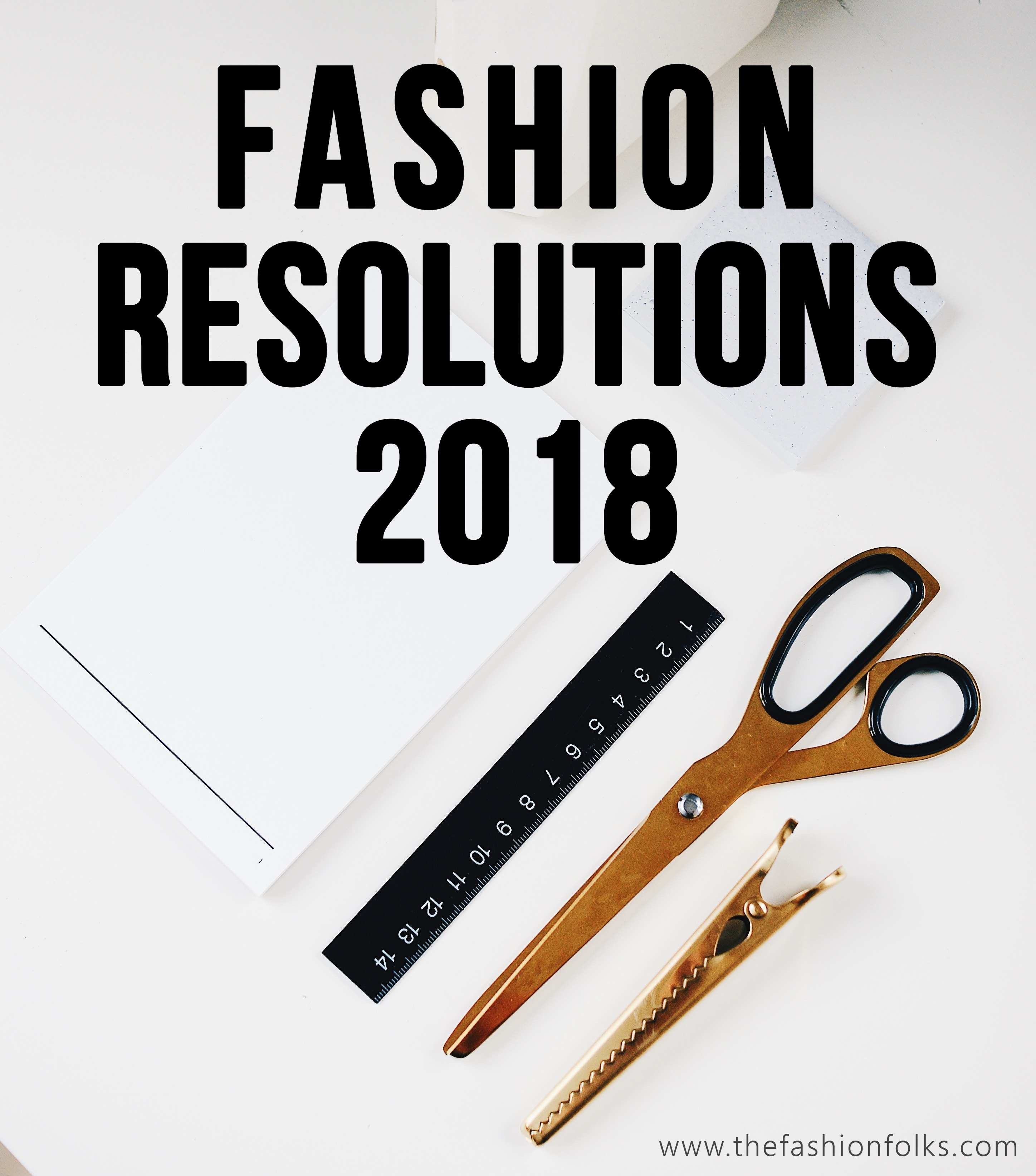 Photo by STIL on Unsplash
Find A New Wardrobe Staple
If best friends would exist in a fashion version, the wardrobe staples would be it! The staples are the basics of your wardrobe that can be matched with anything (oh well) and are great go-to options. Depending on your style, these items are different from each and every wardrobe. If you're working a more preppy style, a black blazer is probably a popular piece in your wardrobe. If you love fashion with an edge, the perfect pair of jeans are surely in your closet. As we get older and get more experience in life, I do like to think that we expand our minds in the fashion context too. This is only natural with the flow of trends, but is a great example of how you can find new favorites in your wardrobe that you always can rely on. One of the fashion resolutions 2018 should definitely be to find that new wardrobe staple! Find some inspiration by looking at the current trends, your style icons or ask a friend what staples they always count on.
Read A Fashion Book
This resolution is only logical if you enjoy fashion as a subject and definitely a must if you do. Fashion is, reasonably enough, a visual subject where images, illustrations and videos by all means get the majority of attention. BUT, fashion through text is another way to receive information and perspective. Perhaps read a book about your favorite  brand, or a styling book if you want to know the theory behind a good style. Choose a subject you like within fashion (it can be anything) and read! We all need more time away from the screens!
Try A New Trend
Continuing the idea of expanding the fashion horizon, trying a new trend is a given resolution! You don't have to try them all, but if you notice a trend you like – why not give it a try? Perhaps that trend will turn into a fashion staple in your wardrobe? I'd advise you to go for a trend that's close to your own style, yet different enough to add something new to your look. A great way to find a trend that balances this perfectly is to either choose a trend in your favorite color, or pick up the trend if its one of your favorite pieces. For instance, if you love dresses, go for the midi dresses and see if you like them. One step in the comfort zone and one step outside is progress!
Give Away Clothes
We all (yes all of us) have clothes we never use yet they take up an unreasonable amount of space in our wardrobes. These are clothes that can be given to friends/family, donated to charity, recycled in stores or used for a swap party. A swap party is when you change clothes with your friends, e.g. your black shirt your friend wants is swapped for her jeans you love etc. If you're uncertain what clothes you really can't be without, do a pile of clothes that you have to wear within the next months and if you're unable to – give them away.
Shop Less, Style More
Relating to the resolutions (aka guidelines) above, what should you do with all the clothes you have and want to keep? Well style them, love them and work them! We are overusing our resources to an extent that is absurd and we all can contribute in our daily lives. As fashion people, I know many of us could shop less and style more. There's no such a thing that last season's jeans aren't working this year and so on. Learn how to style more cleverly to get your outfits to feel more fresh, exciting and fashionable. I'll talk more about this next year, on how to do it, but you can always read more in the Styling category. To give some quick-tips now though; it's about adding the details, finding new combinations, getting the inspiration flow and….style in advance!
Folks! Is there anyone of these fashion resolutions 2018 you're going to do? Or what are you guidelines for 2018? Let's chat in the comments!