Folks! You know I love getting nerdy with the details. I did a winter edition with some fashionable details from stylish outfits. It's just something with getting down and detailed with the elements of an outfit. If you get the details right, it's likely that your outfit will look cohesive and interesting! As spring is here, I think it's time for some fashion inspiration spring 2019 with focus on the details. Here's five chic examples: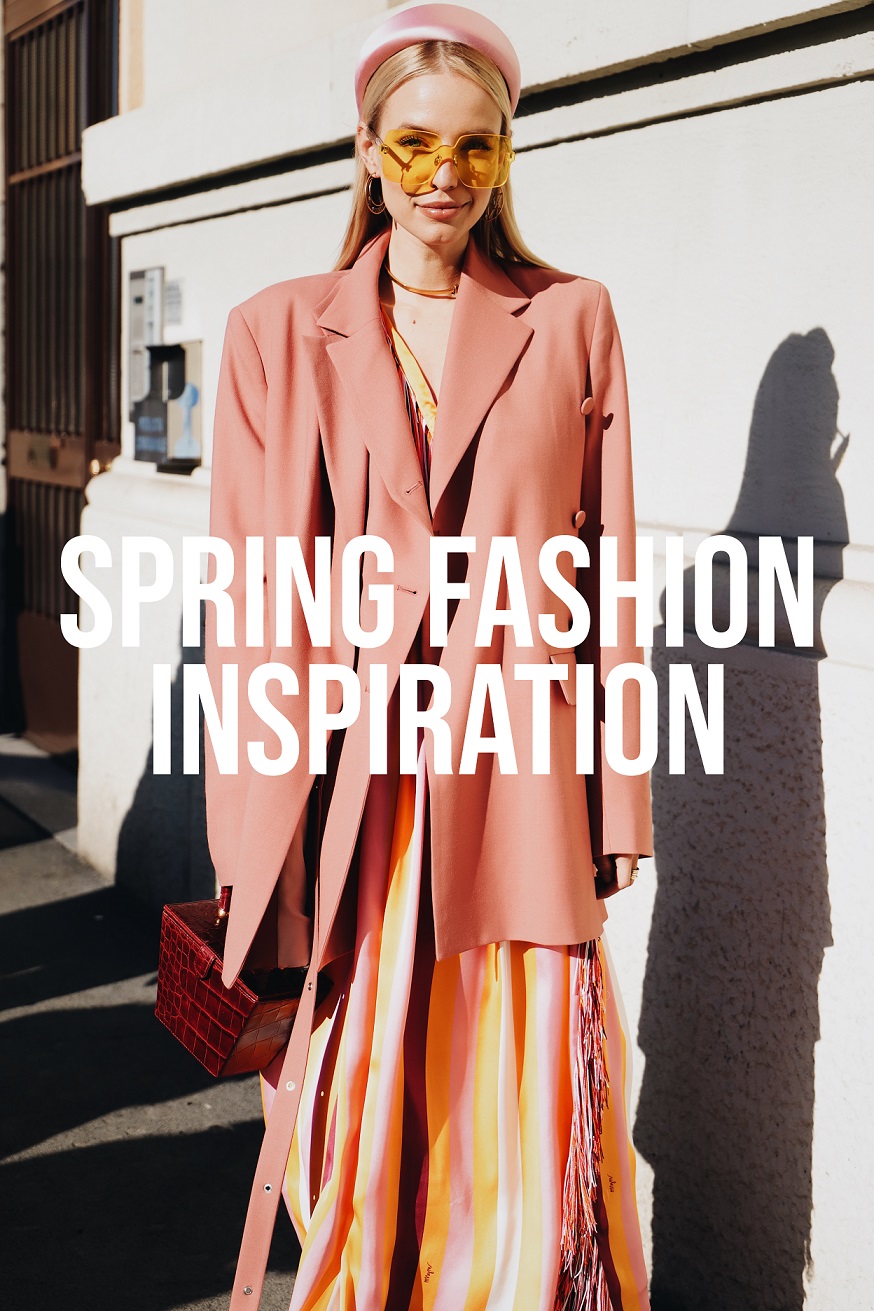 Fashion Inspiration Spring 2019
Wine Red Details
I often talk about how chic it can be to go for one color in the same outfit. The downside is that it often can be too bold and too much of a statement. A wearable way you can create a cohesive outfit is to go for the same color but reduce it to the details or a part of the clothing piece. This outfit is a great example of this fashion hack. The wine red color is present in the jacket, the bag and the skirt. It's not too overwhelming as the orange and the white balances the color. But try it next time you want to show a lot of one color but avoid going too crazy; pick the color for a clothing piece as the main color and choose a second clothing piece with a part of the color or an accessory!

Plastic Fantastic
Fair enough that plastic is not that wearable but oh how fun when done right! This layered look with the check patterned jacket is just so chic. Really classic to go for a grey, black and white scale which makes the plastic not that big of a deal. As the white contrast is pretty distinct, it's good to go for it both for bag and shoes. A really small detail, but so stylish with the wine red nails. Statement materials, such as plastic, don't need to be that difficult to style in a casual way!

Layered Contrasts
Folks! I haven't really given this combination much thought but I must say it's been growing on me lately. Layering your blazer with a leather jacket? Well, why not! This outfit combination is indeed a trendy one and great for the transitional period if you ask me. Going for a blazer this spring is a fashionable trend but also good if you want to go for the preppy style. Pairing your more proper blazer with a more edgy leather jacket makes up for a good balance of opposing elements. Also love the neutral bag and denim that simplifies the outfit.

Bold Sneakers
So pantsuits are also trendy this spring, especially colorful ones like red. Pantsuits, with their structured pieces, can often come off as too formal which is why a good ol' pair of sneakers are a chic match. They're not only comfortable and classic but also a trendy alternative spring 2019. I love how the ladylike bag is a nice complement with the outfit and picks up the black color in the shoes. If I were to decide a top for this pantsuit set, I'd choose a simple black t-shirt!

Opposing Elements
There are so many things I love about this close shot of the outfit. First of all, let's pin down the colors. The blue coat reconnects nicely with the blue bag. The belt with its yellow and black color creates a bold contrast, but works well as the color match is really good. The transparent jacket frames the outfit in a lovely way. As it's see-through it doesn't disturb the colors but solely adds a nice detail with its more functional vibe. I know I've said it before, but this is what I absolutely love with the transparent fashion – it's fun just to layer with whatever!

Folks! Do you have a favorite from this fashion inspiration spring 2019? Let's chat in the comments folks! Xx