Oh my, oh my. I was hesitating about writing an article on the past trends of the decade, because I've already seen so many articles on the subject. But going through past trends is honestly too much fun, so obviously I had to write my own article! It's a lot of trends to write about indeed, but really fun to take a trip down the memory lane and relive how fashion has been evolving this last decade!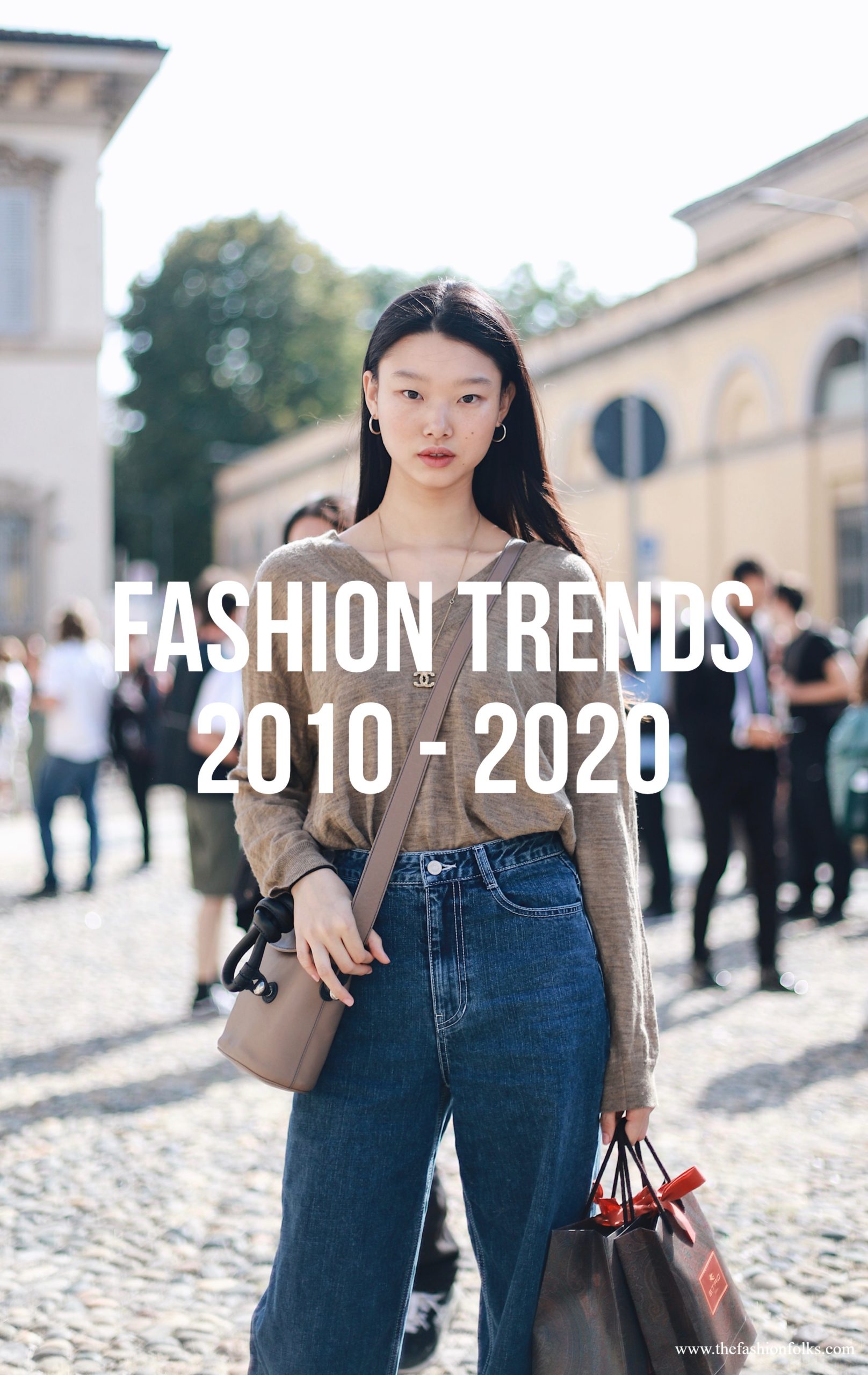 Fashion and Beauty Trends of The Decade
Statement Sleeves
One of the biggest trends of the decade, at least for the latter half, is the statement sleeves! The sleeves have gone through several different phases, spanning from ham sleeves to trumpet sleeves and puffy sleeves. The sleeves have mainly been done in combination with knitted sweaters, crop tops and blouses, but also dresses and shirts have had their versions. Statement sleeves are today still a major fashion trend and nothing seems to be changing that anytime soon. 

Highlighter
A big beauty trend of the decade has undoubtedly been the highlighter. Every other makeup video on Instagram or Youtube has for some years now included at least one highlighter that's as glowy and sparkling as it gets. Not only powder highlighter in pastel colors, but also liquid highlighters and primers with a glow. This trend is still strong, so your cheeks, nose tip and upper lip should shine brighter than ever!

Midi Lengths
One of my favorite trends from the decade is the midi length! I remember starting the decade hating anything that wasn't mini or maxi, thinking the midi length was outdated and for old people. Little did I know a few years later that I would work midi skirts, dresses and culottes. This trend emerged quite early in the decade, but didn't peak until mid decade. It's still a very popular trend today and honestly, it should always be a trend!

Bushy Eyebrows
I'm not sure that anything has been more important than our eyebrows the last decade? And no, not thin eyebrows á la the 90s and early 00s, but thick, bushy, eyebrows. I'm not quite sure when this trend started properly, but I'm pretty sure the bushy brows of Cara Delevigne was a major breaking point. Soon after her model career started growing properly, instagram eyebrows became popular. At every other makeup brand you could buy all products imaginable for the eyebrows: eyebrow pencil, gel or eyebrow stencils. It has also been popular to get your eyebrows professionally fixed, either just shape them or get them tattooed. And what about today? Well, I think the trend is a bit more natural these days, but your eyebrows should still definitely "be on fleek". 

Crop Tops
The crop tops are another major trend from the last decade. They were done both as cropped blouses, shirts, tank tops and even sweaters and hoodies. The crop tops were for a while also popular to layer over shirts and dresses. Crop tops in a corset-shape have also been popular. This trend is still going strong, but it feels like the buzz is less intense nowadays. 

Ugly Fashion
I wrote about the ugly fashion as a part of the fashion resolutions 2020, simply because I love this trend and I want it to stay forever. Well, a part of the fashion circle has always embraced a "ugly" fashion, but this trend became more commercial around 2017-2018 – kind of when the 90s got its revival. Around that time it became popular to, like above, layer crop tops with other clothing pieces. Mismatch socks, accessories and jewelries. Wear socks in the shoes. Layer mismatched colors and textiles. The bucket hat is another example of this "ugly" fashion. In 2020, this trend is as chic as ever. 

Overlined Lips
Oh boy. Let's not forget about the overlined lips. I'm pretty sure it's widely known that it was Kylie Jenner who popularized the overlined lips. This lip trend has mainly been done in colors close to the natural shades of the lips, but other shades have been popular too, such as mauve and lavender. I still see a lot of people and celebrities creating the illusion of bigger lips by painting them bigger, so I guess it's still quite the trend for 2020. And hey speaking of lips, you haven't forgotten the matte lip trend, have you? 

Leather Jacket
Fair enough that the leather jacket is more or less a wardrobe staple universally and can't really be considered as a trend. But at the same time, wasn't the 2010-2020 decade the years of the leather jacket? It was paired with blouses, t-shirts, crop tops, dresses, sweaters and shirts. Especially in the early years of the decade it was trendy to wear jeans, sneakers, a blouse and a leather jacket. Well, this trend is still a big one so let's keep it classic, okey?! 

80s Fashion
So the 80s fashion got its proper revival around 2017. Every other designer suddenly promoted an inverted triangle shape, shoulders pads, polka dots, blazers and bright pastels. The 80s fashion also hit the streets, but was often done in more toned down versions. With that said though, the fashion of the last decade was definitely characterized by the 80s' office wear, sportswear and bright colors and patterns (leopard print, anyone?). 

Contoured Face
Makeup artists have for decades contoured their clients' faces, but a few years ago this makeup technique became commercialized. Contour kits were popular and also Kim Kardashian's makeup tutorials. If her younger sister lead the comeback of the lips, Kim K definitely led the contour revolution. Defining and enhancing ones face shape is still trendy and will probably stick around for awhile. It has after all become a must in many people's makeup routine!

Statement Shoes
The last decade saw a lot of statement shoes being trendy for a season or two, only to be replaced by a new statement shoe. The decade started with Jeffrey Campbell shoes being popular, continued with Uggs, Converse, sneaker wedges, Timberlands, kitten heels, slippers, dad sneakers and platform shoes! And oh, not to forget about the OTK boots and Chelsea boots too. So many stylish shoes, so little time to wear them all. I'd say that all forms of sneakers will remain trendy, but also the boots and the slippers. Practical and fashionable!

Colorful Hair
The 2010s were also the decade of colorful hair, or at least dyed hair in general. The early years of the decade saw an explosion of pink, purple, blue, green and peach colored hair. Rainbow colored hair was also popular as well as dip dying your hair in bright shades. I'm pretty confident to say that this trend has come to an end, although it's never wrong to make your life a bit more fun with colorful hair! 

Beige and Brown
Both of these colors are basic, neutral, ones that are never out of style. They are however sometimes extra in style, which has been the case for 2018 and 2019. The last two years of the decade were definitely characterized by a fashion of beige and brown in different shades. Camel coats, brown leather and beige knitwear are only a few examples. Doing beige top to toe has also been trendy, as well as prints in brown/beige colors (leopard and snake). 

Turtleneck Tops
Lastly (although I could continue), we have the turtleneck tops. They definitely peaked in popularity mid-decade, but are still a reliable clothing piece. Turtleneck tops paired with blazers, layered under dresses and shirts, as well as being paired with overalls, have all been major styling combinations the last decade. The tops have been common in black but also beige and grey. Knitted turtleneck sweaters have been another major trend. It has also been popular to have your hair tucked in the turtleneck for the ultimate chic look!
Folks! Do you have a favorite from these fashion and beauty trends 2010-2019? Or one trend you never want to see again? Let's chat in the comments! And oh, honorable mentions: choker necklaces, culottes, playsuits, off shoulder, high waisted denim shorts, the teddy coat, flared pants, transparent clothing pieces and…more! Xx