The beauty of fashion is all the layers that is to it. We have the commercial fashion, the editorial fashion, street style fashion and so many more. In this week's Stories we'd like to highlight the artsy aspect of fashion. As everything is art (and art is everything), we do believe in the magic of combining artistic paintings and patterns with the aesthetic of fashion.
History of fashion and art
The combination of art and fashion is not a new phenomenon. One famous combination of art and fashion, is the collaboration between fashion designer Elsa Schiaparelli and artist Salvador Dalí. The two combined their artistic minds during the 1930s and the result became the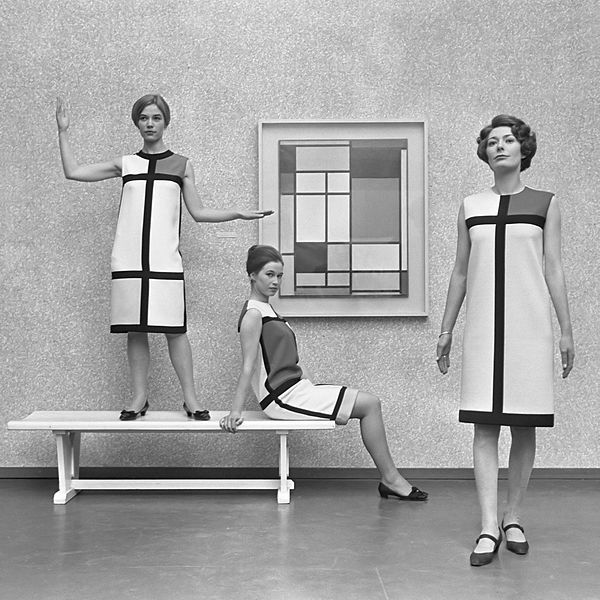 infamous lobster dress. From the pure and conservative fashion of the 1930s, a dress featuring a lobster was of course chocking but nevertheless quite a fun change. Not to mention that it fitted perfeclty in Elsa Schiaparelli's sweet world of fashion nonsense.
A few decades later, Yves Saint Laurent's 1965 collection featured works of several artists, including artist Piet Mondrian. The most iconic looks from the collection would be the dresses featuring Mondrian's minimalistic and geometric patterns. The print of the paintings blended superbly well with the popular A-line silhouette and to this date, these are some of the famous dresses to have been made. The dresses are true to the 1960s core but are timeless in their classic and sophisticated style.
Fashion and art today
Today, collaborations with designers and artist continues. Even though they're often not as highlighted as they used to be, there have been some gems in the making. A collaboration that gained attraction and was widely appreciated was the 2012 collection of Louis Vuitton. Co-created with Yayoi Kusama, the fashion house and artist made a collection consisting of her famous dots. Another fun collab was between fashion house Marni and artist Rop Van Mierlo in 2013 that featured patterns of animals in popping colors.
Some final notes:
As we do love our history we'd love to see more collaborations that connects the old and new. Not to forget the ability to literally walk around in art, both in its terms of fashion but also by highlighting artists. The mixing of ideas from two worlds to create one, remains an important part of the cultural development of fashion. Even though fashion designers are great at creating their own patterns (hello Mary Katrantzou), it's still something unique when the best of two unites. Fashion and art is the way to go!