If it's not Resort Collections during the summer it's Haute Couture Collections (aka eye candy for fashion lovers). As there are only a few selected fashion houses that get to do Haute Couture, we're always overly excited. Folks? Here's Dior Fall 2016 Couture show!
Details
Dior are one of the fashion houses that get to show haute couture. Haute Couture is the highest form of fashion as all pieces are handmade. To get to define your collection as Haute Couture you have to be accepted by french department la Chambre Syndicale de Haute Couture, and by that, meet a few demands of the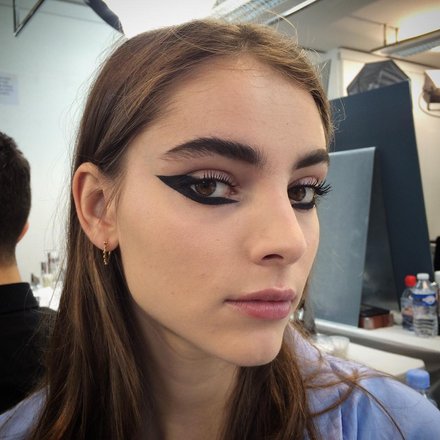 department. Andyesterday, 4th of July, Dior presented their fall couture collection at their headquarters in Paris. Behind the creations are designer duo Lucie Meyer and Serge Ruffieux. Celine Dion, Marion Cotillard and Natalia Vodianova were some of the people attending.
Style
Couture collections are normally done rather artsy and evening fancy, but Dior's fall 2016 couture show was more minimalistic. The collection was entirely made in black and white, with some metallic details. The classic color combo was combined with skirts, dresses, t-shirts, tops and blazers. The pieces stretched from preppy and done, to boho and flowy. The focus of the collection was the silhouette, many going back to the classic waistline of the 1947 collection The New Look. Some drapings were also spotted which gave the looks a more sophisticated approach. And the makeup was a liner gone statement, see makeup artist Eny Whitehead's photo above !
Overall Conclusion
A classic Dior couture collection with silhouettes being the core. Dior usually uses more colors, but the black & white theme worked as a coherent line through the collection, binding the looks together. The elegant touches of gold and silver were welcome as they added some life to the creationes. Noteable for the collection is that no heels were used, only sandals, a comfy and unexpected contrast to the luxurious pieces. Nevertheless a welcome statement! Overall we loved this collection, simple and well excecuted. Perhaps a bit dull for a couture show, but the gold and silver embellishment made some perfect fashion statements. 
Folks, what do you think about Dior Fall 2016 Couture show? Hit us in the comments!