So we all know about Chanel, but believe it or not, she's one of among many designers who defined the decade. So of course she, and others of our favorites have to be mentioned during this week of glam. Folks? These are our designers of the 1920's
Jean Patou (1880 – 1936) – Patou was a man with a clear vision, he believed in the emancipation of the woman, an idéa that was visible in his designs. Patou was influenced by sportswear and opened Sports Corner in Paris 1925, a store sorted after different sports activities and matching clothes. He designed tennis clothes for women, introduced a knitted bathing suit and launched his own perfume. His designs were often functional and simple in their making, though a fan of sports, he loved the Cubism movement as well as Art Déco. He kind of did it all.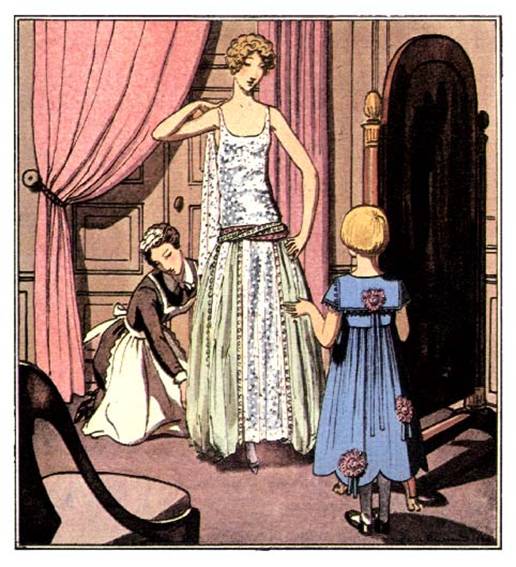 Jeanne Lanvin (1867 – 1946) – Lanvin (to the right) was a modist turned fashion designer (or artist as she prefered). Lanvin was one of those who remained true to the feminine history of female fashion and would be remembered for her girly and functional dress style de robe. Her muse was her daughter Marie-Blanche, to whom she sew the dresses to. Her daughter was also the main reason for the expansion of a store to a whole empire of clothes, interior, menswear etc. To this date Lanvin fashion house is still running, but Jeanne Lanvin herself will forever be remembered for subtile femininity and colors such as pigeon blue (her favorite color!).
Coco Chanel (1883 – 1971) – The legend (below) began her fashion career in 1912 by the opening of her own store. Chanel believed in a more liberal fashion for women and introduced a fashion without demanding clothes. Instead she was inspired by sportswear and menswear, which influenced her collections of simple clothes in colors of white, black and beige. Chanel represented a minimalistic fashion that was wearable. She also launched her iconic perfume Chanel No 5 in 1921 and a few years later the little black dress, who both today remains classics.
And of course, Madeleine Vionnet (1876 – 1975), who we talked about back in november!
The pictures used are not the property of The Fashion Folks.
Jeanne Lanvin (public domain) / Coco Chanel (public domain)