"We'll always have Paris" might not only be a famous line from Casablanca, but a line that translates well to "We'll always have Valentino". Because as the seasons passes and designers reaches new highs and lows, Valentino remains consistent of quality in terms of design aesthetic. Fall 2017 might not have been the brand's strongest collection, but surely one to embrace. If not for the sake of giving credit to a long lasting brand that always delivers. See full collection here.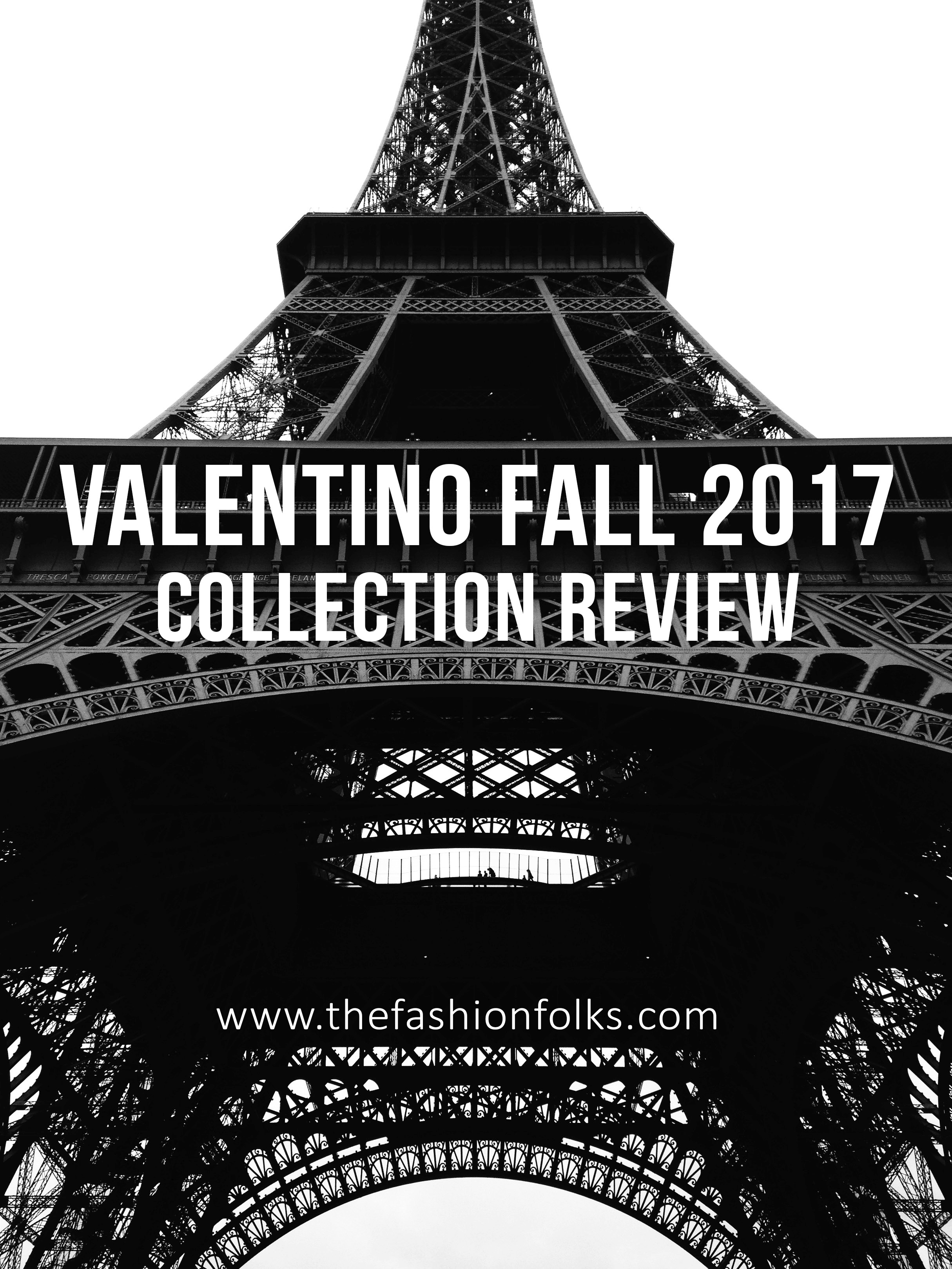 Details: Valentino
Valentino is the Italian fashion brand by Valentino Garavani. Founded in 1960, the fashion house is considered to be in the top of Italian fashion designers (although it shows in Paris). The design aesthetic is centered to lace, tulle, femininity, romanticism and dresses. The creative director is Pierpaolo Piccioli (a position he for long shared with Maria Grazia Chiuri that's now at Dior).
Valentino Fall 2017
As always, Piccioli kept the aesthetic of the brand close to the heart of the collection. With dresses more or less being the one style of clothing piece and lace, tulle, flowy fabrics and pleated details carrying the torch. One style in specific that Valentino has done a lot of in late years is a dress with a high neck and the rest of the fabric being loose, a bit oversized, sometimes a marked waist but definitely flowy nevertheless. This style is used often in this collection, with color, details and prints differing the main principle from one another.
The color scale went mainly in black and white, but also some blush colored pieces as well as pink, mint blue and red. Valentino has earlier favored the play of geometry and prints, something that was present in this collection (as in this look where flowers are framed by stripes and the structure of the dress). Some looks differs from Valentino's normal design (even though the fashion brand has done a few of those elements before), with a play of postmodern art with a touch of surrealism, (kind of). The prints are many with distinct differences. From this romantic look of flowers to this one of geometry, and as mentioned, the looks of postmodern art. All the looks are quite covering in terms of the maxi length of the dresses as well as the high boots and for most part long arms. Perhaps a necessary move to balance the sheer fabrics, lace and see-through.
Thoughts On The Collection
If I talked about the Cheerleader effect in Mulberry, this collection is kind of the opposite. The collection is less coherent than earlier ones. Instead of having a story told from start to finish, it feels more like a display of different looks that are strong within their specific element. If one is to pull off postmodern art motives, they are done with justice in this collection. If one is to play with the romantic nature of flowers, it's done here as well. Same goes for boho chic, it's done with a touch of elegance and sophistication. With that said though, the collection looks quite divided when one sees the whole picture, but pairing the themes together shows quite the opposite. A somewhat struggling collection that is backed up with the individual looks. The opposite of the Cheerleader effect that is.
Valentino has a high grade of likeability as lace, flowers and a flattering silhouette often goes a long way. The last four looks are a great example of this and will surely be worn on the red carpet, if they haven't already. There's something delicate with the contrast of geometric patterns and tender fabrics as lace and tulle. The looks featuring motives of art are perhaps not everyone's cup of tea but a refreshing perspective with all the "subtle" looks Valentino usually pulls off. The colors are distinct, the lines of the prints are clear and they are a welcoming contrast. One look in specific, this one, is genius as it finds a balance between wearability and fashion statement. The other ones are not too bad, but more cases of potential than success.  
There are some subtle elements of the 1980s with color choices of mint blue, light purple, slight emphasis on the shoulders and the choice of a silky fabric. They are neither hits or miss but are landing somewhere between likeable and forgettable. The black looks with floral patterns are not bad at all, the style of the flowers feels like a forest in a fairy tale. For this look in specific, the placement and color levels of the flowers creates a V-shaped pattern – something that shows Piccioli's fine eye for the mix of geometry and shapes of nature.
Lastly
So, was this collection a hit? No, the lack of coherency and clear vision is interfering with the overall impression. A miss then? Not that either, the individual looks are keeping the collection alive with excellency within the specific style for the theme. It will probably not be remembered in some years time, but this might also be a transition period for something new at Valentino. If Piccioli chooses to develop the looks of art, he might have found something new to make the most of. With that said though, there are still many looks in this collection I'd love to wear, like hello gorgeous.
Folks! What are your thoughts on Valentino Fall 2017? Leave a comment below!
Did you like this post?