Remember the collection reviews I did once a fashion week last time around? Well, you all seemed to love them so let's bring them back! First out is a review from New York Fashion Week (that's still going on btw). I already have a lot of opinions about the start of this fashion month, but I'm saving them to Friday. First things first though, here's the collection review of Jason Wu Fall 2017 ready-to-wear! Catch the full collection here.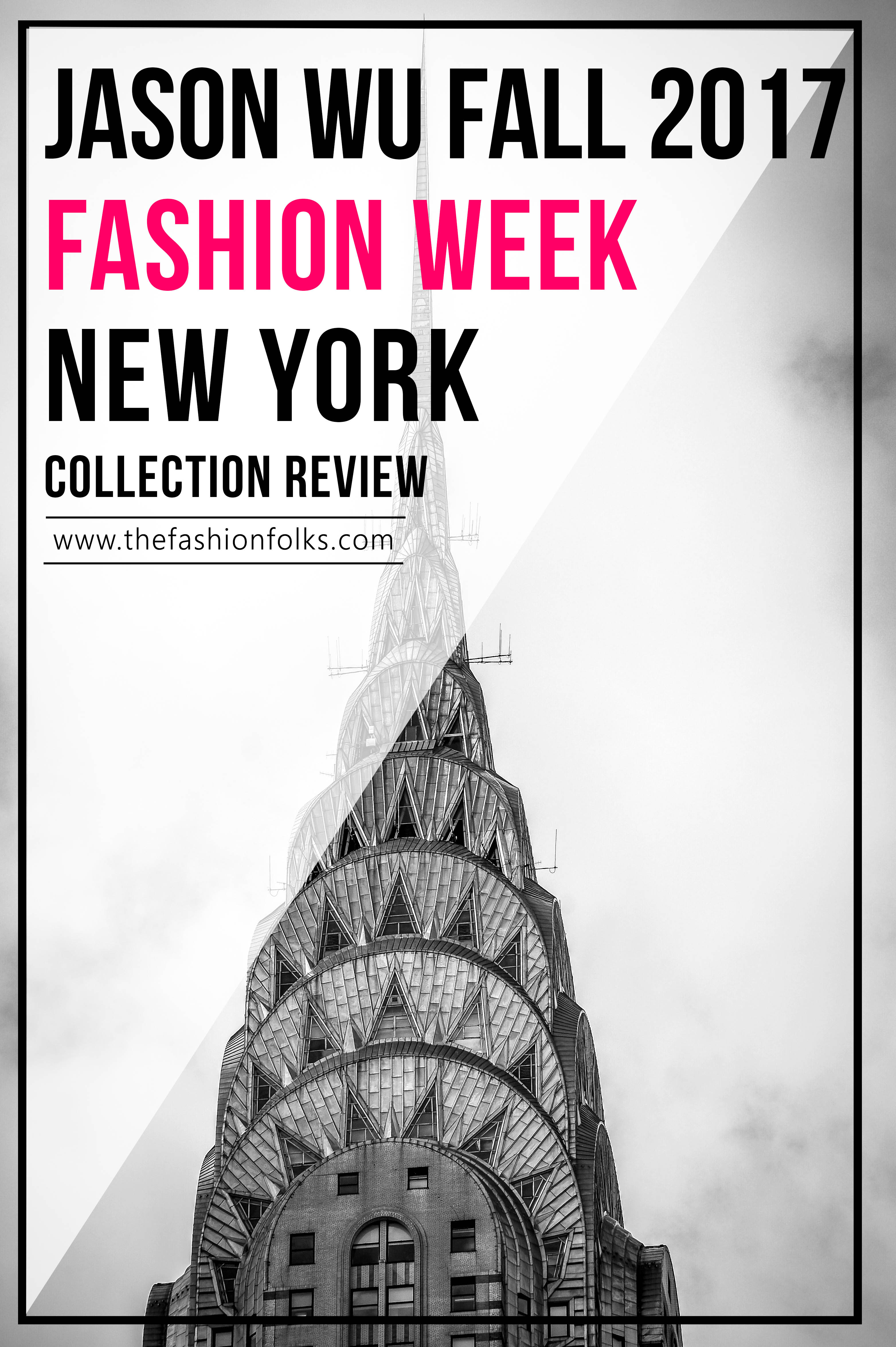 Details: Jason Wu
Jason Wu is a 34-year old Canadian that's already hit home run in his fashion career, being famous for dressing Michelle Obama often (including inaugurations). He has had his own label since 2007 and has New York has his fashion base. His design aesthetic is  a mix of minimalism, classic elegance and functionalism. He often mixes sporty vibes with old Hollywood glam.
Jason Wu Fall 2017 RTW
Wu stayed true to his prefered taste for this year's fall collection. The collection has a clear core in the 1940s style of clothes meeting the sporty vibe with fishnet, cold shoulders and asymmetrical cuts. The colors are reminiscent of the 40s with camel, grey, moss-green, bright red and of course black! There's a lot of pantsuits, dresses and jumpsuits – all with a more or less defined waist. The collection emphasize on curves with precise drapes. Overall, the collection feels day going night, with white floral dresses  going over to luxurious and glam velvet. The collection's storyline is also translatable to morning at the office and night at the party, with classic style features for respective side! For example, an early look is a grey pantsuit and one of the last looks is a golden velvet dress. Day to night, work to party, early to late!
Thoughts on the collection
Perhaps these are the wrong words of expression, as the collection is finalized, but the collection has potential! If I were able to give notes before the final draft, I would have (lol, you can dream). The storyline of day to night is an old but gold one and worthy of exploring. The early looks of defined pantsuits and asymmetrical dresses, in shades of camel and grey, are not the best. But the idea of going 1940s office style in a glam and functional touch is a fun one, and the exact shades of grey and camel they've chosen are so good!
The white asymmetric day/summer dresses are also okey, but might be too close to the early awkward years of 00s where asymmetric dresses were do or die (almost). There's a lovely look of a sweater with a nice neck detail and midnight blue pants that is both modern, casual and something for the everyday woman (see the slideshow). The velvet dresses are all genius and model Alicia Burke in the golden velvet dress literally gave me shivers, it's pure beauty! (Don't know about the styling though, who thought those shoes were the best option, and the shade of red lipstick is too bright and glossy to the velvet. If I am to be specific about it. Which I am).
The black velvet pantsuit with the asymmetric sleeve is genius and I can see a lot of celebs and fashionistas working it. Same goes for the green leo velvet dress and the top as well. They're stylish, they're glam, they feel contemporary and they're flattering too. However, two of the best looks of this show feels more Dior than Wu. I'm talking about the red blazer dress and the black tulle dress (see below). Without seeing them in the context of Wu, I'd guess that they are a feature in a Dior show. Well well, Dior or not. I'd take that black tulle dress any day of the week!
Conclusion
As stated, this collection has potential. All the looks had more or less a good intention, but there was always some details that could've been changed to make the looks more appealing/wearable. But as always, this is just my opinion. Wu and his team did a nice job with the balance of modern and classic and created some attractive pieces that are probably already sold out. (For real though, can someone send me the golden velvet dress?). Well, simply put, the collection is good going for great (but lacks some qualities).
Folks, what are your thoughts on Jason Wu Fall 2017? Leave a comment below! Xx
Did you like this post? Hit the share buttons below!