Okey fine people. I might have an almost unhealthy relationship with Delpozo. But I'll stop my obsession when they stop doing brilliant pieces of fashion.  Delpozo Resort 2017 is no exception to the brand's precise feeling for details, colors, structure and balance. Here's a somewhat review of Delpozo Resort 2017! Catch the full collection here in chronological order. And oh, disclaimer: all pictures belongs to Delpozo!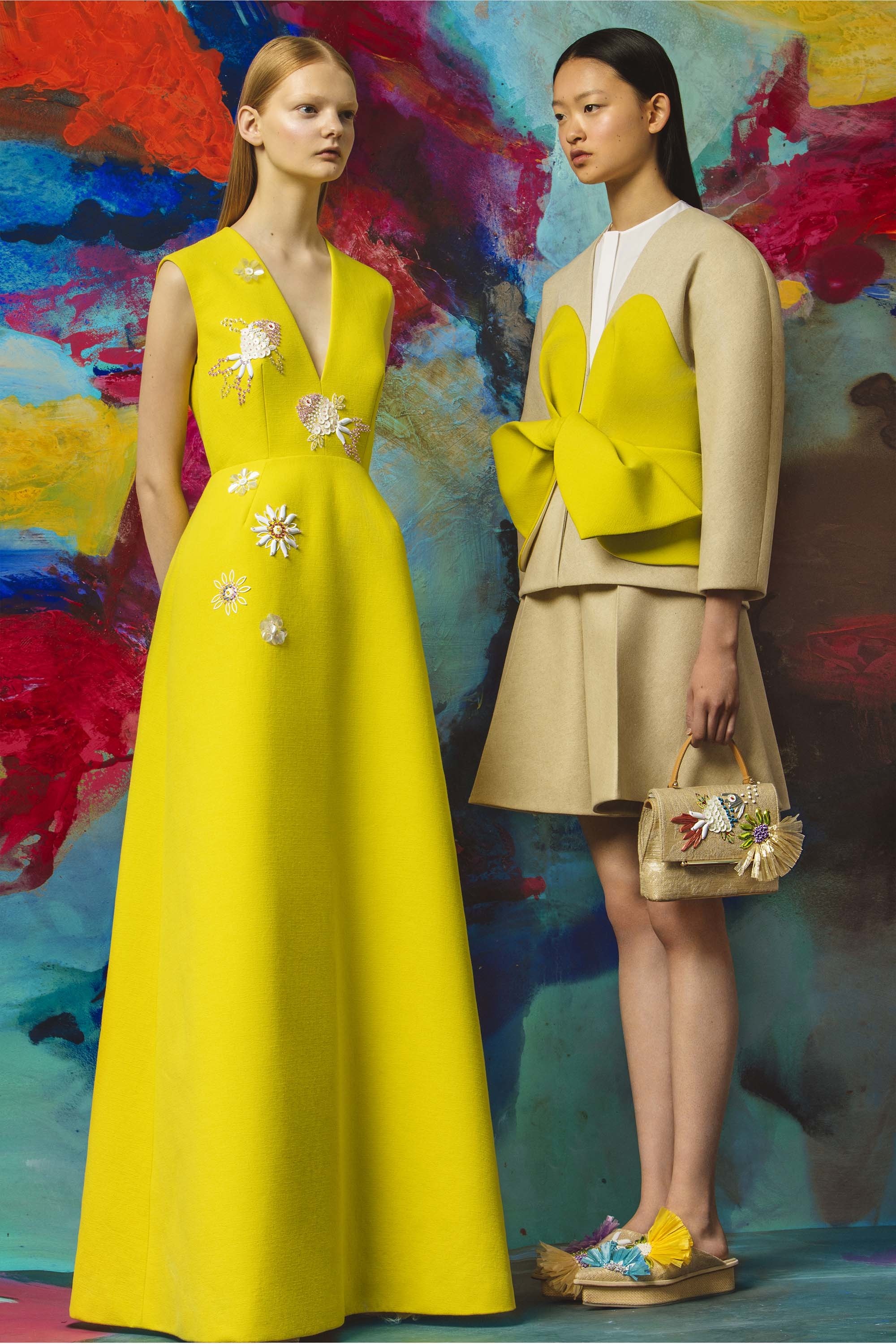 The brand: Delpozo 
Delpozo is a Spanish fashion brand with Josep Font being the current creative director. Delpozo has always been a fashion brand that explores the texture and structure of materials. It sometimes feels like their perspective is on the architectural side rather than focus on appearance. The lines of the clothes are often distinct, with different parts contrasting each other in various colors and sometimes prints. Some light embellishment is often thoughtfully added. Delpozo is not afraid of playing with colors and often gives interesting combinations as pink & yellow, beige & yellow, brown & orange. If the Spanish fashion label were to be described in one sentence it would be: minimalism with a big twist.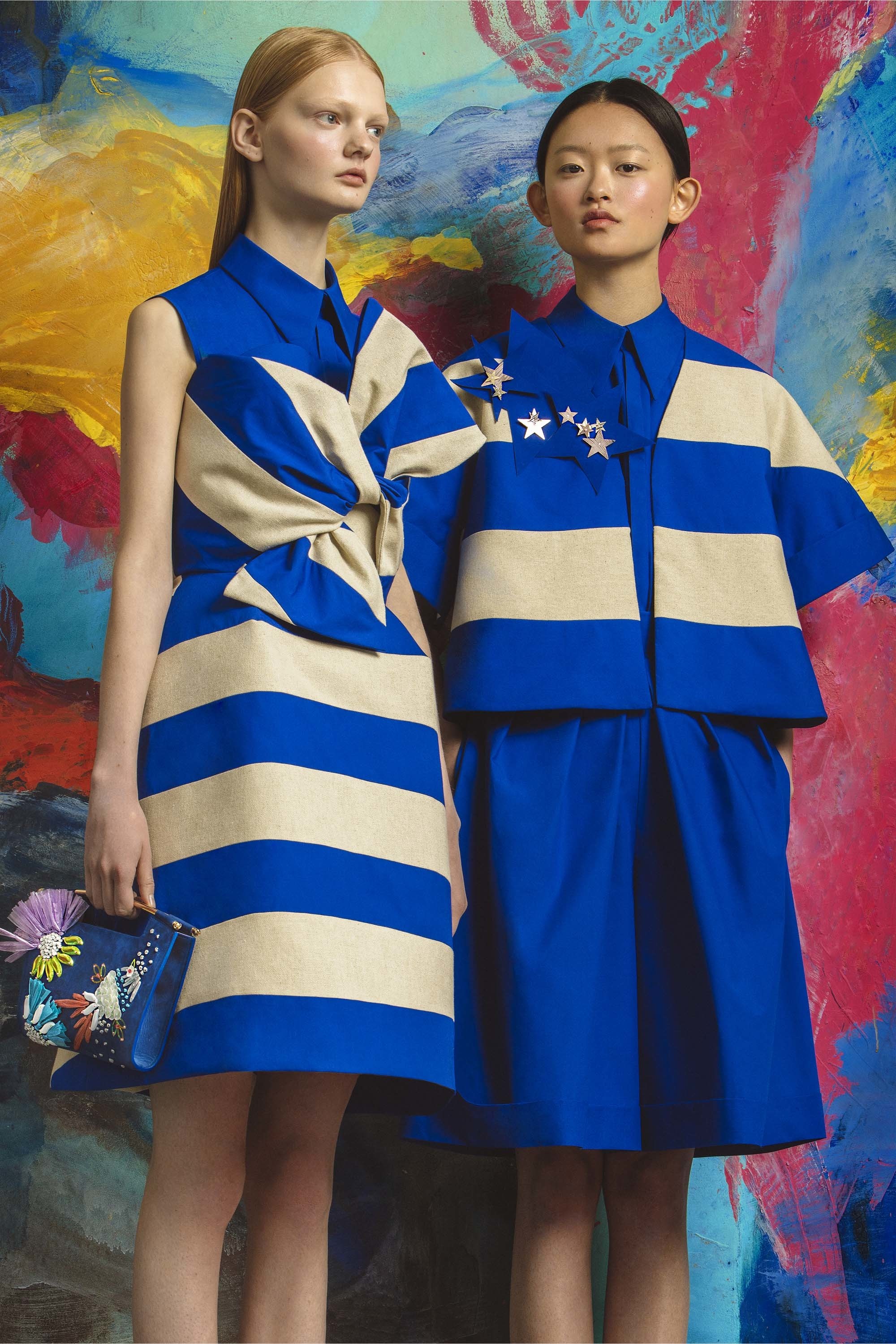 Delpozo Resort 2017
One of the things I appreciate with Delpozo is the fashion brand's ability of being coherent in aesthetic season after season, without  ever going dull. Delpozo is one of those fashion brands that are easy to spot, miles away. The tune of Resort 2017 is no different. There's an emphasis on the structure of the materials, there's a contrasting of colors, there are some thoughtfully placed embellishments and there's a silhouette in the spotlight.
With that said though, the coherency manages to include no less than four different themes within the one collection. It begins with a childish, energetic and vibrant theme with a star print, popping colors and some playful motives. It continues into a seashore theme with a sand color, a sea blue shade and embroidered fishes and florals. Next up are some modern retro vibes with a light touch of the 40s but also the 60s in a fun shift dress. The colors of the stripes (green, brown and orange) feels a bit 70s, especially with the diagonal placement. The fourth and last theme is the classic Delpozo style but in a romanticized version with sheer fabric, flowers and dove colors.
The main colors of the collection are many, the most distinct are: blue (kind of Klein), green, yellow, beige and blush. A lot of v-shaped necklines, horizontal stripes, and contrasting details in colors, volume and material. Delpozo seldom feels like a refined fashion brand as they often prefer to go oversize in style or harsh in contrasts. For instance; the oversized blue and beige stripes, the distinct lines between the white/yellow/beige in the shift dress, or the bright yellow collar and the soft blue print in this one. The refinement, if existing, comes in the last theme where the fabrics are flowy, the contrasts blurry and there's a softness between the elements.
Thoughts on the collection
If you're a long time reader of The Fashion Folks, you've probably already read between the lines that I ADORE this collection. Like really, truly, madly adore this one. There's a genius balance and mixture of different elements and styles. From choice of material, print, colors and details to the fine line of combining them all whilst staying true to the Delpozo core.
This green/blue combination is without a doubt one of the best creations I've seen for a while. It's something with the static feeling of the lines of the colors, the silhouette and the enhancement of simplicity in a statement context. The childish looks in the beginning of the collection are playful, wearable and contemporary on all levels. The childlike color combination of yellow, blue, pink and green is fun to see in relation to an adult style with defined collars, a blazer dress, a jumpsuit and a kimono. The romantic looks are all painfully gorgeous and manages to embrace a melancholic tone yet young and present. This blue one is so delicate that I definitely need it for picking flowers or something. This yellow and pink combo is one for the books. And this blush/forest green look is so sophisticated yet dramatic. Need it for future survival – for sure.
It might not be a wearable collection for the everyday person as it's way more bold and statement making in that sense. It is however pure joy for anyone that loves minimalism with a big twist and isn't afraid of pushing the fashion boundaries just a little. The weak spot of the collection is possibly the seashore theme as the beige fabric doesn't translate well to the style as it manages to look cheap and heavy all at once – a weird combination that is. Nonetheless are the clothes and styling still done well, but I would've loved to see more of the romantic approach instead.
Final thoughts
I don't feel like I've reached a logical conclusion in this post as I've mostly just rambled about the brilliance of Delpozo Resort 2017. Hard to summarize too, as I literally have things to say about each and every look. But overall though, yet another brilliant collection from Delpozo. Not something for the everyday fashion blogger perhaps, but a true gem for anyone that appreciates a fashion that explores all the layers of it, rather than superficiality alone. Bravo Delpozo!
Folks! Thoughts on this collection? Are you as swooned by it as I am? Xx


Did you like this post? Hit the share buttons below!