When the fashion heart skips a beat, it's often in terms of haute couture – when fashion meets requirements of innovation, wearability, dream and perfected execution. It might not have been creations of couture from Alberta Ferretti that gave me a metaphorical arrhythmia. But looks that are fierce, relevant, contemporary, classic and upbeat. Pretty much a reflection of all things that makes fashion peak (according to me). Here is Alberta Ferretti Fall 2017! See full collection here.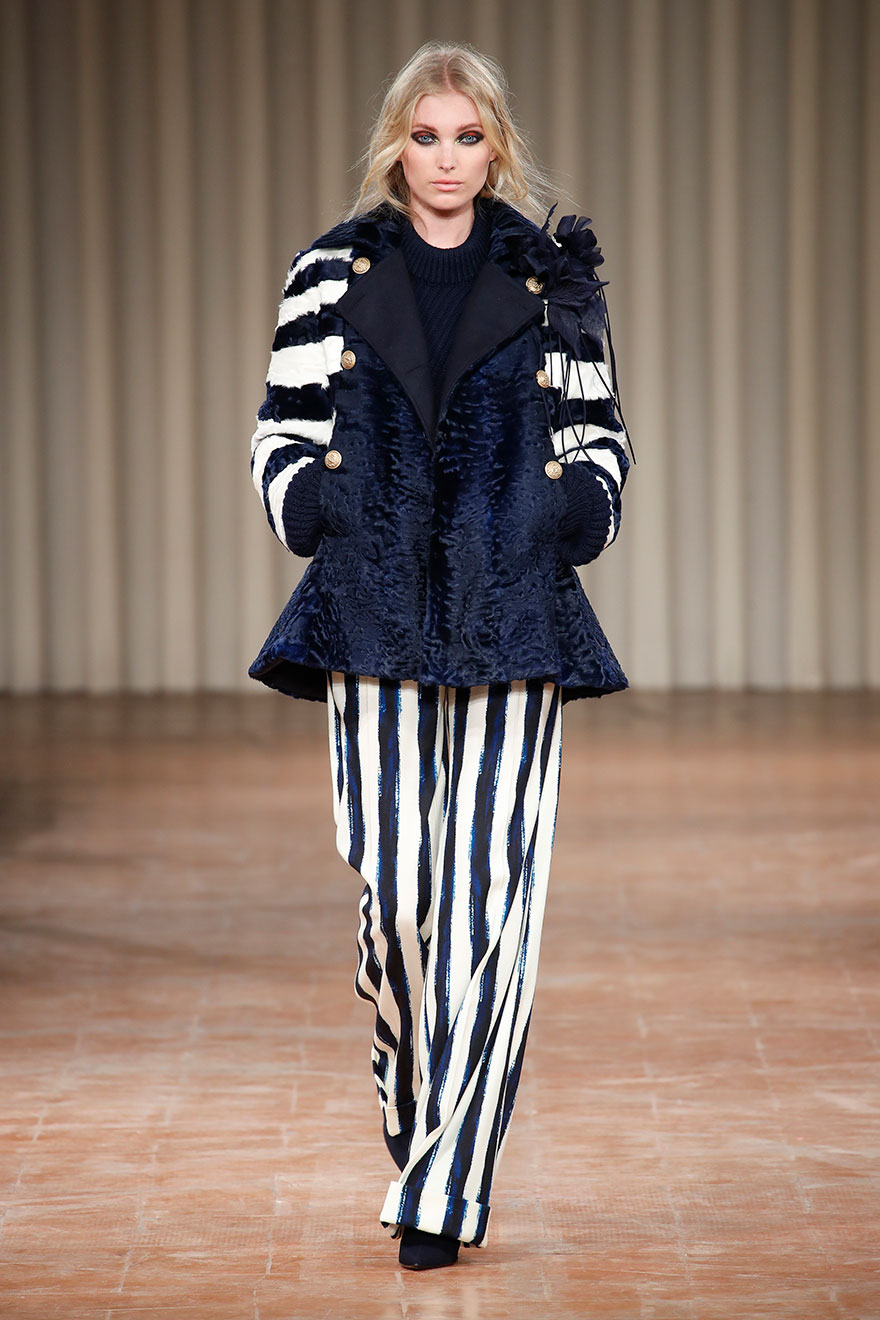 Details: Alberta Ferretti
Alberta Ferretti is an Italian fashion designer with her own label (that shares her name). She designed her first collection in 1973 and has been active ever since. Her style is modern, feminine, sophisticated – often landing somewhere between wearability and dream. She's a popular choice for red carpet and a favorite amongst celebrities. Probably due to her refined feeling for sophisticated, likeable, evening dresses.
Alberta Ferretti Fall 2017 RTW
If you've ever wondered what Venice would look like in the expression of clothes, Alberta Ferretti's fall 2017 collection is pretty much where you'd land. At least with a touch of minimalism, but still with the core of Italian architecture, mystique and perhaps pride as well. The collection stretches from contemporary daywear to masquerade-ish evening dresses. All with a touch of gold, classicism and Italian refinement. The color scale is centered to black, white, navy, yellow but also earthly shades of blue, green and beige. It goes from classic as in black and white stripes, but also classic as in motifs of paintings with an Italian touch.
The collection mainly consist of dresses, but works pants, blazers, coats and capes as well. A lot of sheer fabric, often accompanied with feathers, fringe and embellishment. Even though the details used sounds rather breezy, the collection has a rather dark and passionate tone to it (Venice by night perhaps). There's inevitably associations with Paris  as well, with looks featuring stripes, capes, tailored jackets and hats. Details that are pretty Parisian!
Thoughts on the collection
I'm just gonna go straight to it. Did you see the looks with stripes, and the following looks of black and that pop of yellow? Like, did you SEE them? Oh my, oh gorgeous, oh yes! Seriously though, my heart skipped a beat. The looks might be more wearable than complete fashion nonsense, but the mix of vision and daily wear is perfected. It isn't only looks of Paris (Venice), modernity and classic – it's also the idea of strolling the city on a Sunday, going to art galleries and look as fashionable as one only can. And yes, I'm fully aware of the fact that Ferretti is Italian and shows in Milan, but c'mon folks, we all can touch that Parisian vibe too!
The size of the stripes is a great balance of statement yet wearable. The high neck sweater with stripes growing in size can be nothing but a success! I don't even need to talk about the top and pants of stripes making a set. Or this yellow look, as well as the black/stripes look with the round hat (below). Just see the details of velvet by the arms and the pockets? Genius! (And I obviously need all of it). 
As for the rest of collection it's pretty good as well. The looks of all black (which usually makes me sigh) are pretty good with the touch of gold. Especially this one. And the black evening dresses with gold details in the end of the show are fierce, gorgeous, likeable and definitely red carpet material. A bit of a masquerade feeling with the masks and the floor-length capes, but still done rather wearable for the fancy people. I'm not too keen on the prints/motifs, but that's more of a personal preference than anything being specifically wrong with them (perhaps a bit unmodern?). There are some doubtable looks, as in this one and this one, but let's ignore them for the sake of the looks I like – lol!
Conclusion
Overall the collection is cohesive, has a clear theme (hello Venice/Paris) and keeps an overall good standard with only a few lows. The lows passes though, as the play of stripes, yellow, gold details and hats are outleveling the other looks by miles. They're wearable, contemporary, likeable but yet with a fashion edge. Not to forget the stunning evening dresses that are dramatic, embodies passion as well as highlighting the history of Venice. A collection balancing between reality and dream? That's pretty much all I'm asking for. *brb recovering from my fictional arrhythmia*.
Folks, what are your thoughts on Alberta Ferretti Fall 2017? Leave a comment! Xx
Did you like this post? Hit the share buttons below!