Folks! I'll be away for the week so there will only be posts on Monday, Friday and Sunday! Fully possible that I'll be in London, having afternoon tea all week long and will most certainly embrace the best of fall! Have a lovely week folks! Xx
---
Oh Chloé, sweet old Chloé. Back at it again with must-have pieces! French fashion brand Chloé presented an exquisite Spring 2017 collection with a delicacy of retro vibes, modern romance and some urban minimalism. We're in awe for most part, and can't help but to write a review on Chloé Spring 2017: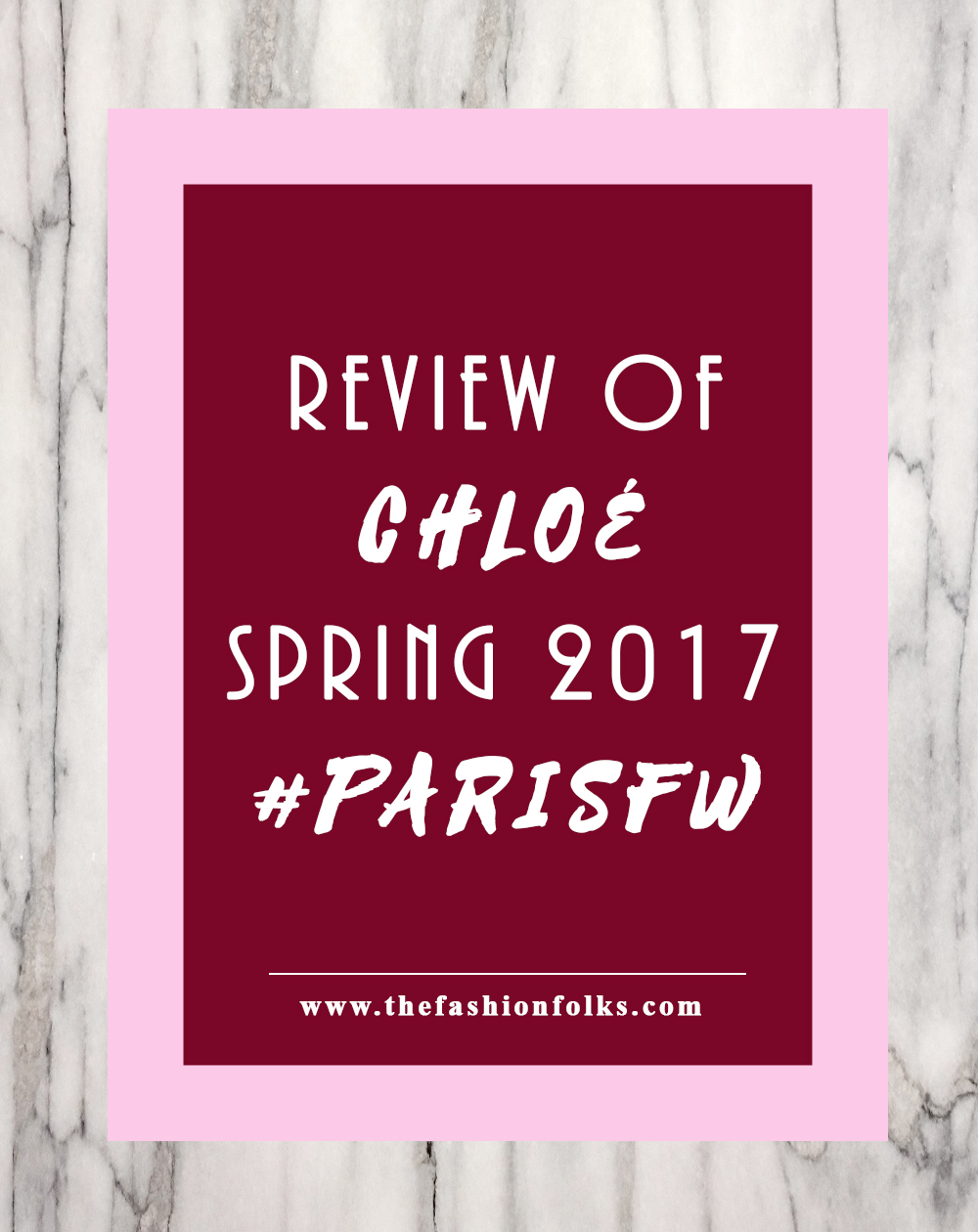 Background
Founded in 1952, Chloé has more or less been a successful fashion brand ever since. Being one of the first to do ready-to-wear clothes, the fashion house went against the old fashion society of haute couture. Famous designers such as Karl Lagerfeld, Stella McCartney and Phoebe Philo, have all designed for the label. Chloé is one of those fashion houses that have successfully adopted the fashion era of social media and fashion bloggers. Today, the brand is a favorite among many for their feminine, bohemian and sensual style. The creative director is Clare Waight Keller.
Chloé Spring 2017 Collection
According to Waight Keller, she wanted to take this collection urban, and with the first opening looks having a strong touch of street style, this is what she did. The collection grew and worked some office looks before continuing to some boho vibes and ending in modern retro. The silhouette was rather loose, and casual is the word for it. The color palette began with black and white but ended in yellow mustard and all colors 70s. Waight Keller kept it classic with stripes, florals and monochrome. The details were simple and the focus was centered to the whole look rather than detailed embellishment, but this is also the aesthetic of Chloé. The spring 2017 collection included everything from dresses to pantsuits, skirts and shorts.
Thoughts on the collection
As urban or minimalism (or urban minimalism) seems to be a norm rather than an exception, we're always one to welcome other styles. And even though the collection began with a lot of black and white, oversized silhouettes and the word super-casual written all over it, it grew into a lovely collection of modern 70s, beautiful colors and adorkable dresses. It was flower power, it was suede, it was mustard yellow and it was ruffles. These elements were combined and created a modern look with perhaps a touch of Paris. This is where the exquisite nature and core of Chloé lays. When limits of wearable clothes, in a feminine boho approach, are explored. The yellow suede dress is magnificent. So is the pink dress of bows, the white crochet dress and the white and black dress with the statement collar.
The part that didn't keep up was the urban minimalism, (even though I appreciate the effort for taking things further). But with another set of oversized black and white clothes, I'm just not one to go with it. Especially not since we know the capacity and world of pretty that Chloé can present. It's nothing wrong with the looks in specific (perhaps the first one gives some cringe-worthy 2006 vibes though), but other than that, the looks are alright, but they're boring in contrast to the latter half of the collection.
Conclusion
Chloé did present another, lovely, wearable collection that leaves one feeling all in love with the modern 70s. The dresses are definitely bloggers material and overall the sweet vibe in the collection is welcoming. We're not ones to define Chloé to live on the feminine boho design through the years, but the simplified fashion (as in urban minimalism) won't take the fashion house higher. After this collection, we just want more of the feminine boho look. IT IS adorkable.
Folks, what are your thoughts on the collection? Join us in the comments below!