Folks, it's thursday and it's a throwback thursday one! 200 years ago the fashion didn't centered around 1990's vibe, boho chic and sporty glam life. No, 200 years ago the Biedermeier fashion (ca 1820 – 1850) was the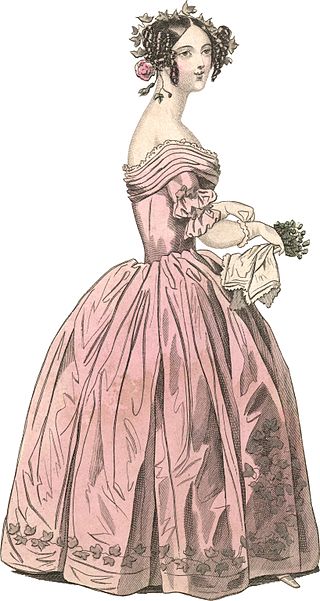 hottest fashion in town. We're talking corsets, ham sleeves and skirt volume beyond imagination (kind of).
Bidermeier Style
The Biedermeier fashion emerged from the Empire fashion and is sometimes referred to late Empire fashion, or the Romantic era. And boy was it romantic indeed, especially the fashion of the ladies. It was volume, floral and lace in sophisticated colors. The dresses were lively with tons of fabrics, wrinkles and folds. After years of a waistline beneath the chest (hello Empire fashion), the waistline was back to normal and heavily defined once again. To emphasize a small waistline, the skirts were big and heavy. The length of the dresses varied from floor-length to calf-length.
Traits of the Biedermeier fashion
Most characteristic though was perhaps the sleeves, aka ham sleeves. The sleeves topped their own volume year after year, and we're not talking about 1980's volume. We're talking about Biedermeier volume. They even got the unflattering nickname ham sleeves due to their shape as piece of ham. The sleeves reached their peak during the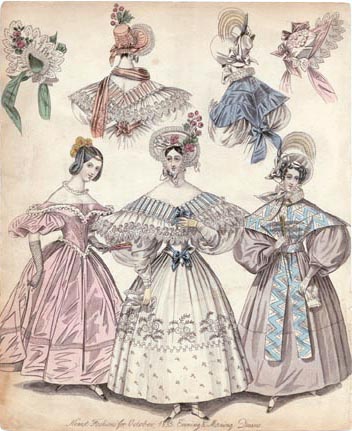 1830's and would go back to a more slimmed shape during the 1840's. The neckline started out at a normal level when the Biedermeier fashion was introduced, but slowly dropped until it was in line with the elbow. In 1836 it went back to its original shape.
Biedermeier influences
The Biedermeier fashion didn't only see influences from the Empire fashion. The 18th century rococo was present in the lace and the flowers. The skirts similarity to the crinoline skirt also flirted with the fashion of the previous decade. Although the majority of the fashion was flirty, floral and feminine a part of the Biedermeier fashion was quite down to earth and bourgeois. The shape of the dresses were same, but the detail life was subtle and the fabrics were in one color. This fashion was more humble and perhaps easier for the everyday life.
Pssst, can't get enough of fashion history? See our other posts here!