I wrote about the fashion trends fall 2020 here and next up is a trend report on the beauty trends fall 2020! I love beauty trends that are wearable as they're easy to incorporate into your routine. I mean, I love artsy makeup and hair too, but for my daily life I prefer it wearable and doable. The beauty trends fall 2020 are a mix of artsy elements and improved daily life! Catch more articles from the fashion weeks here.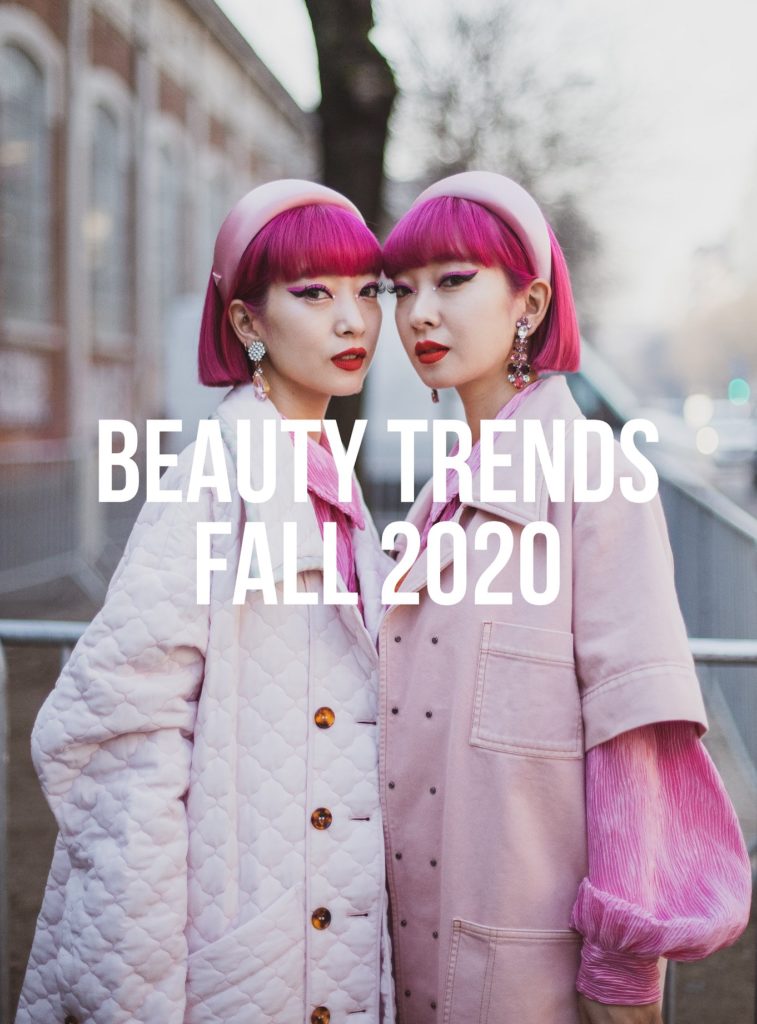 Beauty Trends Fall 2020
Winged Eyeliner
The winged eyeliner is a go-to look for many people who wear makeup. It's perhaps not the easiest to do, but with some practice the result is incredibly chic, as the winged eyeliner intensifies the eyes and eyelashes. For fall 2020 the winged eyeliner can be done one its own or with some smokey eyeshadows. Framing the eyes in general with eyeliner is a big trend from the runway. The winged eyeliner is commonly done in black, but don't be afraid to go for a white, coral or anything pastel for a spring look if you can't wait for fall! 

Dark Lips
If flowers returns every spring to fashion, dark, vampy, lips are a recurrent feature each fall. The dark lips fall 2020 should be fairly purple. Plum shades are okey, but the most common shade of purple was a cold eggplant or wine. The lips were a bit stained so you don't have to be too specific about keeping the line of the lips sharp. You can also play around with different shades of purple to create a more messy look. Go for a darker one in the middle and blend it with a lighter one towards the edges! 

Embellished Hair
Hair accessories exploded during 2019 and seems to be going strong for 2020 too. The embellished hair is quite the attainable hair trend if you ask me. You only need to have some hair and a hair barrette, head scarf or headband to make it more glam. The embellished hair look is also such a fun way of infusing more luxe and glam in your daily life. What I also like about this hair trend is that it adds a chicness to your outfit, without messing up the harmony of the clothes and accessories! It's kind of living its own life with the hair! 

Peachy Cheeks
Peach is a major shade 2020. Both the lighter and darker hues of the fruity color are popular. Except painting the nails in peach, I'm definitely curious about going for a more peachy blush. There were quite a few looks on the runway with peachy cheeks, that still kept it pretty neutral and natural. A more warm, orange, blush is great for the summer life but also refreshing for fall. Gorgeous to work with some gold, brown, warm highlighters and freckles! Apply a small amount if you want to try this look but do it more neutral.

Matchy Nails
I'm not too sure about how this trend is to work in the daily life, but matching your nails with your makeup is a trend fall 2020. I'm not only talking about matching lipstick and nails, but also eyeshadow and blush. What's great with this trend is that you'll look pulled together, with the matching and cohesive colors. What might be less great, is that it can be difficult to be consistent with the matching colors. I think this trend can be fun though, especially if you have an event or dinner you want to dress up for. Red nails and lips are never wrong, but peachy cheeks/nails could be an idea as well as smokey eyes and dark nails! 

Folks! Do you have a favorite from these beauty trends fall 2020? Let me know in the comments below! Xx