I wrote about the fashion trends fall 2019 in this article, so why not also talk about the beauty trends fall 2019? I've written more about the beauty and makeup trends in this article and also this one. But here's an overview of some of the most popular beauty trends fall 2019: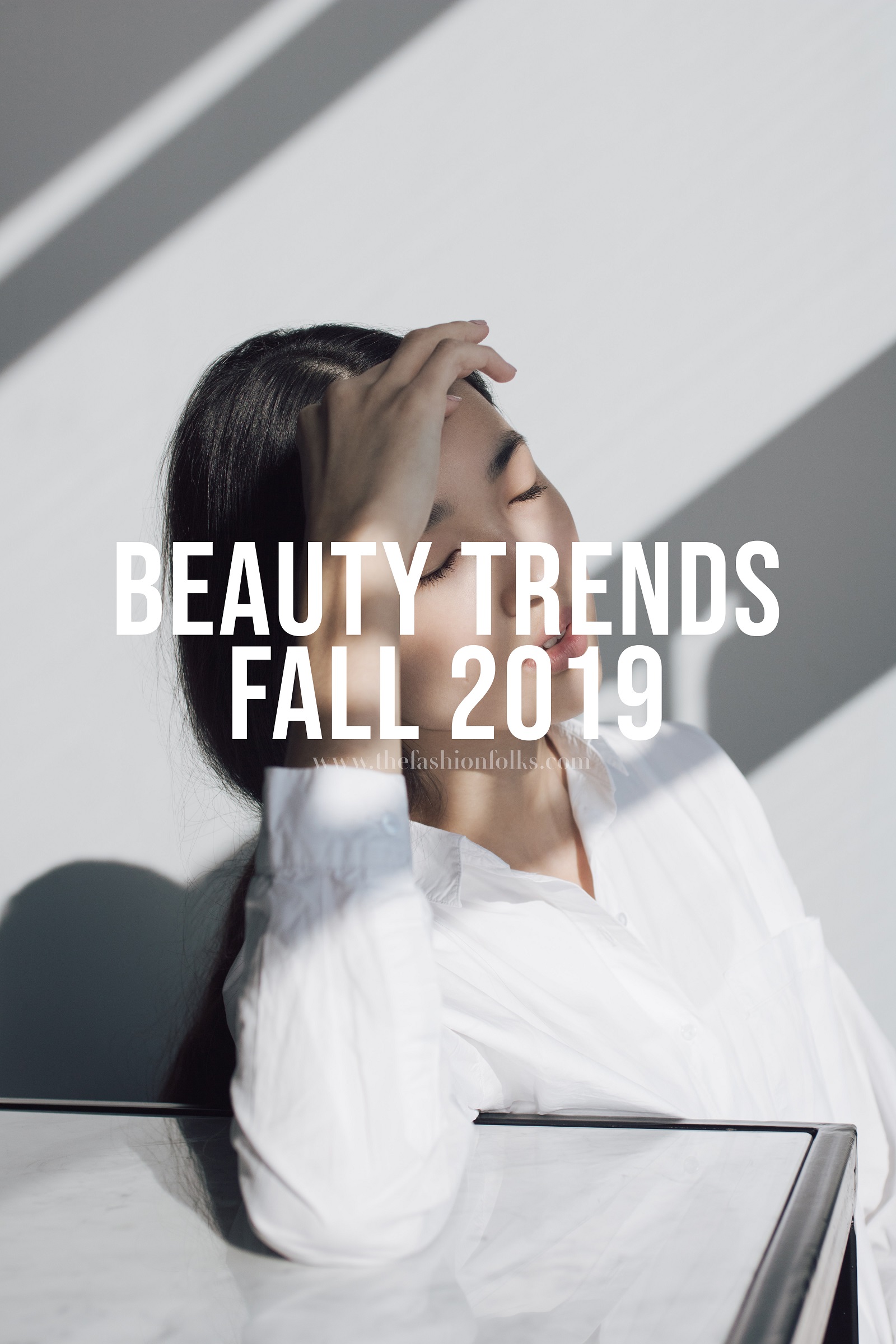 Beauty Trends Fall 2019
Dewy Skin
There was a time when everything with makeup was supposed to be matte, but the current trend is glossy, glowy and dewy! I always think it's a bit difficult with trends when it comes to the skin, because what your skin looks like is quite individual, not to mention genetic. But there are of course products you can use to make it look more dewy. I'd say that moisturizing your skin is key, as well as choosing products in liquid form. Like a liquid highlighter instead of a powder one. Choose a primer with focus on the glow as well as your foundation! More importantly though, drink your water, don't use products that are too harsh and be careful in the sun. 

Colorful Eyeshadows
As for the makeup, colorful eyes are one of the biggest trends this year. Going for a peachy eyeshadow is one way to embrace this trend or why not go full glitter for a night out? The colorful eyeshadows can be done trendy and simple if you focus on one eyeshadow. Don't forget that you also can go for more neutral eyeshadows but choose them in colorful versions. For instance, an eyeshadow that's more copper can be done with a more red nuance! If you're unsure about colorful eyeshadows, try colorful lips or cheeks! 
Hair Accessories
I've written about this trend quite a lot the past weeks but hey, let's include it here too as it's a really big one! The hair accessories are mainly about barrettes, scrunchies, headbands and scarves that are to be styled with your hair. These are great if you ask me, as they'll make your hair more interesting and are still functional. For instance, some well-placed barrettes can keep that fringe out of your way whilst a headband keeps your hair in place. Going for a scarf around your ponytail is a cute way of adding some life to your hair too! 

Dove Nails
As for the nails, there are several interesting trends right now. One of them is to go for colors that are more dove and light. Like beige, a pale dusty rose, light grey, lavender and baby blue/yellow/green. These colors are adding a neutrality to your look but yet a fun touch with a hint of color. You can easily intensify this trend by painting the tips in a fun color or do two nails in a contrasting color!

Folks! Which one of these beauty trends fall 2019 is your favorite? Let me know in the comments below! Xx