Last week I wrote about the fashion trends 2020, an article you can find here, so today it's all about the beauty trends 2020. I think the beauty trends this year are pretty interesting, as they on one hand feels pretty artsy and on the other hand feels pretty natural and neutral. But the idea of choosing vegan, cruelty-free and sustainable products is an idea to embrace for all areas of beauty.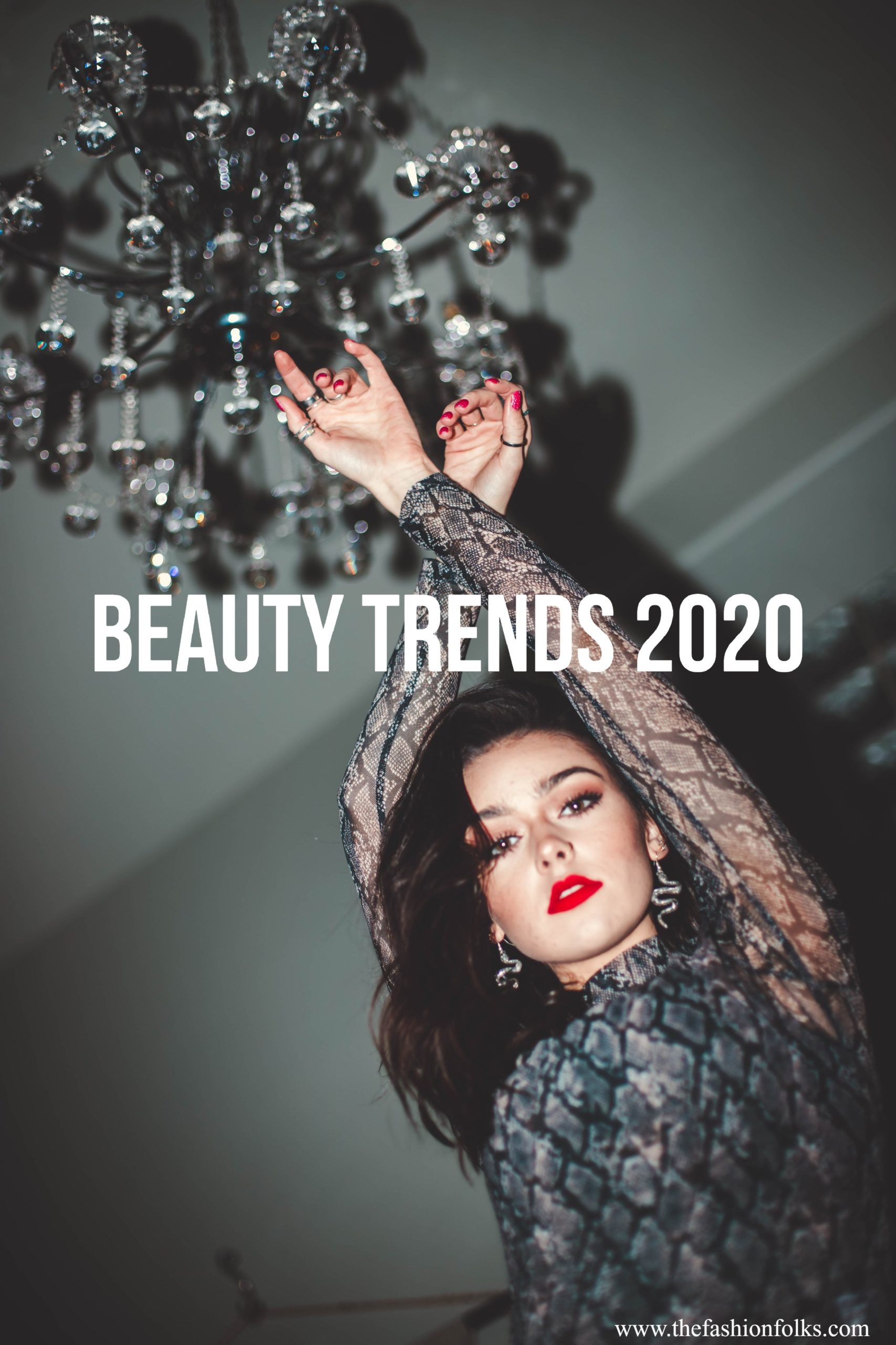 Beauty Trends 2020
Patterned Nails
This year we should be artsy and creative with our nails, more specifically, we should paint them in playful patterns. Striped nails are of course a must, but also leopard patterned nails, polka dots and florals. It's also trendy to do irregular geometric patterns and use contrasting colors. I think this trend is quite easy to try as you can paint your base as usual and then you create a pattern from there. Check out my pinterest board for some inspiration!

Colorful Eyeliner
Another trend that's not too difficult to give a try is the colorful eyeliner. The colorful eyeliner is done in all colors imaginable except black and perhaps grey. Pink eyeliner, emerald green, neon orange, plum purple – you name it! White eyeliner is also trendy as well as choosing metallic eyeliners. I think a colorful eyeliner is a great alternative to the classic black one and a fun trend to try for a night out. Choosing darker colors with a metallic touch is a great start and definitely a glam statement!

Conscious Skincare
Another big trend we're seeing this year is conscious skincare. The beauty world is becoming more and more sustainable as people become more aware of what they put on their skin and why. Useful products are no longer enough, but they should also be vegan, cruelty-free and eco-friendly. This goes for skincare products but also makeup, haircare, SPF and even nail polish! So before you shop beauty products this year, take responsibility as a consumer and research the brands before. And hey, let's not forget about DIY skincare. For instance, you can easily create your own body scrub at home with few ingredients. Pinterest or google will be your friend! Don't forget to find recipes that suits with your skintype. If your skin is dry, search for 'body scrubs dry skin'.

Bangs & Bobs
As for the hair 2020, one of the biggest trends are long bangs. You know, that messy style of bang that's playful and flirty at the same time! Your bangs this year should also be done quite full with a more heavy styling. Bobs are another trendy hair style. The bob cut should also be a bit playful and messy. Both of these styles are perfect if you want to change up your regular hair, but not sure what to do. They're not too drastic, but still distinct enough the make a difference.

Folks! Do you have a favorite from these beauty trends 2020? Let me know in the comments below! Xx