If Monday's article was all about the fashion resolutions 2018, we of course have to talk a bit about the beauty resolutions 2018! I've read some articles lately that beauty is considered to be the new fashion, that our beauty regimen is more important than ever and makeup is accessible in a way fashion can never be. I mean, buying a new red lipstick compared to a new red top, it's quite the difference. Anyways, I thought I'd pin down some brainy beauty resolutions 2018: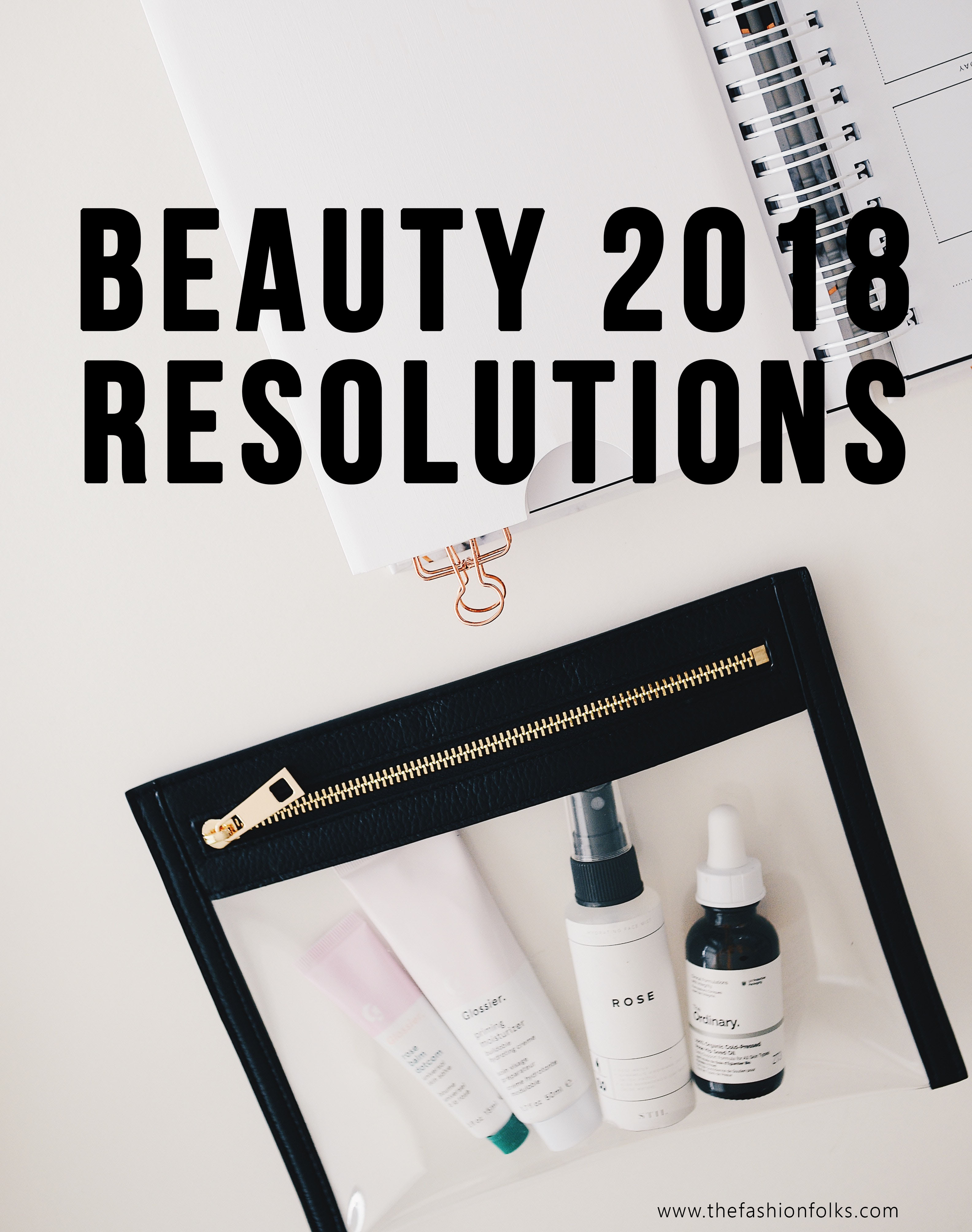 Beauty Resolutions 2018
Another Go-To Lipstick
I'm sure many of us have a go-to lipstick color. Perhaps the classic red, a step darker or something close to your lips' natural skin color. Well, I think 2018 is a great year for stepping up the lipstick game and find another favorite color. 2017 was the year I found out that I love orange lips too, which makes up (pun!!!) for a good makeup game with red to switch with. I hope that in 2018 discover a third lipstick shade that I can rely on for every situation, perhaps a dark purple or a bold pink? Let us all step up the lipstick game this coming year!
Cleanse-Moisturize
There are tons of skincare routines out there, which there should be as they're all highly individual. I think a reasonable routine to rely on though, that is pretty much suitable for everyone, is to cleanse – moisturize. I mean, that's it! Perhaps two times a day, perhaps once a day or whatever suits you. But cleansing the face is pretty logical either to remove makeup, or just the day, and then moisturize the face. There can be more steps added, of course, but I'm pretty sure that we're all pretty sure to 1) never sleep with makeup 2) keep the skin hydrated and healthy by moisturizing. Perhaps this beauty resolution is way too basic, but believe me when I say that even getting the basic rights needs a reminder or two!
More Sustainable
I talk a lot about going sustainable with the fashion life, but so is true for the beauty life too. There are tons of products out there that are sustainably produced, organic, cruelty-free and so on. Why on earth aren't it these products that we all always rely on? Isn't it weird that we aren't more careful about what we put on our bodies, in our hair? 2018 is the year that I'm for sure are going as natural as possible with my beauty products, definitely cruelty-free and of course eco-friendly! We as consumers have all the power in the world to make this world a better place by choosing better products, why not start today? Pretty safe to say that 99.9% of the beauty products you use can be found organic, and not far too expensive. If there's only one of these beauty resolutions 2018 you're going to do, let it be this one!
Create A New Go-To Look
I'm kind of embarrassed to admit that I've had the same go-to makeup look for years and years. But hey, it's easy to have a look you always can rely on and you could almost get it done in your sleep as you know it by heart. But however, perhaps there's a makeup look that's even more fierce that would be an even better go-to look? Well, you'd never know that if you didn't try new makeup looks. Perhaps it's about adding some bronzer, a glow, or a lip product? Perhaps it's doing your eyeliner differently or changing the eyeshadow shade slightly? I'd love to find a new go-to makeup look in 2018 and shall start experimenting more!
Folks! Which one of these beauty resolutions 2018 are you going to try?