I casually mentioned some beauty hacks the other week but I think we can do better than that, right? As our beauty routines changes through the seasons, it's always good to remind ourselves what's essential for summer. I do think it's important to be consistent with your skincare and beauty game through the year, but perhaps extra important to do so during summer. So, here's some beauty reminders summer 2018: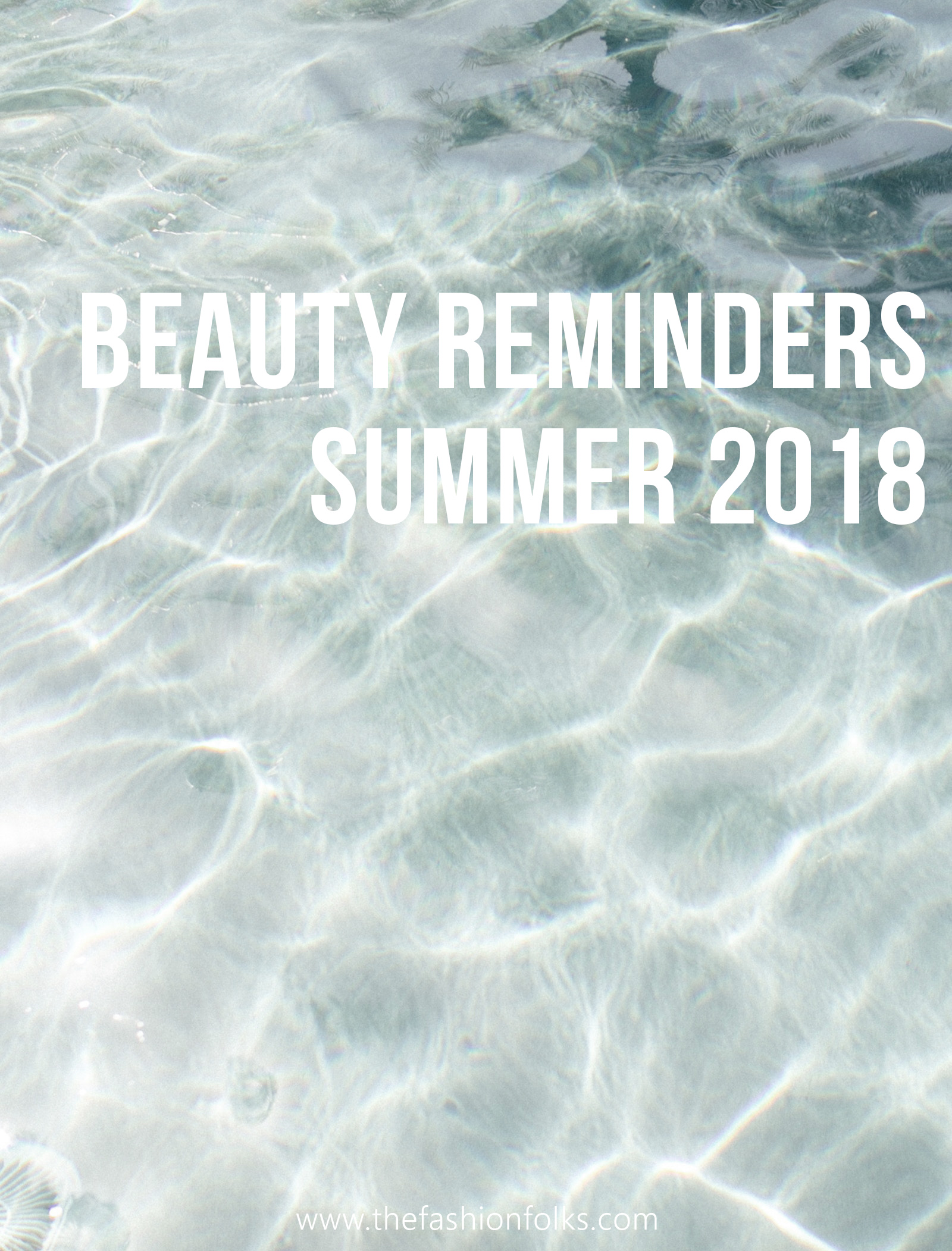 Photo by Marissa Rodriguez on Unsplash
Beauty Reminders Summer 2018
Sun protection
Though a good SPF should be in your routine through the year if you live in sunny areas, and not only during summer, it's extra important that it's a part of your routine during the summer months. As there's a high likability you'll be out more, make sure to apply SPF before heading out and also bring with you a bottle if you're going to stay out in the sun for long. There are different types of SPF, from oils, to lotions, sticks, mousse and sprays – I'm not an expert so I don't know if there's a significant difference of their efficiency depending on the texture. But, I hate the sticky feeling of the lotion and oil, so I go for a spray as I feel like the result gets better. I of course make sure that I cover all the area that will be exposed too! Use common sense though and don't be out too long in direct sunlight etc etc! Don't forget SPF for your lips too!
Cleanse and moisturize
I mean, this is key in all you do in your skincare routine. Cleanse and moisturize! Especially, if you ask me, during summer with all the SPF, makeup and heat it's nice to properly cleanse your skin and then give it some well-deserved love with a moisturizing oil/lotion/spray etc. As time spent in the sun tends to dry out the skin for some, it can be a good idea to bring a face mist to freshen up! A moisturizing face mask once or twice a week will also do when keeping the skin in good shape during summer!
Splash of color
Perhaps not that much of a beauty essential, but more of a makeup must if you want to expand the feeling of summer. I talked a bit about the power of colorful makeup in this article and except that, I can add that going for a colorful makeup look helps the summer mood. Add a nice lipstick, go for some blushy cheeks or a fun nail polish. Summer is all about that light and breezy energy, which a colorful makeup look embodies! Catch this super specific article if you want to match your makeup with your clothes!
And other things!
And don't forget to drink a lot of water folks! Bring with you a bottle when you're heading out. Wear accessories like sunnies and hats to let your skin rest. Wear a flowy and light maxi dress the day after you've worn shorts etc. Don't forget to protect the hair too, or give it some extra love after a day in the sun. If you get burned, mash an avocado and apply – it's so soothing! Show your feet some extra love and give yourself a pedicure. If you're going to walk a lot one day, bring some band-aid in case you're wearing new shoes! Above all though: use common sense!
Folks! Which one of these beauty reminders summer 2018 is your favorite? What's a beauty must for you during summer? Let's chat in the comments! Xx