Now this is an exciting one, isn't it folks? Summer 2017 is here and it's time to talk about its trends and current styles. As always with trends, they are to be inspired by and not be obsessed with. Your style is the foundation and the trends are the touch up. Got that clear? Good, here are the beauty and fashion trends summer 2017: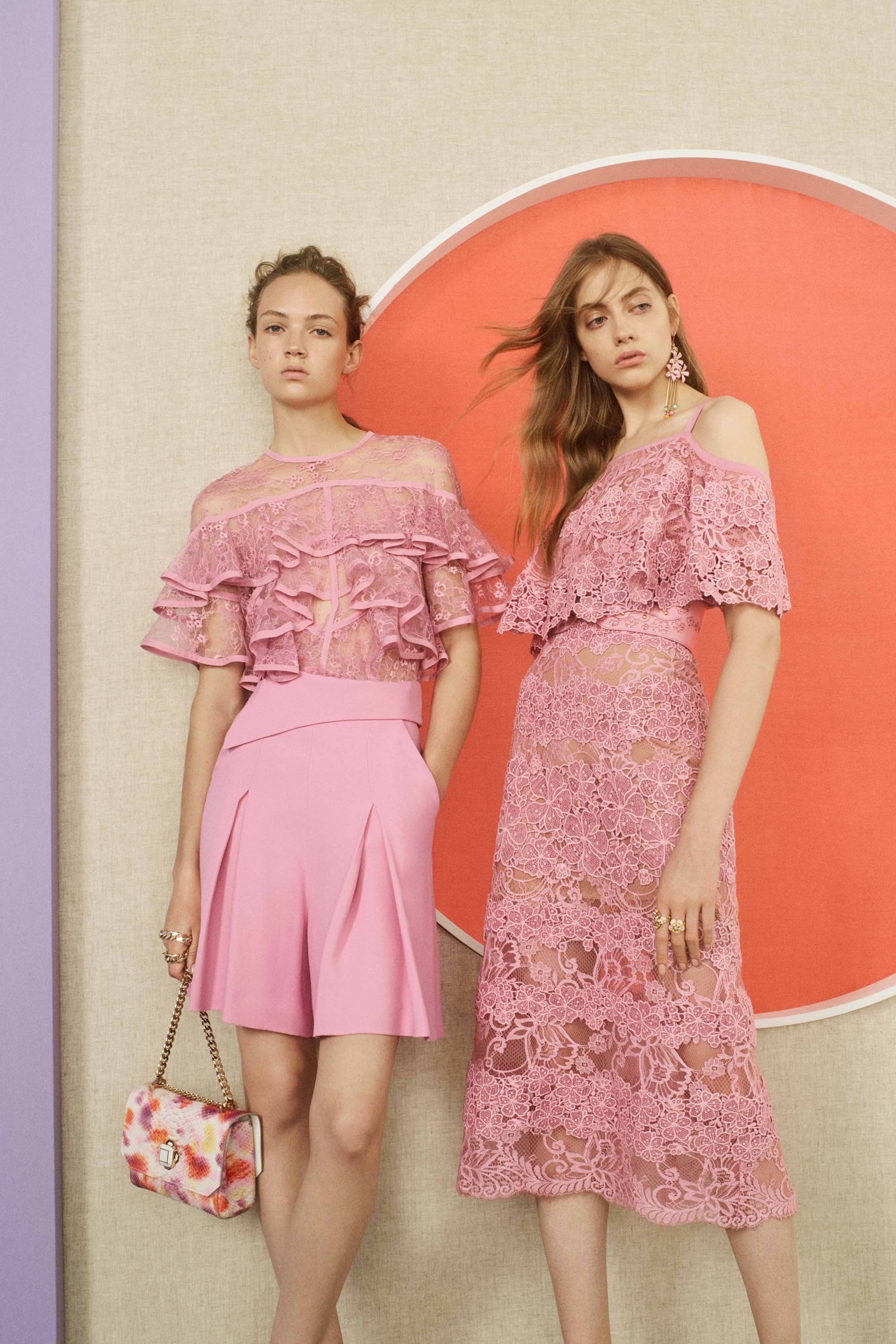 Courtsey of Elie Saab – Resort 2017
Fashion Trends Summer 2017
Stripes on Stripes
Stripes are always in fashion, just in different styles. As I talked about back in October, stripes this SS17 season should be in the shape of color blocking. Color blocking is favorably done in contrasting shades to get the maximum effect. It's also a plus to go for the color blocking print for clothing pieces with a bigger "surface". With that said, the blocks will pop better if you go for an oversized sweater, a maxi dress, midi dress, maxi skirt or any surface where the stripes be highly visible. Red, black and white feels like the ultimate combination as the three have been trending for quite some time now.
Bold Monochromatic Looks
I should really have an Oscar for not mentioning the 1980s trend these past weeks. We know it was The Fashion Folks middle name for a while. Anyways. The 1980s is still fetch happening and it's staying the summer too. Bold, kind of awkward, colors in one look. Comfortably done in a jumpsuit or a maxi dress to keep things simple. Lavender purple, Klein blue, blush pink and mint green are few of those going strong. If you want to top the 1980s feeling go for an oversized blazer and embrace the empowered look. Read more about the 1980s fashion here.
Flower Power
What else is a summer without some flower power power? The floral prints are not groundbreaking but a matter of stripes, they are constant but change continuously. This summer, the floral prints feels quite retro and comes with a touch of history. Spanning from the Arts & Crafts Movement to the 70s, the prints are heavy, dark and dramatic. I must say I'm fond of this contrast as floral prints for summer are usually lightweight and sophisticated, but here we're talking dark colors as black, navy, forest green and brown. These are often the base of the print and are contrasted with poppin' colors as bold orange, pink, yellow and red.
Specific trends
There are however, of course, more specific trends than this. Trends focusing on specific clothing pieces, colors and styles. I try to tick them off as we go in the series #TrendAlert, so in case you've missed, here are all the #TrendAlert posts for far:
Ruffles | Green(ery) | Silver Metallic | Blue/White Striped Shirt | Statement Sleeves | Patent Leather | Blush |
Beauty Trends Summer 2017
Bold Statement Lips
I know, the definition of a statement is something that differs from the ordinary. The definition of bold is also something that differs from the ordinary. So, writing "bold statement lips" might be confusing as it's basically the same thing twice. BUT, the lip statement this summer is really a bold one. The colors are not your regular red, but your metallic, lavender, mint blue or dark burgundy. It's a statement and it's bold. As the regular beauty rule goes: keep the rest of the makeup rather basic if you want to stay on the safe side. There's also something peculiarly striking with a neutral makeup look and forceful painted lips. The contrast is pretty magical if I may say so.
Smudgy Eyes
I wrote about the smudgy eyes the first time back in October. Then I wrote about them again in this post. Then I mentioned them a third time in this post. Every time, I did so with the intention of wanting to work the look more often. Well, I haven't. I've mainly gone for it in the regular "my eyeliner is falling down and I'm going for a refined raccoon look". Right, end of story. For summer 2017, the look trending is mainly about a smokey eyeshadow framing the eyes. Not as in completely black, but a more faded black, grey, brown or midnight blue. So just take that eyeshadow of yours and blend it favorably around the eyes.
Splash of color
Folks! I should really begin talking more about nails and nail design, as I'm obsessed. Just take a look at my Pinterest board, how fun and artsy aren't all of them? Artsy nails are in fact what's trending this summer. Splashes of colors that looks like a water brush stroke or anything similar. Go for a one-colored base and paint small, random and irregular strokes over the nails. You can also stick to the safe side and do a french manicure but in a statement color. Another working, foolproof, way of going for the splash of color is to do a stripe pattern or dots. Just make them pop!
What trends are you working this summer folks? Going for that pop of color? Stripes for life? Drop a comment! Xx
Did you like this post? Hit the share buttons below!