Let's get back to some basic principles of fashion today. More specifically: the basic principles of a clothing piece. I'm talking: the colors, print or sans print, texture, volume and perhaps even silhouette!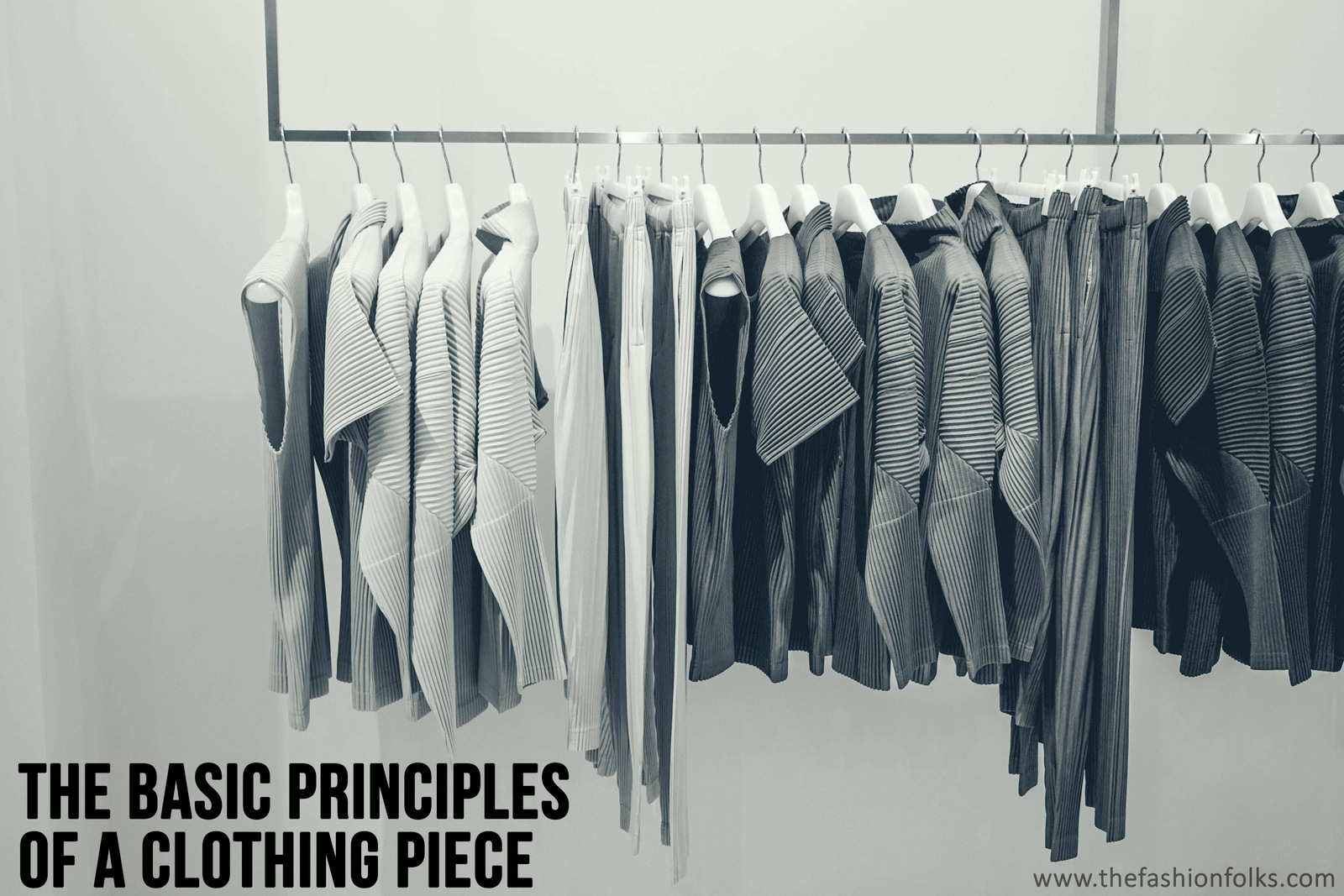 Basic Principles of a Clothing Piece
Now, you might not think that knowing these essentials are beneficial for you in your everyday fashion life. Think again. Knowing what makes a clothing piece a clothing piece is highly favorable when putting together an outfit. You can learn when your outfit is in need of some color, or when you need a texture of statement to level it up.
Learning the basic principles of a clothing piece is much alike other areas in life when going back to the start is vital for knowing how to continue. Learn the details of deconstruction in order to construct something else, something better. It might sound more dramatic than what it is, of course, but if you're a fashion nerd (like me, helloooo), all the details of fashion are just another level of fun.
Color/Print
The most popular statement, or part, to focus on in a clothing piece is the color or print. I pair these two together as both are about the actual look rather than texture or volume. A clothing piece will be in a color, inevitably, and it will come with a print or not. That's basic, that's fact. (Perhaps a transparent fabric can count as an exception to the rule, but that would be a case of lack of color/print rather than a category on its own). Color and print are both the center for a clothing piece, especially color. The color of a piece will set the tone for it. There's a distinct difference of an A-line shaped LBD and a yellow colored one. The former will go for a classic dress and the latter is labeled as energetic. All by the color.
Same goes for print. A print has the possibility to rewrite the entire feeling of a clothing piece. Prints have a tendency to be lively and full of details, which brings a more enriched look to a piece. Prints can also tell a story or channel an emotion, which is a feature of force. If you're outfit lacks movement and energy, a colorful print will change it without the fuzz. As the current fashion situation is, and has been for centuries, colors and prints are what is and have been in the spotlight. As stated, they are the very core of a clothing piece.
Texture
However, another basic principle of a clothing piece that is gaining more and more recognition is texture. Of course all clothing pieces have some sort of texture, whether it's plain cotton or fur, but lately fashion seems to be getting more specific about the texture of clothes.Texture has had a more functional role in fashion history as certain materials have been crucial for survival. Animal based texture as fur and leather have been important materials, mainly because of their qualities of keeping people warm/being durable. Texture as in embroidery (kind of a texture at least) was also important for fashion history, but more for the upper class rather than the everyday person.
Lately though, texture has received more love for its appearance. I often talk about statement textures and the favorable ways you can embrace them in your outfit. Among the most common textures today we find denim, lace, velvet, crochet and knit. Denim is undoubtedly one of the most popular materials today with jeans being a staple in every other person's wardrobe. Knitted pieces are still used for the colder months of the year, to keep people warm and cozy – just like the old days. Knitted pieces are most commonly as sweaters and cardigans, but also popular for accessories as in scarves, beanies and gloves.
The materials that perhaps have gotten most love are the animalistic textures. Leather, suede and fur are all products of animals and are popular to use in fashion. All of the textures are quite the statement ones which makes them favorable to use in a fashion context as they add something more than their function. A good leather jacket is nowadays considered a staple. Suede is becoming more and more popular with a lot of suede statement bags popping up as well as the comeback of a-line skirts and dresses in suede. The fur jacket is definitely back and the new style is colorful ones in different shapes. I can't state this enough folks, but: faux. Whatever you do, go faux in your choice of "animalistic" texture. We can have the discussion another day, but faux is the way. Okey?
Volume
Thirdly, another one of the basic principles of a clothing piece is volume. Volume is not as essential as the color/print of a piece or its texture, but volume is getting there too. Only the last years we've seen a development of trends that embraces volume. Or how about statement sleeves, ruffles, bows? Yes? These are all voluminous details that contributes with movement and a flow to a clothing piece. If the silhouette of your outfit looks rather dull, a sweater with statement sleeves will surely do.
A volume in this specific context is mainly centered to the 3D aspect. Details that are adding volume, or a layer to a piece but not in the shape of fabric but embellishment. Sequins might be the most popular way, even though it's an even matter of texture and volume. The pearl trend that is up and rising is definitely adding the volume to fashion. Floral details in 3D shapes are quite common to do for Haute Couture and can definitely find it's way down to us ordinary people too (please?).
The thing about volume though, when it comes to embellishment and more distinct details of 3D is that it gets quite impractical. When volume is done in fabric, it's quite alright, but when adding the embellishment it gets quite tender. Gorgeous nonetheless and what is fashion truly without a touch of impracticality?
(Silhouette)
Why I've written silhouette in parentheses? Because silhouette is not something on its own but something that is created by fabric or volume. It might seem that silhouettes are always in focus in fashion, but it's more of a parentheses (see what I did there?), than in focus. A silhouette is however still important and present in the structure of any outfit. So it is and remains a part of one of the basic principle of a clothing piece. You can either go for straight, curvy, defined or loose. All of the different aspects comes with a different quality, feeling, too and is something that is dependent upon the situation.
A loose silhouette is traditionally more connected to a free and bohemian fashion and the defined silhouette is more proper and preppy. Perhaps, without going science on this one, it goes back to the fashion history and how people have dressed historically. Even though a corset was normative for all women: the lower the class, the looser the corset. Women's clothes in the upper class were often structured, perfected and sculpted in a specific way. Perhaps related to how a silhouette is viewed today, perhaps not. But note this though, how often do you see a person of business in a top position in flowy fabrics? Not really right? A dress, a jumpsuit or a suit in that context is often structured and defined in its silhouette. Proper, preppy and powerful.
Except Giambattista Valli, the silhouette is not in the center as it used to be. Perhaps we'll come back to a fashion of silhouette or we'll keep exploring clothing pieces without giving a thought about the silhouette. Nevertheless  is it a part of the fashion circle.
Folks! Hope I've confused or clarified you life even further with this post. When you stop and think about it, it's kind of cool how fashion can be put together by different components and look like nothing seen before. Fashion is art.