If you haven't been living under a rock these past  months, you can't possibly have missed one of the biggest fashion trends of the year; the bandana scarf. And frankly speaking, we're also quite bananas over the bandanas!
Origin of the Bandana Scarf
As you may know by now, we fashion people like to borrow. Quite literally are we borrowing styles, clothes and inspiration from all different areas and traditions. And the bandana scarf is just one by many. The scarf have been used (and still is today) for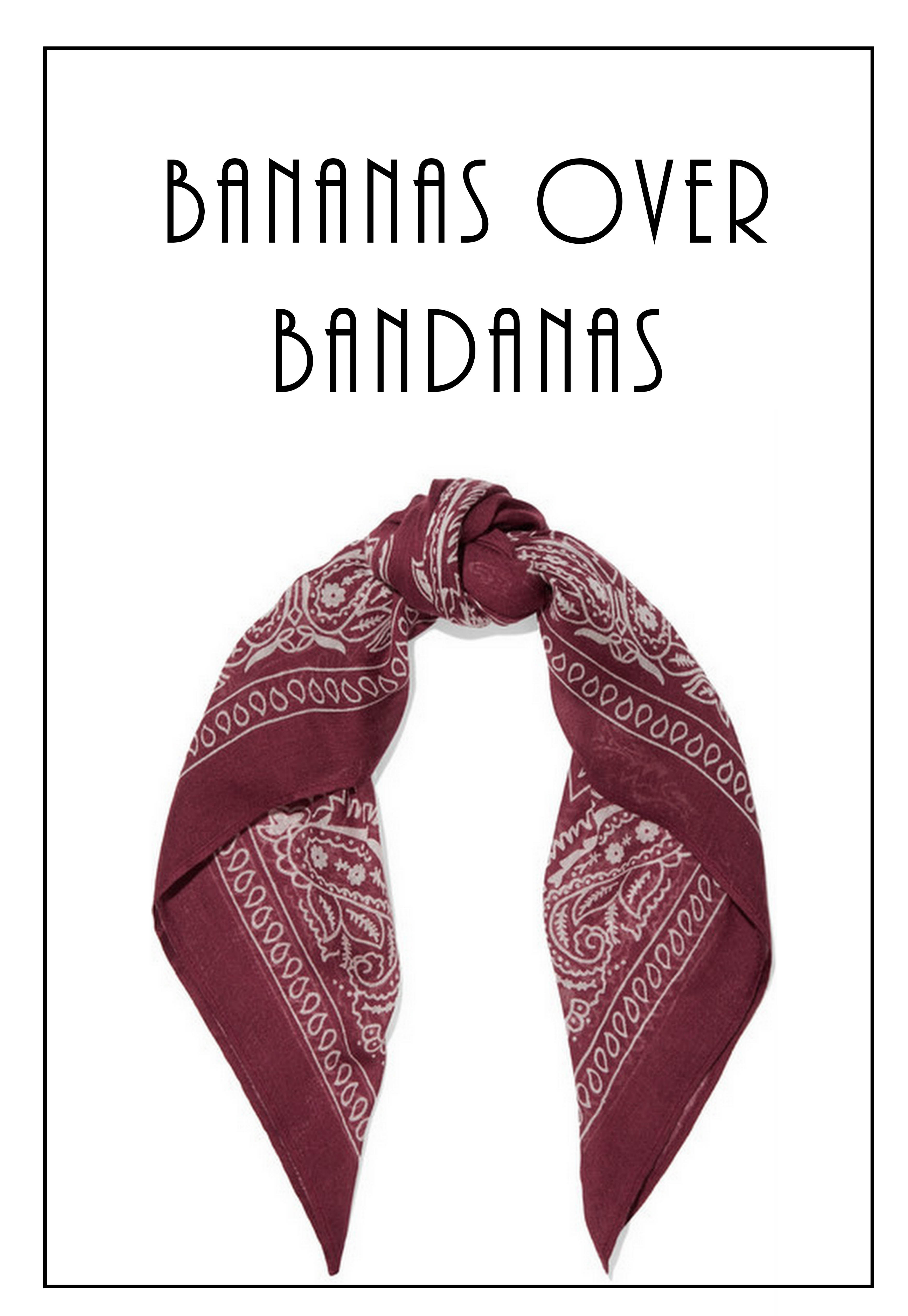 religious reasons, by cowboys and and every fashionista from the early 00s. And now, we can add 2016 to the growing list!
Different Styles of the scarf
The bandana scarf can be used both as a headpiece, tied around the neck, hanging visible from a pocket or around the wrist. Of course it can be used for whatever, but the mentioned are the most common. With fashionistas going elegant: this year it's all about tying it around the neck. Doing a scarf around the neck is not new however, we saw Audrey Hepburn doing it for Roman Holiday (1955). The style (not the paisley bandana though) was quite the stylish feature during the 50s. Bandanas are mostly common in paisley patterns!
How To Match The Bandana Scarf
So how should one work the scarf? As the bandana scarf in specific has a certain attitude to it, contrasting preppy clothes is given! An off shoulder dress, a maxi dress or a feminine dress will do. On the other hand, its also fun to play with its old association of cowboy and street wear, so doing the bandana scarf with denim or leather is also the fashionable statement. Not to mention, the scarf, with its paisley pattern, is favorable for a more boho style  and is lovely for festival style.  As you can tell, the scarf works for different styles, areas and dresscodes. As the scarf drags the focus to the neck, having an updo, or a one sided hairdo will emphasize its chicness. And folks, don't forget, if you're not necessarily a fan of the bandana in specific. Just doing a scarf in a pattern you like is equally as good if not better. A scarf adds a fun detail and gives life to an outfit!
Bananas over bandanas? Hit us in the comments!