Except going crazy about details, using the word 'fashionable' and talking about hitting a fashion level, I'm pretty good at talking about contrasts too. That one should be contrasting details in an outfit and that it should exist a balance in the outfit etc. So it's about time that I do a post on how to balance your outfit!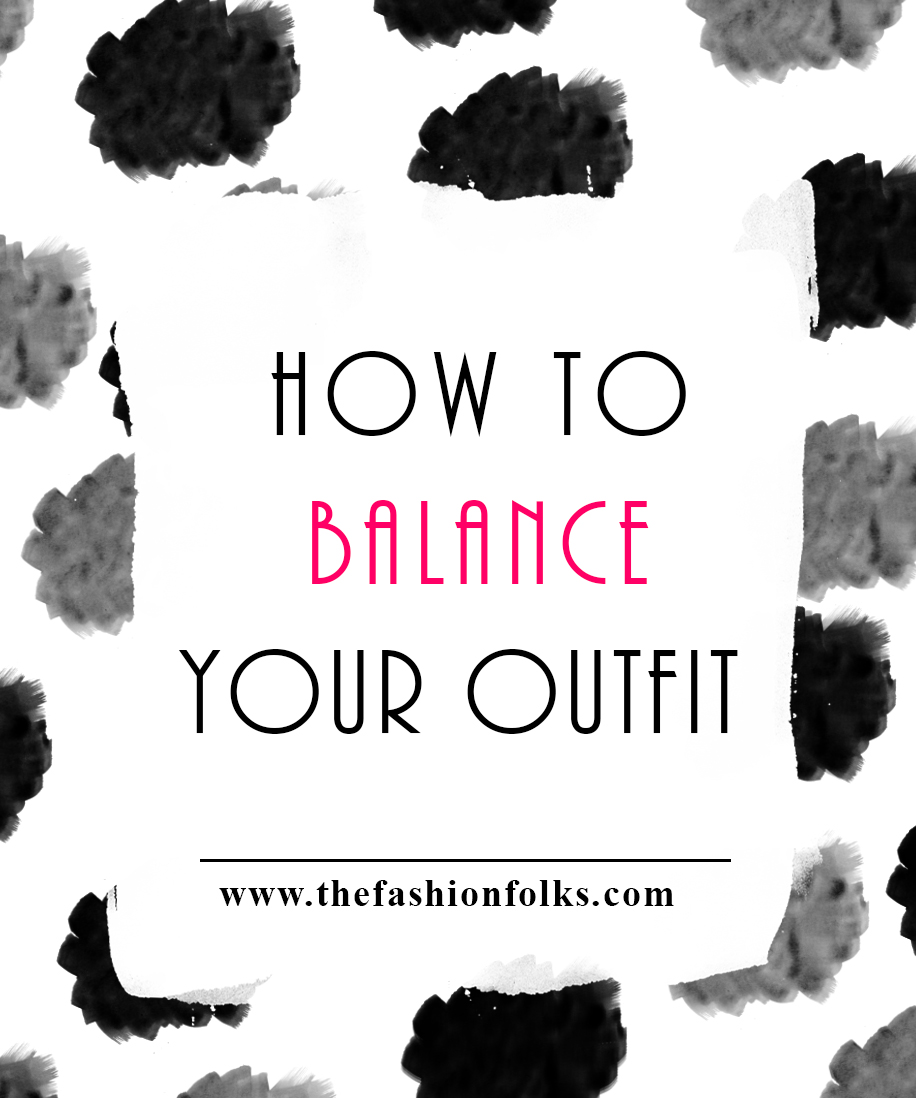 Why you should balance your outfit
To balance your outfit means that you are contrasting different elements. For instance, preppy and street, vintage and modern, bohemian and urban. It can also be more specific, like balancing colors or finding a balance in your silhouette. It's nothing wrong with going full embrace on a specific style, not at all. What will be missed though is the excitement an eclectic style comes with. For instance, when you balance the cute part of a blouse with distressed jeans. It creates some friction between the elements, which results in a balanced outfit. You know how they say that opposite attracts? Apply that to fashion and you'll get quite the fierce outcome!
How to balance your outfit
As written earlier, there are different ways you can balance your outfits. By style, by silhouette or by colors. I'll give each of them their own post in the future, as for now though, let's break them down more generally.
Balance the silhouette
To balance the silhouette is to find a favorable balance between your body and your clothes. I could write a book on the subject really, but with different body parts comes certain clothes/silhouettes that are more favorable on you than others. If you're bigger on the hips, you should balance it by adding fabric/silhouette by the shoulders. If you have wide shoulders, you should add fabric by the hips. It all comes down to finding harmony in your silhouette, that there is not too much "weight" on one body part.
To balance the silhouette also comes down to pairing defined pieces with boxy ones. If you're for instance wearing a faux fur top that is quite fluffy, you should pair it with defined pants as it'll give a nice balance. If you're working a tight skirt, you might want to add some volume to the top. If you're wearing an oversized midi-coat, wear tights or defined pants that will contrast the heavy look of the coat. It's all about meeting the main part of the outfit with the opposite.
Balance the styles
This is my favorite part about finding a balance in an outfit/style and I live by it. Balancing different styles is the definition of going eclectic. I love eclectic fashion and I think there's so much fun to explore the contrasts of different styles and elements. Sticking to one style only sounds rather boring if you ask me.
Well, to the point, balancing styles is about contrasting different elements in an outfit. Remember on Monday when I wrote that a sheer floral top is perfect with heavy materials? That's balancing styles. If you feel like your outfit is being too preppy, or too bohemian, add an element that embodies the opposite. If you're doing a patterned flowy maxi dress, add a statement necklace and see the chic outcome. If you wear a pink dress, add the leather jacket. Is rather simple actually, as you might can tell. A favorite of mine is to wear knitted sweaters with faux leather, read more about it here.
Balance the colors
Lastly, balance the colors. Finding a balance between colors is not necessarily a must, but it is a nice detail in an outfit. I love both monochromatic outfits and outfits in different shades, but outfits are equally as good when in contrasting colors. If you wear an all grey outfit, contrast it with colorful details. If you wear klein blue, pair it with bright orange or popping pink. Pick a color and contrast it with opposite colors, the clash is often quite the statement and chic. You can, of course, also do this with more subtle colors too!
White and black is the most common balance you can do with "colors" and it's not for nothing it's called a classic. But it couldn't be more true either! It's, obviously, the dark of the black that meets the bright of the white. They contrast and balance each other perfectly. It's classic and fantastic (just getting the rhymes coming here).
Final note
So know I've given you several fashion rules now. I'm really just going to end this post though by stating that rules are to be broken. Even though the rules I've written already might be breaking the idea of sticking to one style and a few colors, these newly given rules can be broken too! Buy ignoring balance and going one color, or ignoring contrast and dress all in knit (or something).
Folks! What are your best tips on finding a balance in an outfit? Hit me with a comment below! Xx