Adding some trendy details to your outfit is one way you can mix things up a bit style-wise this fall. By trying new trends you might also find new styles you like and by doing so, expanding your comfort zone. I talked about the trends fall 2018 in this article earlier this week and here are some more specific ideas on how to look extra trendy fall 2018!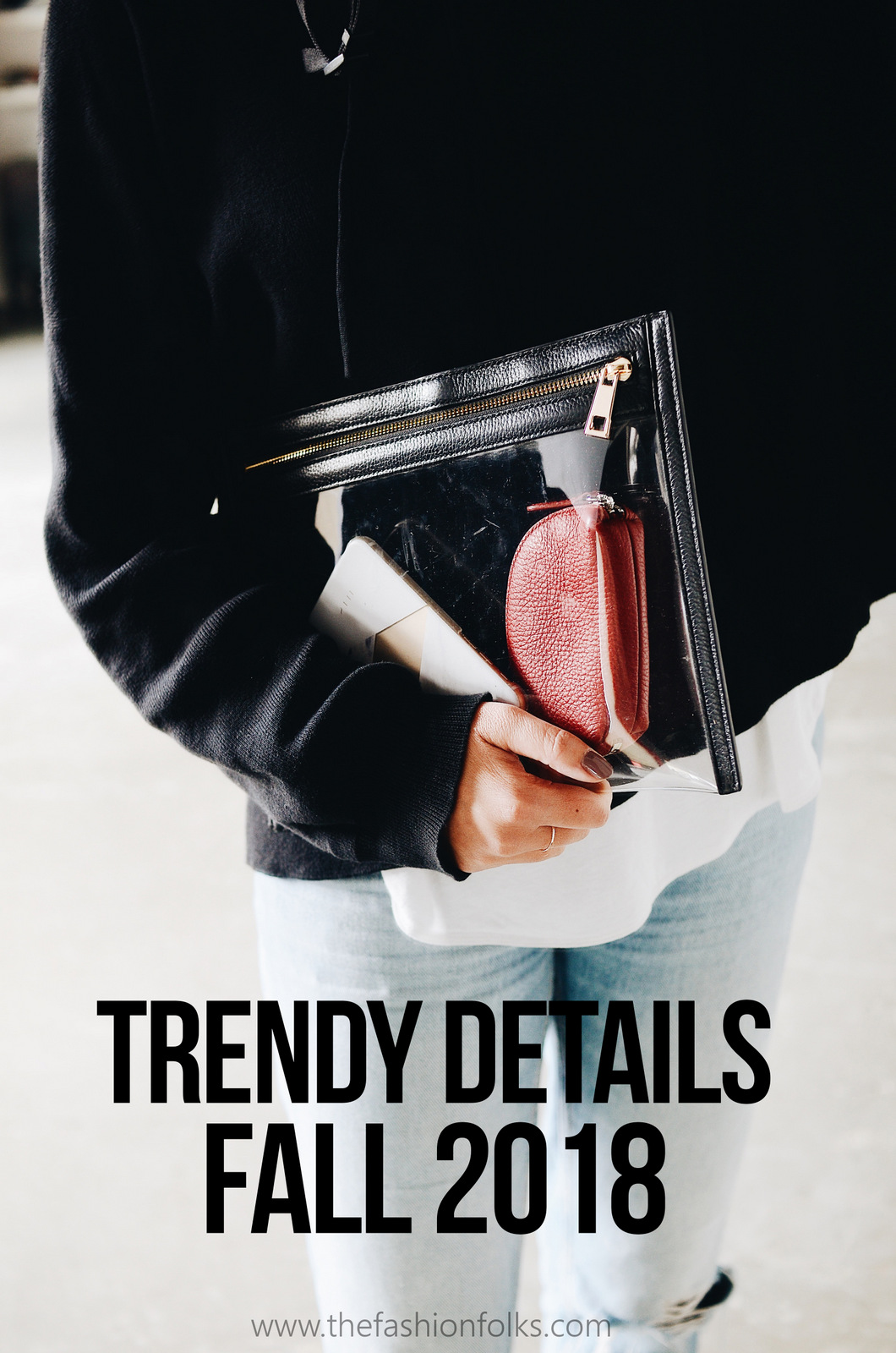 Look Trendy Fall 2018
1. Statement Sneakers
Never has it been more chic to work comfortable footwear, all day everyday. The statement sneakers aka the dad sneakers are what the popular kids are wearing these days. The shoes are characterized by their heavy sole and over-dimensioned look. For long, the sneakers were exclusive to more informal wear but this season they're matched with more proper clothes of blazers, pantsuits, dresses and skirts. Catch the trend report on the statement sneakers here.
2. Focus on the layers
Getting a layered outfit right is not easy, but you might want to develop your skills this fall as the layered style is peaking. One simple way to create a layered look, without really trying, is to skip the jacket and add two cardigans/sweaters/other warm clothing pieces instead. Perhaps go for a more defined sweater over your outfit and add a flowy cape. That way you'll create a layered look that will keep you warm. You can also just go for the quick fix of adding a scarf or layer your shirt with a sweater. Catch more clever hacks in this post.
3. Oversized Blazer
Skipping the jacket in favor of the layers is not the only time you might want to consider changing your jacket for something else. Last year we saw an explosion of using your blazer as a jacket. If you choose it oversized you have enough room to layer with some warm clothes under and you're also hitting the trendy bar by going for the 80s look. Adding a blazer will help you creating a more formal look which might come in handy for important business meetings or other events. A check patterned blazer in a grey/camel is probably the most trendy style of the clothing piece.
4. Add Some Leopard
As stated earlier, the prints are more popular than ever this fall and one that's getting its time in the spotlight is undoubtedly the leopard print. This means that if you want to try one trend that instantly will give you that contemporary look, you ought to go for the leopard print. It doesn't have to be done in the grand way, but you can add some leopard with a bag or a pair of shoes. A simple scarf is also a way of adding the print without getting too crazy about it. If you love the print though, feel free to invest in the statement-making clothing pieces! Read more about the leopard print this year in this post. 
5. Layered Necklaces
When talking about the details of fall 2018, one specific, but simple way you can try out a new trend is to layer your necklaces. The layered look is easily done by choosing necklaces in the same color, but different lengths, as it will (obviously) enhance the effect of the necklaces. If you have a necklace you usually go for, add a similar one in another length and you're as trendy as you can be.
6. Accessorize With a Bag
The bag has for long been more about its appearance rather than function when talking in the fashion context. This fall, this is extra true as the bag should, literally, be in the center of your outfit. With a stylish fanny pack (if those exist), or just a chic crossbody bag, you are embracing one of fall's biggest trend. Letting your bag be in the spotlight also makes room for choosing a bag in a fun color or print, that undoubtedly will elevate your outfit. Both styles of the bag are also functional as your hands/arms are free!
7. Focus on One Thing
Another way you can stay trendy this year is to go monochromatic. I feel like I talk about this style in every other post, but for as long as it's stylish, I'll probably do. The monochromatic look this fall is not only about choosing one color, it can also be about choosing one material or one print. Like going for linen top to toe or going for polka dots all the way. This trend is quite easy to do on days you're stressed or running out of time, as you only need to pick one thing and stick to it for the rest of the outfit.
8. Rely on the Check Pattern
If you dismiss the leopard print and you want something more subtle, the check pattern will most likely help you with that. The check pattern is once again popular and its most commonly done for the office style, as in blazers and pantsuits. I personally think that this pattern is great for fall as it's closely associated with British fashion, which itself is often suitable for fall fashion as it includes trench coats, shirts, boots and chunky sweaters. Pick a check pattern in a color you like, or one you know you won't get tired of, and you have a new staple to count on!
Folks! How are you going to look extra trendy fall 2018? What's your fall fashion style about? Let's chat in the comments! Xx